An indicator of the gathering momentum for cleaner-burning, nontraditional forms of propulsion for the U.S. workboat industry can be found in WorkBoat's Significant Boats of 2021. The list of 10 boats is selected annually by WorkBoat magazine's editorial team.
What's unusual about the 10 Significant Boats of 2021 is that four of them have departed from traditional modes of propulsion. With two exceptions, it's the first time in several years that WorkBoat's Significant Boats has included anything other than boats powered with traditional diesel engines or gas outboards.
The four "nontraditional boats" that were chosen last year were the Chief Potackee Betty Mae Tiger Jumper, the Sea Change, the Nikola Tesla and the James V. Glynn.
The 36'7"×12' Chief Potackee Betty Mae Tiger, named after the only female chief of Florida's Seminola tribe, is a glass-bottom tour boat with a capacity of 28 passengers that operates out of Silver Springs State Park in Marion County, Fla. It's powered by twin 20-hp Elco electric outboards with four Lithionics 7.5-kW lithium-ion batteries. When needed, the 36-footer has a 10-knot running speed.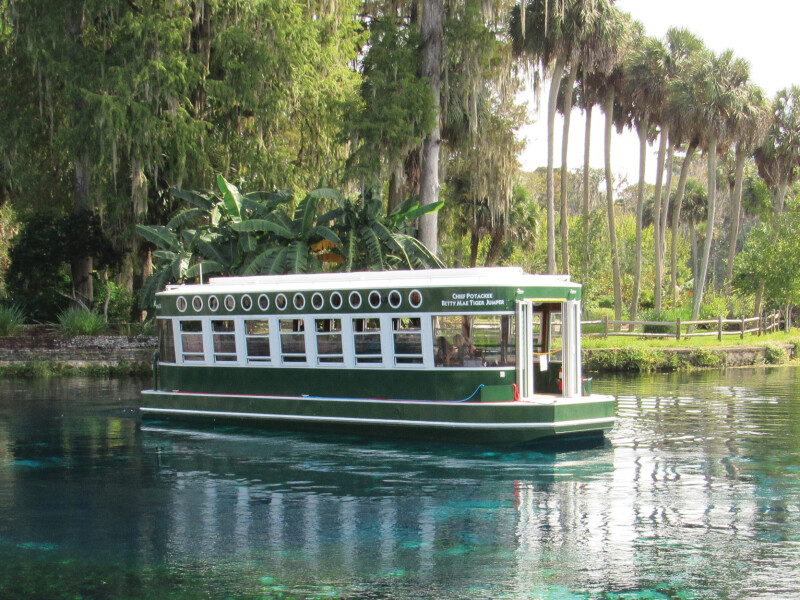 A boat that could have a major effect on alternative propulsion is the 72'7"×24'6" Sea Change, an aluminum catamaran ferry with seating for 78. Water-sourced hydrogen powers fuel cells that charge two banks of lithium-ion batteries powering a pair of 300-kW traction motors that spin a pair of fixed-pitch propellers. The Sea Change is the first vessel powered 100% by hydrogen fuel cells.
Another innovation is the first all-electric, zero-emission passenger boats built in the U.S., the Nikola Tesla and the James V. Glynn. Both 90'×32' catamaran tour boats operate at Niagara Falls State Park. The propulsion system is two lithium-ion battery packs, one in each hull, with a combined output of 400-kW. That's backed up with an onshore charging system.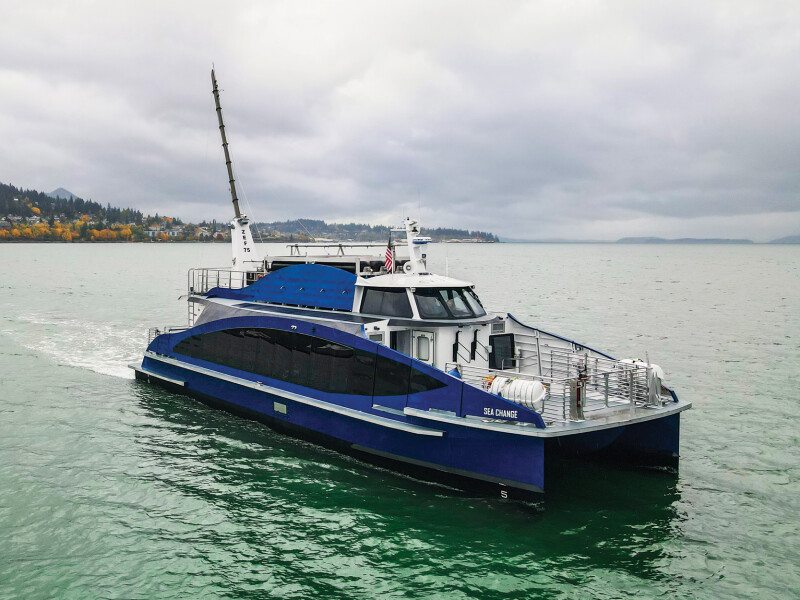 Take a look at the Significant Boats of 2019 for a much larger example of non-traditional propulsion. That, again, is a pair of vessels — Crowley Maritime's 720'×105' combination container/roll-on-roll-off ships, the Taino and El Coquí. They are the first ConRo ships powered by liquefied natural gas. The ships each have a capacity of 2,400 20-foot-equivalent units (TEUs).
A single MAN 8S70ME-GI producing 28,769 hp at 91 rpm powers each vessel. Both the Taino and the El Coquí have dual-fueled engines. Fueling with LNG reduces sulphur oxide and particulate matter by 100%, and nitrogen oxide and carbon dioxide by more than 35%.
Eight years ago, a harbinger of things to come was found in the Significant Boats of 2014. That was the Tender 4, an 86-year-old wooden dredge tender that maneuvered dredges and dredge barges on the Erie Canal.
The 39'×14' Tender 4 gained notoriety when its old 175-hp Detroit Diesel 6-71 was hauled out and replaced with two new Elco EP-1000 electric motors that were matched up with the Tender 4's propeller shaft. Thirty-six lead-acid, absorbed glass-mat batteries powered the motors.
Comparing the performance of the twin Elcos with the Detroit Diesel showed that the Elco electric motors delivered 15% more horsepower to the shaft while giving the Tender 4 a maximum speed of 8.5 knots using the existing 33"-dia. prop. The electric motors weighed less than the 6-71 and took up about 30% less space.
GEARBOX BENEFITS
In discussions centered on alternative propulsion systems — including the above — that are designed to clean up the atmosphere, reduce maintenance and improve life aboard a vessel, the focus usually centers on diesel engines, electric motors, batteries, alternative fuels, and maybe fuel cells.
Often omitted from the discussion is the lowly gearbox. Yet some say gearboxes are often very cost-effective.
Chris Senner, vice president sales and marketing for Karl Senner LLC, Kenner, La., which distributes Reintjes marine gearboxes for workboats, said there are "some distinct benefits of utilizing a gearbox in an electric driven, shafted propulsion system, whether the driveline is using FPP (fixed pitch propeller) or CPP (controllable pitch propeller)."
That's especially true with diesel-electric or fully electric propulsion where, in the case of an inland towboat or passenger vessel, matching up the propeller shaft to a Reintjes reduction gearbox and utilizing a high-speed electric motor can be advantageous.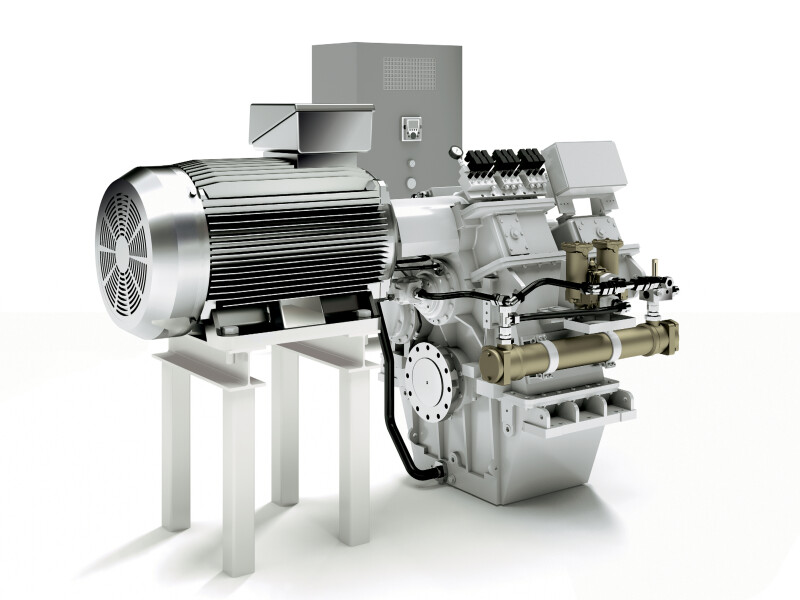 To start with, Senner said it is an efficient and cost-effective arrangement, with lower capital expenditures and operating expenses. Instead of having a low-speed electric motor running at propeller-shaft speed where an external thrust bearing is needed to absorb the propeller's thrust, pair a high-speed electric motor with a gearbox with gear reduction and a built-in thrust bearing. That gearbox with its gear reduction feature accepts the high-speed electric motor and will drop its rpm level down to the required propeller shaft speed.
It can also be more affordable than going with a low-speed electric motor and the required thrust bearing. Plus, the high-speed electric motor is generally more readily available and has more common components when replacements are needed.
The gearbox that's a part of this system, while similar to the gearbox in the typical diesel mechanical system, is no longer a reverse-reduction gearbox. "It becomes a reduction gearbox," said Senner. It's a simpler gearbox design that eliminates the need for clutches and reversing shaft "because the electric motor can reverse — ahead and astern."
Utilizing the electric motor's high-speed input, the rpms can be driven down to the required propeller rpm. In comparison to the low-speed motor, the high-speed motor is generally much smaller, lighter, more cost effective, and readily available compared to its slow-speed counterpart. "The gearbox," Senner adds, "doesn't require large amounts of maintenance."
Karl Senner has installed versions of this gearbox and electric motor arrangement in offshore boats for a number of years and is now designing it for inland towboats and other applications. "There's a growing interest for diesel-electric systems in the inland markets," noted Senner.
Karl Senner will offer a complete integrated package, including the gearbox or azimuth thrusters, electric motor, variable frequency drive, switchboard, propulsion controls, and even energy storage (i.e. batteries) if needed. However, the company also remains open to working together with other electrical integrators if preferred by the customer.
In an electromechanical hybrid propulsion system, there's a standard Reintjes gearbox that's modified with a PTI (power take-in) having "an additional input to allow for the electric motor to connect to the gearbox," said Senner.
Running in the PTI mode (electric motor only) "is beneficial maneuvering around docks or in port, by providing more precise control of your propeller speed, even down to a very slow rpm without the need of slipping a clutch. It's especially beneficial to ferries with a goal of operating with zero emissions around docks," said Senner. That's running on batteries with the engines and generators shut off.
In certain applications, the PTI can also be utilized as a boost, providing additional power above and beyond what the diesel engine can deliver, or a PTO (power take-off) to drive other onboard systems.