About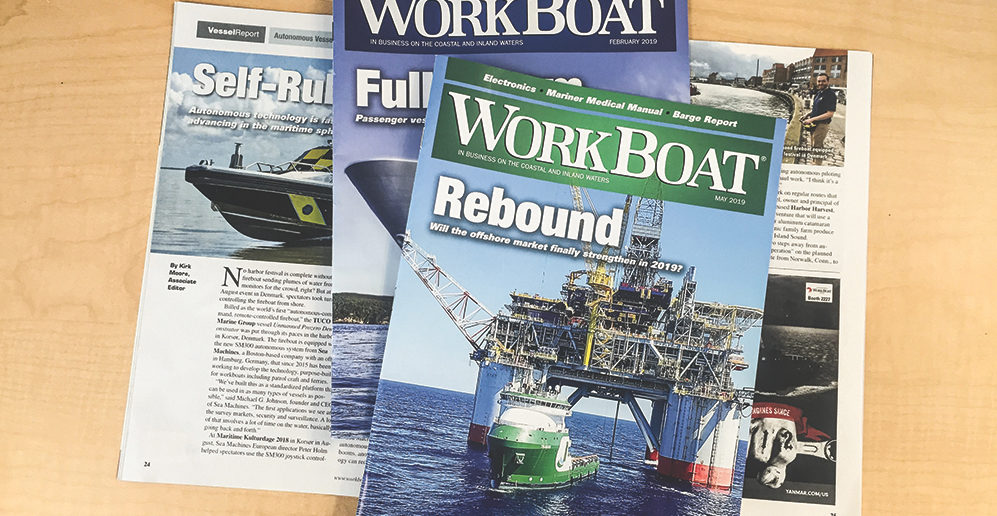 WorkBoat goes beyond the press releases released by shipyards, architects, owner/operators, manufacturers and others, by adding all the details and specifications of a new boat or boats. Our entire editorial teams supports the WorkBoat industry, but we don't shy away from the big stories, no matter how negative. That has earned us a lot of respect over the years and differentiates us from our competitors. It's why we've become a trusted voice to report on the latest news, issues, technology, trends, etc. that have and continue to impact this entire industry.
That experience expands across the entire history of the WorkBoat brand which includes our event, magazine and website.
What is the WorkBoat Brand?
WorkBoat delivers high-quality information to all segments of the North American maritime industry through WorkBoat Magazine, WorkBoat.com, and the International WorkBoat Show and Annual Conference. These three pillars define the WorkBoat brand in-person, in print and online.
WorkBoat Magazine and WorkBoat.com is produced by the team that brings you The International WorkBoat Show. WorkBoat Magazine and WorkBoat.com are the only maritime industry media resources dedicated exclusively to the U.S. commercial marine market, providing in-depth reporting to WorkBoat industry professionals on scores of topics.
WorkBoat.com provides the latest news and information about the U.S. WorkBoat industry. The site includes articles and blogs on the latest hot topics pertaining to the WorkBoat industry.
How are the topics covered at WorkBoat reflected at the International WorkBoat Show?
The meaningful insights, actionable takeaways, Q+A opportunities, and group problem solving sessions from the WorkBoat Annual Conference Program flows into and out of the content both online and in the magazine. Additionally, many of the Think Tank sessions are directly related to the topics covered on the site.
You can see all of the news and coverage from our most recent event here, as well as get a sense of how topics like meeting EPA Tier 4 standards and the state of maritime security are highlighted at the event.
How long has WorkBoat been around?
The WorkBoat brand has been connecting qualified buyers with leading suppliers for more than 75 years. WorkBoat magazine has covered everything from President Truman signing the Independent Offices Appropriation bill into law to how steel strikes can impact barge traffic to the delivery of the Portland Pilot to Portland, Maine, where the WorkBoat magazine is headquartered.
How has coverage of the maritime and offshore industry changed over those years?
As the maritime industry has changed WorkBoat has changed with it. We've covered the many technological advancements that have redefined expectations for professionals, which includes the way that autonomous technology has helped drive an increased emphasis on safety and more efficient fleet operations.
Additionally, over the past few years, sectors like offshore oil & gas have shrunk while others like offshore wind have grown. Additionally, since 9/11, there has been an increased emphasis on security (US Coast Guard, municipalities, state/local governments) and cybersecurity. Port and vessel security is still affected by 9/11 and security operations continues to evolve
Autonomous technology, fleet management, safety and offshore wind will continue to dominate headlines over the next few years, and they'll all be covered in-depth and detail across the WorkBoat brand.
Who is the WorkBoat audience?
Any operations manager or higher who is in charge of WorkBoat fleets and their day-to-day activities. This is someone who makes purchasing decisions for replacement gear (engines, genesis, controls, marine transmissions, electronics, deck equipment etc.) Also, the person who is in charge of newbuilds and repairs. It could be the same person or someone else, such as a port captain or shipyard liaison. Vessel captains that have decision-making authority also stand to gain by visiting the WorkBoat Show and reading WorkBoat and WorkBoat.com.
Which topics and sectors does WorkBoat cover?
The main sectors covered by WorkBoat include the coastal and inland waterways, shipyards/vessel construction and repair, tugs and towing, offshore energy (offshore service vessels to service traditional offshore oil and gas operations, and crew transfer vessels for the emerging offshore wind power sector) and passenger vessel operations.
Among the top issues and trends covered by WorkBoat are:
Regulations and laws: The Jones Act (Passenger Vessel Services Act), Coast Guard Subchapter M inspection, admiralty law, EPA diesel engine emissions, WRDA, Oil Pollution Act, etc.
Offshore wind market
Autonomous vessels and technology
Cyberattacks, cyberthreats, data breaches
Port security
Hybrid/green technology, environmental issues
Safety in the workplace
Manpower shortages across all sectors, including a shortage of qualified mariners, aging of the maritime workforce.
Inland waterways infrastructure (aging locks and dams)
Marine training
Military, government
What specific boats and vessels does WorkBoat cover?
Anchor-handling tug/supply vessel (AHTS)
articulated tug-barge (ATB)
ASD tug
autonomous vessel
barge
charter boat
crewboat
crew-supply boat (crew-supplier)
crew transfer vessel (CTV)
cruise vessel (overnight cruise vessel)
dinner boat
duck boat (DUKW)
dive boat
drillship
ecursion vessels
ferry
fireboat
fishboat
emergency response vessel
hybrid tug, icebreakers
integrated tug-barge (ITB)
liftboat
light construction vessel (LCV)
linehaul towboat
minesweeper
mini-supply boat (mini-supplier)
mobile offshore drilling unit (MODU, multipurpose supply vessel (MPSV)
offshore service vessel (OSV)
offshore supply vessel (OSV)
oil spill recovery vessel (OSRV)
patrol boats, platform supply vessel (PSV)
pleasure boat (excursion boat)
pushboat or towboat
research vessels
rescue boat
response boat-medium (RBM)
rigid hull inflatable boat (RIB)
riverboat cruise vessel
roll on/roll off vessel (RO/RO)
sailboat
sistership
sternwheeler (paddlewheeler)
standby-rescue boat
supply boat
surf boat
tour boat
tractor tug
tugboat (tug)
utility boat
whale-watcher
wind farm support vessel (WFSV)
Z-drive towboat
Z-drive tug
What type of gear is covered in WorkBoat?
Engines (inboard\outboard)
Waterjets
Propulsion
marine gear
shafts
controls
deck machinery (winches, capstans, etc.)
electronics
fire suppression equipment,
gensets
lighting
cooling systems
cordage
wireless connectivity
coatings
radar
drones
satellite communications
life rafts

Who writes for WorkBoat?
The WorkBoat editorial team features writers and editors from all across the country. You'll see numerous names and insights across the magazine and website, but more info about our core editorial team is below.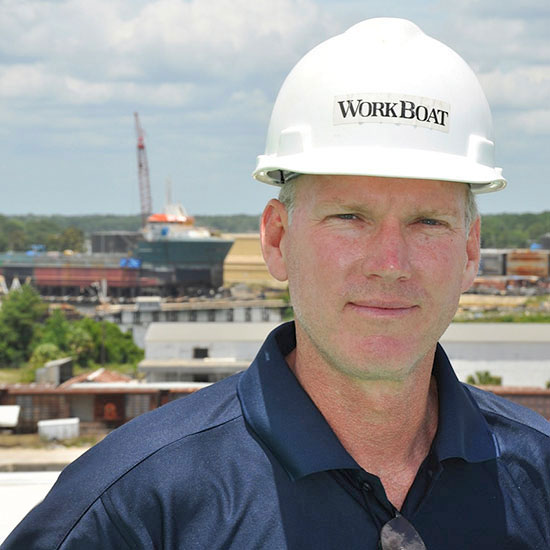 David Krapf is the Editor-in-Chief for WorkBoat. He is responsible for overseeing the editorial direction of the publication. Krapf has been in the publishing industry since 1987, beginning as a reporter and editor with daily and weekly newspapers in the Houston area. He also was the editor of a transportation industry daily in New Orleans before joining WorkBoat as a contributing editor in 1992. He has been covering the transportation industry since 1989. He has a degree in business administration from the State University of New York at Oswego, and also studied journalism at the University of Houston.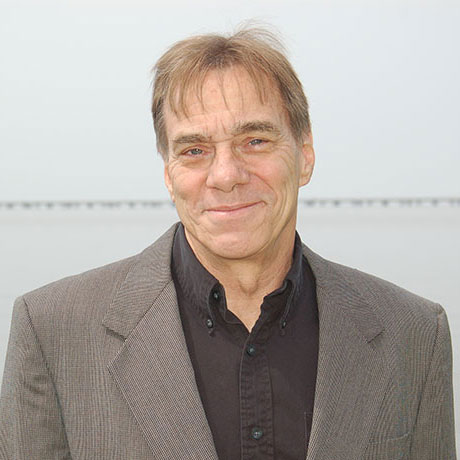 Ken Hocke has been the Senior Editor of WorkBoat since 1999. He was the associate editor of WorkBoat from 1997 to 1999. Prior to that, he was the editor of the Daily Shipping Guide, a transportation daily in New Orleans. He has also written for other publications, including The Times-Picayune. He graduated from Louisiana State University with an arts and sciences degree, with a concentration in English, in 1978.

Kirk Moore is the Associate Editor for WorkBoat. He was a reporter for the Asbury Park Press for over 30 years before joining WorkBoat in 2015. He wrote several award-winning stories on marine, environmental, coastal and military issues that helped drive federal and state government policy changes. He has also been a field editor for WorkBoat's sister publication, National Fisherman, for almost 25 years. Moore was awarded the Online News Association 2011 Knight Award for Public Service for the "Barnegat Bay Under Stress," 2010 series that led to the New Jersey state government's restoration plan. He lives in West Creek, N.J.
I want to learn more…
Advertising in WorkBoat will give your brand the unwavering exposure you need to nurture potential customer relationships. 76% percent of our readers are involved in purchasing and 83% have taken an action as a result of reading an advertisement they saw in WorkBoat Magazine, WorkBoat eNewsletter, or WorkBoat.com
Our weekly newsletter allows subscribers to get the latest insights about the industry and event straight in their inbox. Subscribe to the WorkBoat Newsletter
For any other questions please get in touch with a member of our team.