The WorkBoat Brand
In print | Online | In person


WorkBoat Magazine and WorkBoat.com is produced by the team that brings you The International WorkBoat Show
The WorkBoat brand has been connecting qualified buyers with leading suppliers for more than 75 years. WorkBoat delivers high quality information to all segments of the North American maritime industry through WorkBoat Magazine, WorkBoat.com, and the International WorkBoat Show and Annual Conference.
---
Face-to-face at the International WorkBoat Show
Attend
Build your knowledge, your network, and unstoppable momentum. November 30 – December 2, 2022, commercial mariners from around the world will unite once again in New Orleans for the International WorkBoat Show. Each year, over 15,000 industry professionals come together to network, discover new products, and learn about evolving issues affecting the industry – from expert speakers, innovative exhibitors, and most importantly, each other. Be a part of the experience and sign up to receive show-related news, registration announcement, pass discounts, and more.
Exhibit
Exhibiting at the International WorkBoat Show is the most efficient way to hear what your commercial marine customers need from you right now, make genuine connections, showcase your latest products or services, and get meaningful feedback from purchasers and end users alike. Attendees spend millions of dollars annually on marine equipment and services, and together represent $2.3 billion in buying power. Of last year's attendees, 92% discovered new products or vendors at the show and 70% planned to make a purchase as a result of attending.
---
Online with WorkBoat Online & E-News
Workboat.com is the most comprehensive online resource for commercial maritime professionals. These are just a few highlights of what you can find!
Receive the twice-weekly WorkBoat e-newsletter and stay up to date on breaking news, industry trends, and much more!
Become a Member for FREE Subscribe to the Newsletter
---
In Print with WorkBoat Magazine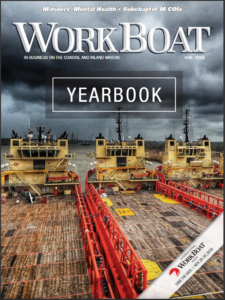 WorkBoat Magazine is the only maritime industry publication dedicated exclusively to the U.S. workboat market. It provides in-depth reporting on topics including offshore services, shipbuilding and repair, port security, marine electronics, environmental regulations, and more. Available in digital and print, and free to qualified subscribers in the US. Paid subscriptions are also available.
Subscribe to WorkBoat Magazine