The maritime industry is made up of many individuals whose personalities were larger than life. Two of them passed away suddenly late last year, leaving a void in our industry and our lives.
William "Bill" Dow, 86
I first met Bill Dow in 1980 at a meeting in New Orleans to negotiate the purchase of two sternwheel riverboats, the Becky Thatcher and Mark Twain.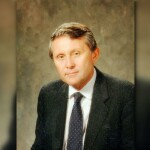 This meeting marked the beginning of a 50-year friendship in the passenger vessel industry. Bill and I spoke regularly over the years. He was a remarkable man who was passionate about the passenger vessel industry. He founded the Lake George Steamboat Company in Lake George, N.Y., one of the oldest, continuously operating passenger vessel companies in the nation. Not one to sit by idly when there were boats to build and passengers to carry, Bill also founded the New Orleans Steamboat Company and built the steamboat Natchez, which still plies the Mississippi River and has become an iconic symbol of New Orleans. Those of us in the passenger vessel industry will miss Bill.
Capt. Clarke "Doc" Hawley, 87
If there ever was a person who symbolized the spirit of the Western Rivers it was Capt. Doc Hawley. A true riverman, Doc spent his entire career on riverboats and ultimately at the helm as captain of a string of famous steamboats such as the Natchez, Avalon and Delta Queen. He was also renowned for playing the calliope. In river lore, the calliope was important because it announced the arrival of the vessel in towns up and down the inland river system.

Doc was also the consummate storyteller and over the years, he regaled customers and colleagues alike with stories about the river and its rich history. He spoke at a variety of industry meetings such as Tall Stacks in Cincinnati and at conventions held by the Passenger Vessel Association. I'll always remember him as natty dresser, always turned out in his "dress for success" jacket and bowtie. But what I will miss most is Doc's warm smile and his welcoming personality.
Time marches on, but I am blessed to have known both of these industry giants and will be comforted by their memories.