WorkBoat is owned by Diversified Communications in Portland, Maine. Last week, three of the Commercial Marine division's brain trust — Bob Callahan, group vice president, Lauren St. Clair, group marketing director, and Doug Stewart, art director — came to New Orleans to drop in on some of our customers. I joined them as sort of a guide.
Wednesday found us back in the New Orleans area. Again, the weather refused to cooperate. The morning started out in the upper 30s accompanies by a north wind that bullied its way through your clothes and onto the skin. The rain was gone, but the overcast sky remained. My companions were surprised that New Orleans actually had a winter — we do, and it's an ugly one. "It's not Miami," I told them.
Our first stop of the day was C&C Marine & Repair on the Algiers Canal, part of the Gulf Intracoastal Waterway in Belle Chasse, La. There, we visited with the yard's owner, Tony Cibilich, and Jonah Dowling, who wears many hats at the yard but specializes in business development.
The shipyard sits on over 80 acres of industrial property with 3,200 linear feet of continuous waterfrontage. C&C has fabrication bays totaling 540,000 sq. ft. of area under roof. In addition to welders, pipe fitters, and other vessel construction workers, the shipyard employs a full-time staff of marine architects, engineers, and designers. It's the very definition of marine heavy industry.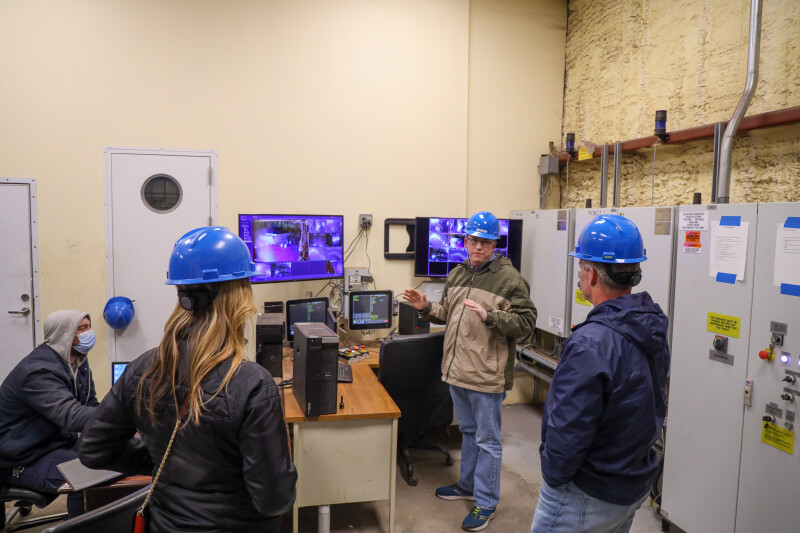 The shipyard is a prolific builder of inland towboats and pushboats, offshore service vessels, and all manner of workboats. One of the most interesting aspects of the yard, though, is the indoor, climate-controlled, paint and blast facility that opened in 2018. The 83,350-sq.-ft. facility can accommodate barges up to 320'x75'x20' and is able to blast and paint a standard 30,000-bbl. tank barge or two 10,000-bbl. tank barges in seven-to-10 days.
The fully enclosed, climate-controlled facility is unaffected by inclement weather and allows for uninterrupted operation year-round. The shipyard modified the technology that was being used to blast rail cars and containers and has successfully adapted the process to blast barges. The fully automated blasting robots use steel grit as the blast medium, which is blasted uniformly across the surface of the barge.
"The quality of the product is so much better than manual blasting," said Cibilich. "The customer gets a much better product."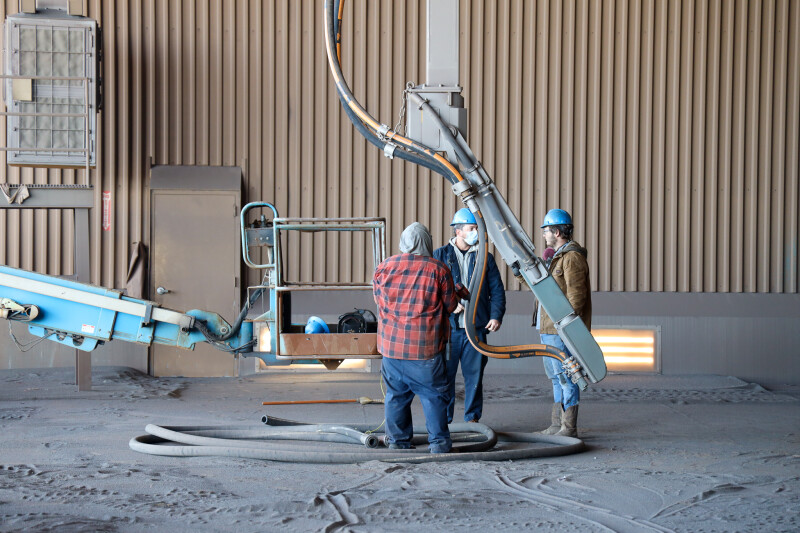 There are two robotic blasters, each with two oscillating nozzles that continuously blast the barge from the top and sides. A separate bottom-blasting robot, outfitted with oscillating nozzles, blasts the bottom surface of the barge. Each blasting robot is capable of blasting at a rate of 2,000 sq. ft. per hour. As a result of the speed and efficiency of the fully automated robotic blasting system, the time to blast a standard inland hopper barge takes one fourth the amount of time as the traditional manual sand blasting method.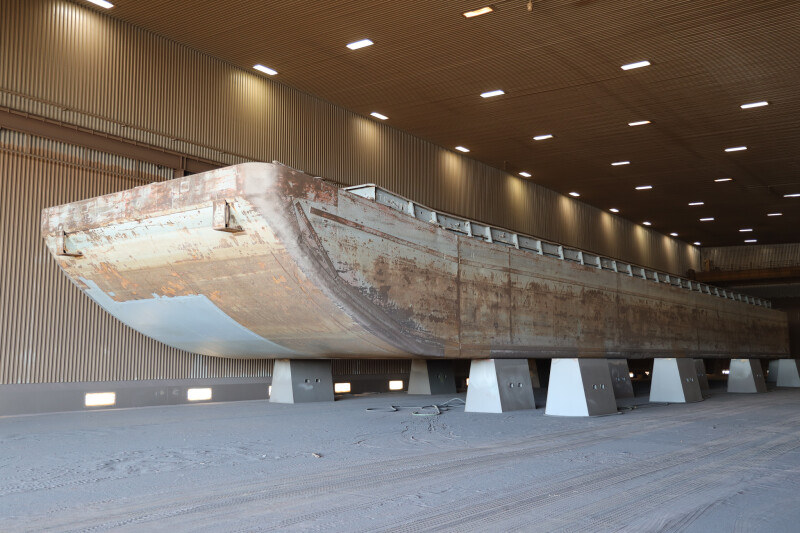 The steel grit blast medium also provides a superior surface for paint adhesion and bonding resulting in NACE III inspector verified surface profile readings between 4.5 and 4.8, as opposed to a surface profile reading of 3.0-3.5 from sand or slag medium. The improved profile finish leads to a better paint adhesion to the steel which leads to fewer required paint jobs during the life of the barge, Dowling said.
With all the yard's success, Cibilich said he is constantly trying to upgrade his yard and his building practices. "If you're not getting better, you're getting worse," he said. "All of your equipment, for instance, once it's bought, immediately starts to age. You have to keep up with the maintenance and replacement."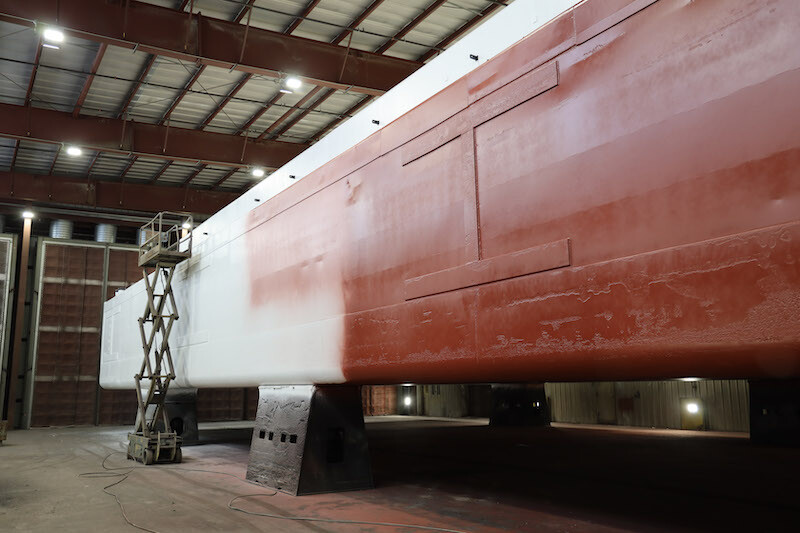 For our next stop, the last of this three-day sojourn, we drove back across the river to Kenner, La., and to the offices of Karl Senner LLC.
In 1967, company founder Karl H. Senner sold the first Reintjes gearbox in North America to LeBeouf Towing, Houma, La. By 1972, he had secured the exclusive Reintjes sales and service distributorship for all of North America. To date, the company has sold approximately 4,000 Reintjes gearboxes.
Like so many Louisiana marine companies, Senner is a family business. We met with the founder's two grandsons — Karl Senner, company president, and his brother Chris Senner, company vice president.
"This company is 100 percent committed to the marine industry. We set ourselves up to be very involved with the vessel owner," said Karl. "We don't lose customers. It's very rare to lose one because we want to see our partners be successful."
I asked Chris Senner about what he thinks are the evolving interests in the marine industry.
"We see a very strong, growing interest in green solutions like a diesel-electric system often augmented with some type of energy storage system or even electro-mechanical hybrid system with diesel main engine, gearbox and electric motor, giving the flexibility to work with either or a combination of both," he said.
Chris said that he thinks passenger vessels, harbor tugs, and inland towboats are strong markets. "We can provide a solution that is tailor-made for their operating profile," he said. "We can supply the entire system including energy storage."
After leaving Karl Senner, I headed back to Mandeville and my colleagues flew off to Maine — where it is really cold.
On behalf of Bob, Lauren, and Doug, we would like to thank the Offshore Marine Service Association, Maritime Partners, Marquette Transportation Co., Austal USA, Blakeley BoatWorks, Steiner Construction Inc., C&C Marine and Repair, and Karl Senner LLC for their hospitality and generosity.
Let's do it again sometime.