Temperature: mid-40s. Rain: drizzle to moderate showers, back to drizzle, and the cycle repeats. Wind: 15 mph (approximately) out of the west-northwest.
What is this weather good for?
I'll tell you.
It's good for visiting shipyards in Alabama.
WorkBoat is owned by Diversified Communications in Portland, Maine. Recently, three of the top brass in the Commercial Marine division — Bob Callahan, group vice president; Lauren St. Clair, group marketing director; and Doug Stewart, art director — came to New Orleans to drop in on some of our customers and they wanted me to help show the way.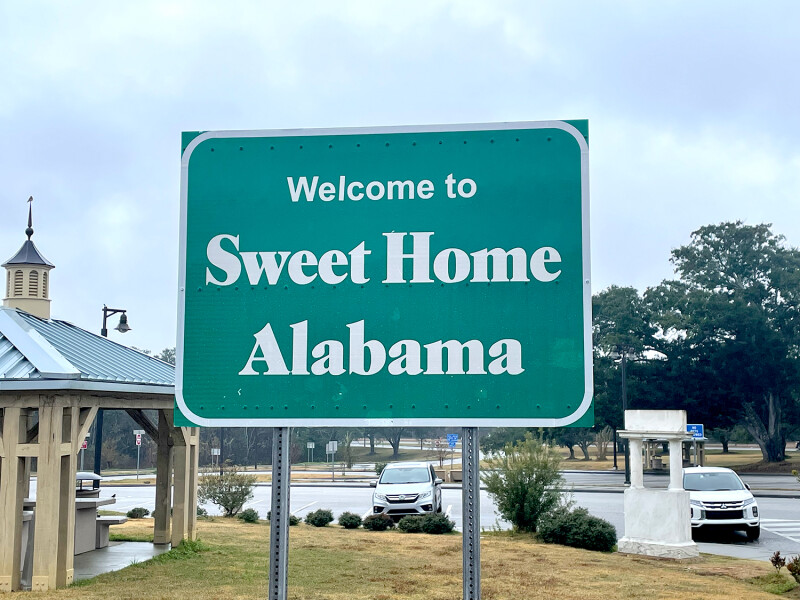 Last Monday and Wednesday, we visited companies in and around New Orleans. But on Tuesday, we changed it up a little and went to Alabama.
Our first stop was Austal USA in Mobile where we met up with media and marketing manager Michelle Bowden. She took us to the shipyard's 700,000 sq. ft. module manufacturing facility (MMF) where Austal USA builds two types of aluminum Navy ships — the 421'6"x103.7' Independence-variant littoral combat ship (LCS) and the 338'x93'x12' expeditionary fast transport (EPF). (I know the letters EPF don't line up with expeditionary fast transport. It's a Navy thing.) The MMF is a modern, hyper-technological facility with a production line that produces a ship that's 85% complete when it finishes its trip across the building. Think assembly line on steroids.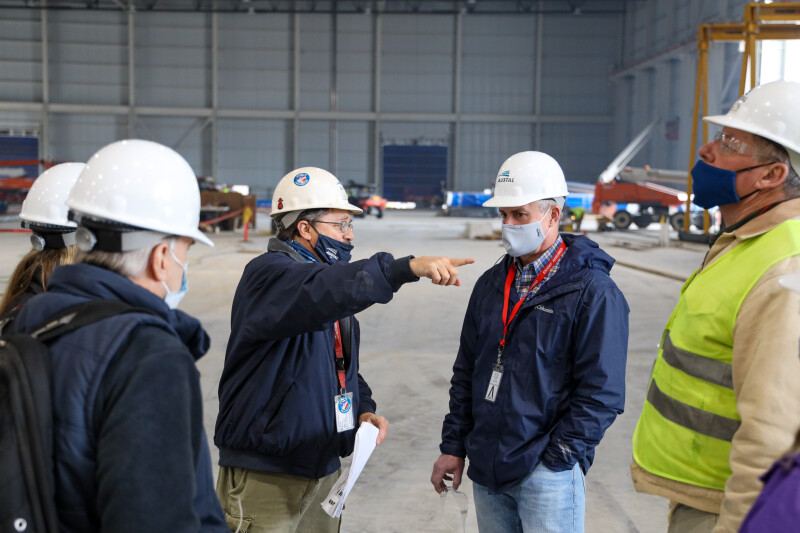 Michelle introduced us to Mike Bell, senior vice president of operations, which means he is the head honcho in that building.
"There's no losing work because of weather delays here," said Bell. "My workforce is very young, and we run a lean shipyard."
Bell's office is not on the other side of the campus in a glassed-in office building right out of Silicon Valley. It's right there in the MMF. "Anyone can come to my office any time to discuss whatever needs to be discussed," said Bell. "I want the people who work here to feel they can come to me with whatever problem arises."
As you listen to him, it becomes obvious he cares about his workers. Austal USA employs about 3,500 of them, many of whom would have few opportunities to make a living wage if they weren't a part of the shipyard's "family." "Most of these people would have been at McDonalds 10 years ago," said Bell. "I've had them tell me, 'I'm the first person in any generation of my family to buy a house.'"
Bell said his workers know that if they work hard it's going to pay off for them. But it's become more than just a job. "They're part of a team," he said. "These are their ships. They built them, and they take a lot of pride in their work. That makes a big difference."
Last March, Austal USA broke ground on its $100 million steel production assembly line facility right next to its aluminum MMF. Plans are to start steel production in April 2022. The addition of steel capability is designed to keep the shipyard as a major contributor to the U.S. shipbuilding industrial base.
Bell said the shipyard will bring its proven lean manufacturing processes and facility design to the steel shipbuilding market. These processes have helped deliver 24 ships to the Navy in the last nine years.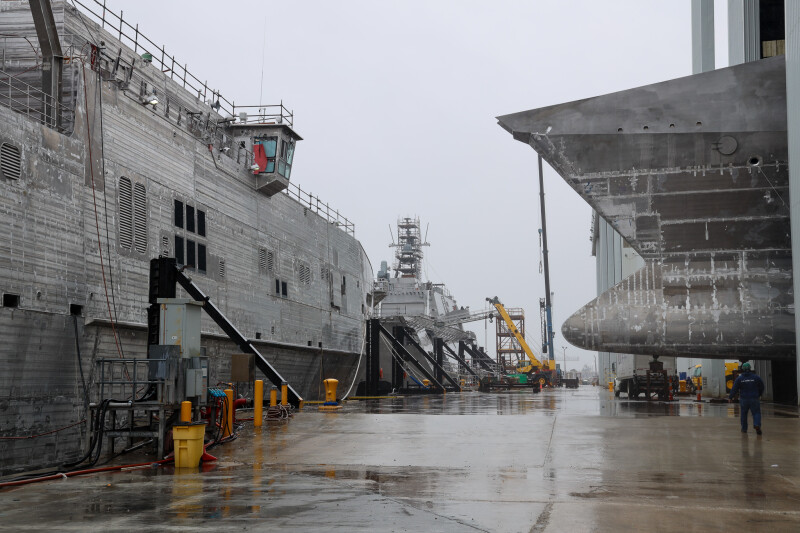 On Oct. 5, 2021, Austal USA was awarded a $144 million, two-ship towing, salvage, and rescue ship (T-ATS) detailed design and construction. The contract award marks the first steel new ship construction program for the shipyard. "We'll be the only shipyard that can build aluminum and steel combatants," said Bell. "I'm cutting steel April 1."
We stayed in Mobile for our next stop, which was at Blakeley BoatWorks. The shipyard is owned by the Cooper Group of Companies — as in Cooper/T Smith — and also includes Cooper Consolidated LLC, Plimsoll Marine, Crescent Towing, and others.
The shipyard does new construction and repair. Blakeley built the first vessel to receive a Subchapter M Certificate of Inspection.
Situated on 26 acres in heart of the port of Mobile and with the capacity to simultaneously service up to 15 towing vessels and barges, Blakeley is a full-service shipyard specializing in small vessel repair, barge repair, and new vessel construction. The shipyard's equipment includes a 1,900-ton floating drydock, 660-ton travel lift, and four covered fabrication shops
In December, Blakeley delivered the 70'x28', 1,600-hp Green Wave, a fully compliant, Subchapter M inland pushboat, to Plimsoll Marine, LaPlace, La. The vessel will operate within the Cooper Consolidated LLC fleeting footprint, the largest fleeting footprint on the Lower Mississippi River, company officials said. All three companies are part of the Cooper Group of Companies.
Designed by Farrell & Norton Naval Architects, the towboat is powered by two Caterpillar C32 800-hp Tier 3 diesel marine engines and coupled to two Twin Disc MGX-5222 gears. Electrical power is supplied by two Caterpillar C4.4 Tier 3 generators. A pair of Southeastern Propeller 70" 4-bladed stainless-steel propellers provide thrust through two J&S Machine Works Inc. 7" ABS Grade two propeller shafts with Thordon shaft bearings, Thordon rudder bearings, and Kemel shaft seals.
HydraForce LLC supplied the steering system for the two 7" main and four 7" flanking rudders.
The towboat has a capacity of 22,000 gals. of fuel and 5,200 gals. of freshwater.
The vessel is outfitted with four staterooms housing seven crew, three baths, and a full galley.
Our final stop of the day — late in the afternoon — was about a 30-minute drive west to Bayou La Batre, Ala., and Steiner Construction Inc. The yard's owner, Russell T. "Bubba" Steiner, patiently waited for us to get to him. And we were thankful for that.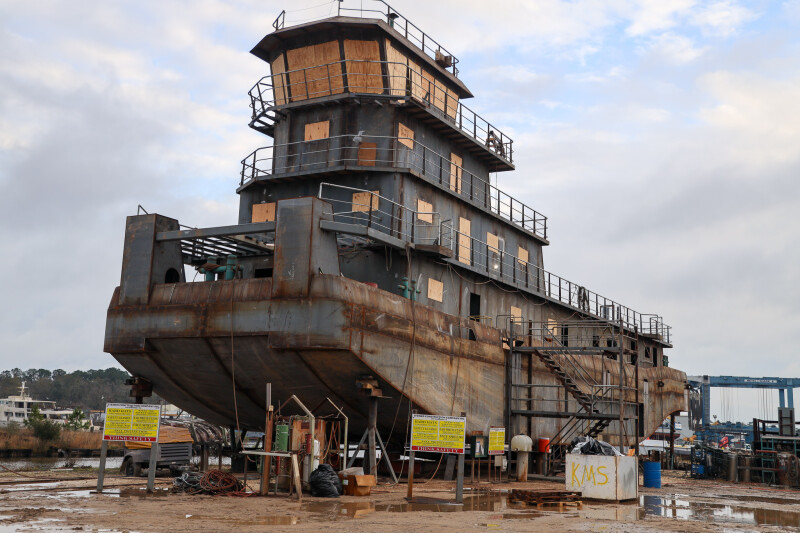 As a boatbuilder specializing in pushboats, both with azimuth thrusters and conventional shaft and propeller, Bubba is from a family of longtime shipbuilders who are well known for quality and craftsmanship. Steiner Construction is AWS certified and his construction team has extensive experience in the shipbuilding industry.
This day, Bubba was in the middle of moving his shipyard to a location once part of Horizon Shipyard. (The other part of Horizon was purchased by Metal Shark.) The new yard will give Steiner increased capacity to accommodate bigger and additional construction projects.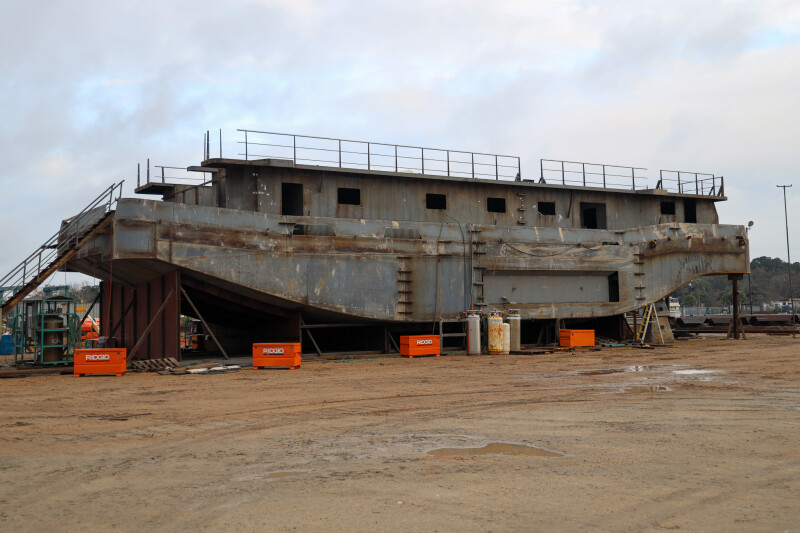 "This yard will give us more room to build more boats," said Steiner. "Our current yard is just too crowded."
Right now, Steiner is building a series of towboats for Maritime Partners and is close to delivering a new boat for Canal Barge.