Austal USA, Mobile, Ala., has been a prolific builder of aluminum fast warships for the Navy for two decades. From its humble beginnings in the late 1990s, the yard has blossomed into a world-class shipbuilder, primarily on two Navy contracts — the 421'6"x103.7' Independence-variant littoral combat ship (LCS) and the 338'x93'x12' expeditionary fast transport (EPF) vessel.
A recent visit to Austal USA's 700,000-sq.-ft. module manufacturing facility (MMF) brought me to a modern, hyper-technological facility with a production line that produces a ship that's 85% complete when it completes its trip across the building.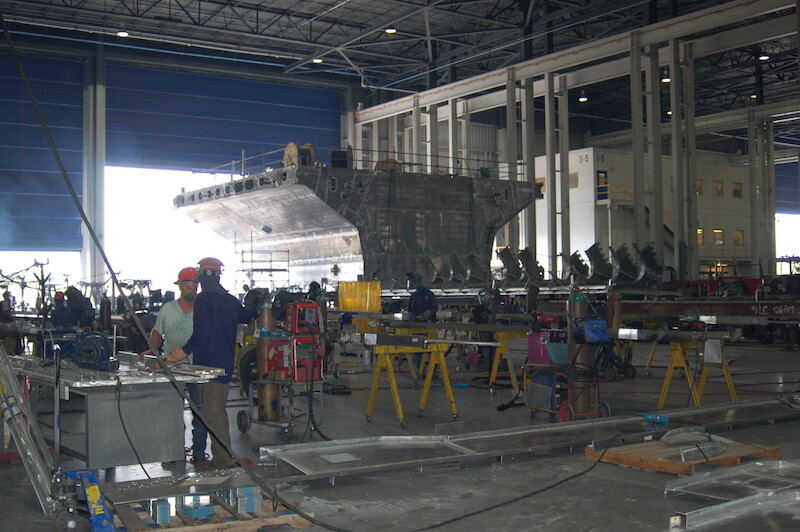 "There's no losing work because of weather delays here," said Mike Bell, senior vice president of operations. "My workforce is very young, and we run a lean shipyard."
Bell's office is not on the other side of the campus in a glassed-in office building right out of Silicon Valley. It's right there in the MMF. "Anyone can come to my office any time to discuss whatever needs to be discussed," said Bell. "I want the people who work here to feel they can come to me with whatever problem arises."
Once the modules leave the MMF they are transported to the vessel assembly bays using multi-axle transporters capable of lifting modules weighing over 400 tons and measuring up to 120'.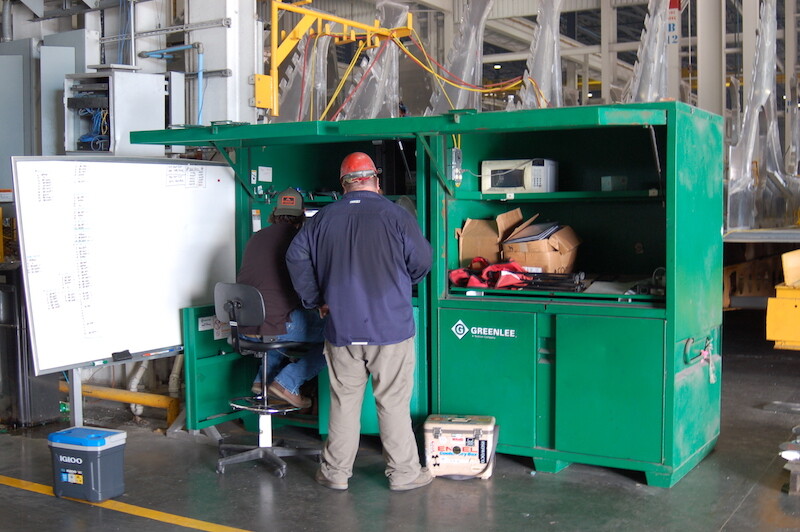 The only catch was putting ships in the water using someone else's drydocks. Getting the shipyard its own drydocks would solve that problem.
Austal USA enjoys a close relationship with the city of Mobile, the surrounding counties and the state of Alabama. They scratch each-others backs one might say. With success like they've found in the aluminum boatbuilding business and room to grow physically, why not branch out into the steel manufacturing business and the repair business — catch lightning in a bottle again. And that's exactly what shipyard officials are doing.
WEST CAMPUS
Following the acquisition of additional waterfront property along the Mobile River in September 2020, Austal USA quickly established a ship repair facility that got an immediate positive response and came with a 692'x122', 20,000-ton certified Panamax-class floating drydock.
"Almost immediately after word got out Austal USA had purchased the additional waterfront property, we were inundated with calls from commercial captains looking to return to Mobile to have their ships serviced," said Bell.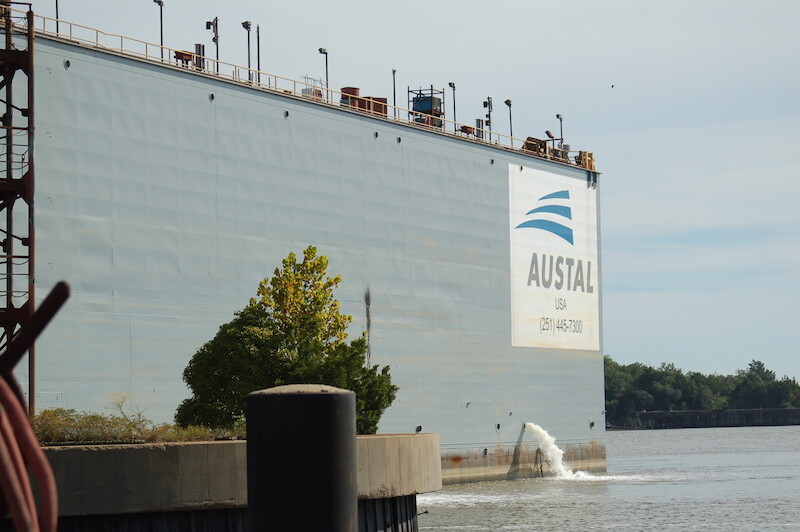 In addition to the drydock, Austal's acquisition included 15 acres of waterfront property spanning almost 3,000 linear feet of waterfront pier space, a 300,000-sq.-ft. outside fabrication area, and 100,000 sq. ft. of covered fabrication facilities all just 30 miles from the Gulf of Mexico.
Unlike the aluminum MMF and the new steel MMF under construction, the Austal West Campus repair facility is located across the Mobile River from the 165-acre corporate headquarters providing access to deep water berthing for vessels up to 1,000', manufacturing capabilities that include a friction stir welder, CNC machines, CNC cutting tables, and a carpenter shop, machine shop and electrical and pipe shops. The repair facility also has heavy-lifting capability with mobile cranes, overhead cranes and wing wall cranes that travel the length of the 668' (length on blocks) drydock.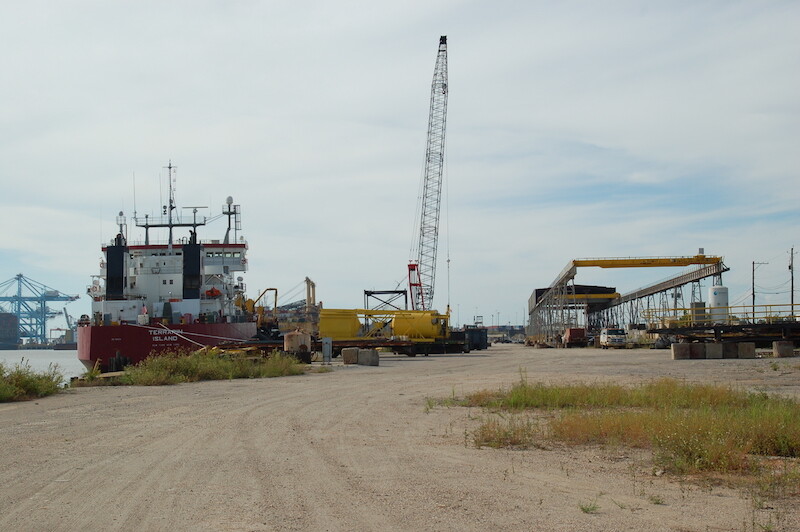 The new repair facility is part of the old Bender Shipbuilding & Repair Co. property.
Harley Combs, Austal's West Campus director, said the first order of business was to get the place cleaned up and organized.
"We hauled so much trash out of this yard that at one time I was afraid Mike (Bell) was going to stop paying for the trucks that were hauling it all away," said Combs. "We did all this inhouse. We didn't use any subcontractors. You won't recognize this place when you see what we're going to do with it."
In the meantime, they're open for business. The services provided by Austal's Mobile ship repair operation range from conversions and upgrades to advanced ship repair. The machine shop and fabrication areas are fully equipped with overhead cranes, lathes, and CNC plasma cutters. Other technical services offered to the company's service clients include full-service detail design capability, 3-D modeling, field engineering support and dimensional accuracy control.
STEEL PRODUCTION
In late March, Austal USA broke ground on its $100 million steel production assembly line facility right next to its aluminum MMF. Plans are to start steel production in April 2022. The addition of steel capability is designed to keep Austal USA as a major contributor to the U.S. shipbuilding industrial base.
During World War II, residents of Mobile built steel Liberty ships that were critical to the war effort. In the coming years, Austal will look to build and deliver steel ships needed by the U.S. Coast Guard and Navy.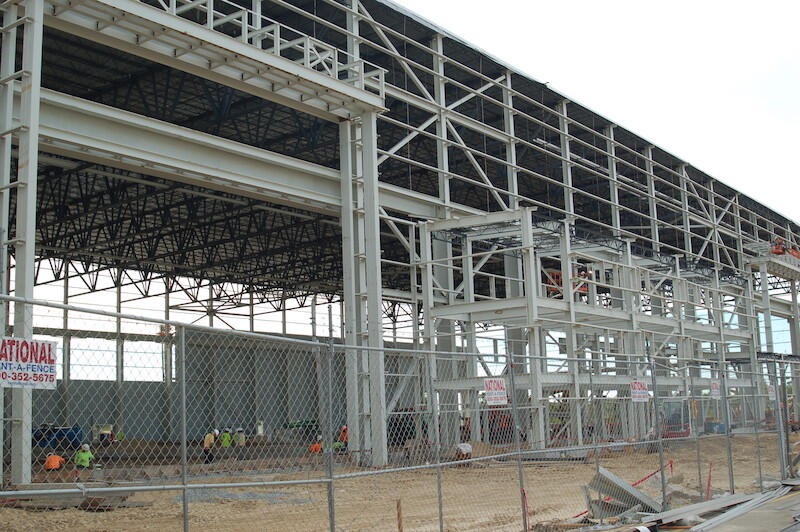 Austal USA will bring its proven lean manufacturing processes and facility design to the steel shipbuilding market, shipyard officials said. These processes have helped deliver 24 ships to the Navy in the last nine years.
The Navy was listening.
The military branch awarded Austal USA a $144 million, two-ship towing, salvage, and rescue ship (T-ATS) detailed design and construction contract Oct. 5. The contract award marks the first steel new ship construction program for the shipyard.
The award follows the Navy's $3.6 million T-ATS functional design contract awarded to the shipyard in June.
"We'll be the only shipyard that can build aluminum and steel combatants," said Bell. "I'm cutting steel April 1."
T-ATS will provide ocean-going tug, salvage, and rescue capabilities to support U.S. fleet operations and will be a multimission common hull platform capable of towing heavy ships. These ships will be able to support current missions, including oil spill response, humanitarian assistance, and wide area search and surveillance. The platform also enables future capability initiatives like modular payloads with hotel services and appropriate interfaces.
The T-ATS award is one of several steel shipbuilding programs the company is pursuing as it diversifies its capabilities. Austal USA previously announced it submitted a bid to build the U.S. Coast Guard's Offshore Patrol Cutter and continues to execute a Light Amphibious Warship concept studies and preliminary design contract for the Navy and Marine Corps. Austal's new steel line and facility expansion also positions it well to be the follow-on Frigate yard for the U.S. Navy.
"We plan on being here a very long time," said Bell.