Not a very original title, I know, but it sure describes what I've been doing this week.
WorkBoat is owned by Diversified Communications in Portland, Maine. Three of the top guns in the Commercial Marine division (which WorkBoat and the International WorkBoat Show are part of) — Bob Callahan, group vice president; Lauren St. Clair, group marketing director; and Doug Stewart, art director — came to New Orleans to drop in on some of our customers here and in Alabama and they wanted me to help show the way.
We started on Monday by visiting Aaron Smith, president and CEO of the Offshore Marine Service Association (OMSA), and Ashley Smith, OMSA's director of member services. Offshore service vessel owners are seeing a pickup in oil and gas activity in the Gulf of Mexico. While the ways are not filling up with new OSVs, the first step is for the boats that are already built to go back to work.
OMSA is right there supporting its membership, defending the Jones Act, including the offshore wind industry.
Last summer, OMSA launched the Jones Act Enforcer, a first-of-its-kind vessel used to gather video and photographic evidence of Jones Act violations. Any evidence of violations is submitted to authorities, made public, and shared with the media.
OMSA says foreign vessels are transporting merchandise between points in the U.S., utilizing their significantly lower crewing costs to undercut U.S. vessels and U.S. workers. "American workers are losing jobs to foreign vessels," Aaron Smith said.
From there we went to Metairie, La., and Maritime Partners, where we met with co-founder and president Austin Sperry and analyst Jack Nash. Founded in 2015, Sperry and Nash said Maritime Partners provides maritime leasing and financing solutions to operators across the full spectrum of credit quality. The company also gives operators access to its fleet of more than 1,600 barges and towboats.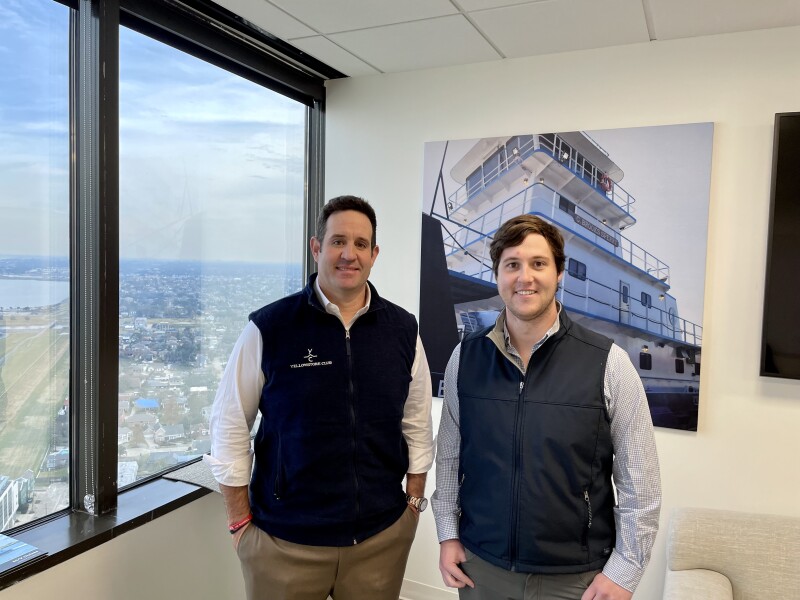 In addition, Sperry said the world's first methanol-­fueled towboat is set to join Maritime Partners' fleet and become available for charter in 2023. The vessel, Hydrogen One, will be IMO 2030 compliant, meet the USCG's Subchapter M requirements, and have an operational range of 550 miles before refueling. Maritime Partners, in cooper­ation with Elliott Bay Design Group, CL Marine and ABB, are developing it. "We are excited to see how far we can get this boat into this industry," said Nash.
Our last stop of the day was in St. Rose, La., and the offices of Marquette Transportation Co.
Marquette's Gulf-Inland unit offers full-service intercoastal marine towing solutions, operating on the U.S. inland and intercoastal waterway system, with special emphasis on the Gulf Intracoastal Waterway from Brownsville, Texas, to St. Marks, Fla.
Marquette's Gulf-Inland fleet includes more than 60 inland towing vessels, up to 3,400 hp; 33 2,000-hp vessels with three new Z-drive vessels; unit tow and tanker services; bulk commodity and project cargo movement. It also customizes transportation solutions for clients across multiple industries, and creates a family-like atmosphere for crews, one of the first companies to include satellite TV, for example.
At Marquette, we met with Kendall Chauvin, executive vice president, Gulf-Inland; and Anna Whittemore, vice president of sales and logistics. They were talking about the most recent WorkBoat Show back in early December.
"It did seem like this year there were more quality attendees and fewer people walking around collecting pens and mints," said Chauvin. "I thought the show was really good this year."
That's the kind of thing we like to hear.