As 2023 begins, there is already plenty on the plates of shipyards around the U.S..
During a period of change for the industry, shipbuilders are innovating to meet the needs of their customers, picking up right where they left off in 2022. There were a number of unconventional new barges being built last year, including a new yard, repair, berthing, and messing (YRBM) barge built by Conrad Shipyard LLC for the Navy, an LNG bunkering barge underway at Fincantieri Bay Shipbuilding, and Kirby Corp.'s venture into the offshore wind industry with their agreement to provide barge transportation services for offshore wind towers and turbines.
Looking at some of the major projects underway at shipyards in early 2023, we see similar innovations and adaptation to the current markets. Whether it's building with sustainability goals in mind and meeting new demand, or setting new bars in Jones Act-compliant building, or updating training vessels for maritime academies, there's no shortage of work and new designs being built at U.S. shipyards. Here are a few of the highlights from these early activities.
Largest LNG Bunkering Barge in US History
About this time last year, construction was started by Fincantieri Bay Shipbuilding on the largest LNG (liquefied natural gas) bunkering barge ever built in the U.S. That project, which is slated to be completed late this year, is under contract with Crowley, the largest independent operator of tank vessels in the U.S. This 12,000 m3 barge will be the largest Jones Act-compliant vessel of its kind. Construction on the barge continues at Bay Ship in Sturgeon Bay, Wis.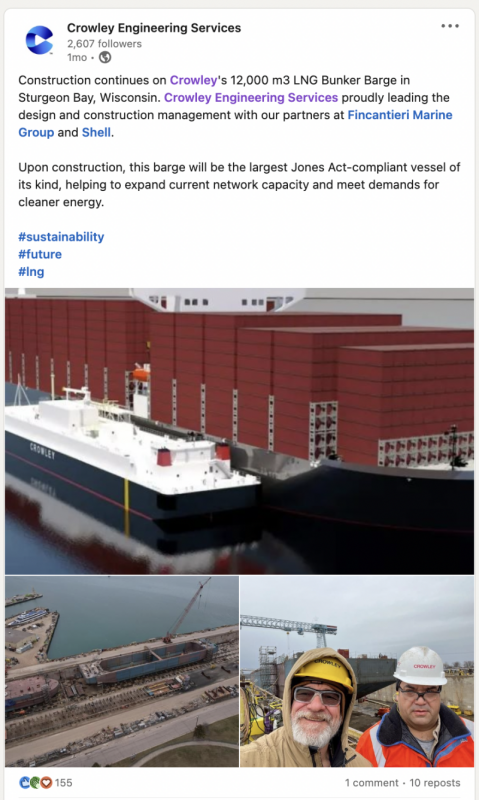 This project is not only notable for its sheer size, but also because of its importance as a sustainable minded project. LNG, natural gas which has been cooled down to a liquid form, is both easier and safer to store and transport. It takes up about 1/600th the volume compared to natural gas in its gaseous state. Barges such as this one, are used either to transport LNG to locations that can convert it back to its gaseous state, or use it to refuel other vessels. Given that LNG is significantly more eco-friendly than traditional fossil fuels, its usage is only expected to increase in the coming years. Thus, the use of large LNG bunker barges is also expected to increase.
New CTV for Windea
In October, St. Johns Ship Building held a keel laying ceremony at its Palatka, Fla., shipyard, marking the start of construction for the second Incat Crowther 30 CTV. These 98' Jones Act-compliant CTVs, will be operated by Windea CTV LLC in support of U.S. offshore wind development. The first series of vessels under construction are expected to be used in support of the Vineyard Wind I construction project, south of Martha's Vineyard, Mass. SJSB recently provided an update on their work, posting a video of the bow module flipping on LinkedIn early in the year.
Offshore wind is a growing sector of the maritime industry, and this is another example of shipyards working to support its development. At the time of the keel laying ceremony, SJSB's president Jeff Bukoski said, "We remain focused on infrastructure improvements that will contribute to the quality and efficiency of our aluminum and steel vessel programs required to support offshore wind developments."
Continued development on NSMVs
In 2019, Marad awarded TOTE Services a contract for the national security multimission vessel (NSMV) program. TOTE then awarded Philly Shipyard a contract to construct up to five NSMVs.
In December 2020, construction officially got underway with a steel cutting ceremony held at Philly Shipyard. TOTE, Philly Shipyard, and Texas A&M University at Galveston, Texas, cut steel yesterday on the fourth 524'5"x88'7"x55' NSMV for the Texas A&M Maritime Academy in Galveston, Texas. The fourth NSMV expected to be delivered in 2025 to Texas A&M.
The Philadelphia-based shipyard will build up to five new ships, with 21'4" drafts. The Maritime Administration's NSMV program is designed to provide a purpose-built, state-of-the-art training platform for state maritime academies in New York, Massachusetts, Maine, Texas, and California, respectively.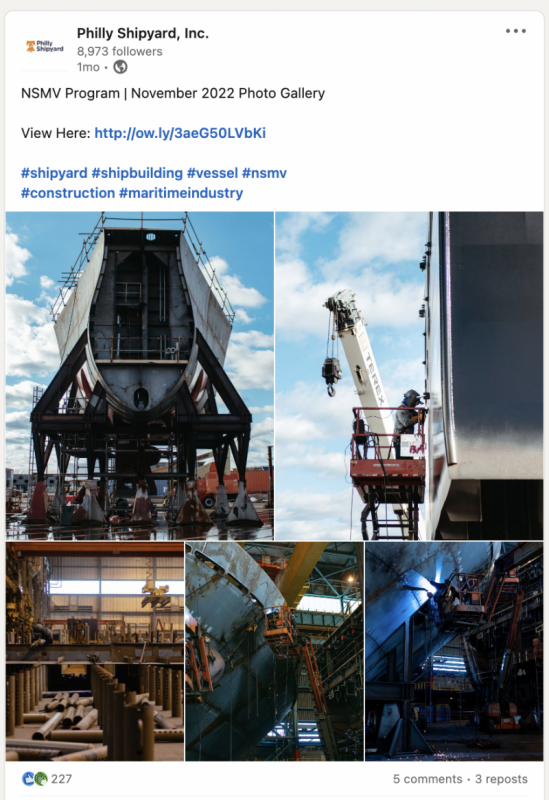 In addition to providing world-class training for future U.S. mariners, these five NSMVs will be available to support humanitarian assistance and disaster relief missions in times of need.
Along with serving as an educational and training platform for future U.S. mariners, the five diesel-electric powered (four main engines in two engine rooms with a total installed power of about 19,260 hp) NSMVs will also be available to support federal government efforts in response to national and international disasters such as hurricanes and earthquakes.
In this role as a National Defense Reserve Fleet (NDRF) vessel, the NSMV will incorporate medical capabilities, a command and control platform, and berthing for up to 1,000 first responders and recovery workers. The vessel's roll-on/roll-off ramp and crane to facilitate container storage capabilities will enable it to provide critical support equipment and supplies to those in need.
Maneuverability will be enhanced by flap rudders, a sternthruster and bowthruster with "take home" power. Each ship will have a range of 11,000 miles at 18 knots.
The NSMV will help to sustain world-class, U.S. maritime training operations at the state maritime academies by equipping young U.S. mariners with the most modern and adaptable training platform. The NSMV will feature numerous instructional spaces and a full training bridge and have space for up to 600 cadets to train in a first-rate maritime academic environment at sea.
Wabtec Corp., is providing the main propulsion engines, Cummins USA is supplying the emergency generator sets, and Bronswerk is providing the air conditioning systems.
Moran's Two New Tugs
In December, Moran Towing Corp. announced that their partners, Washburn & Doughty Associates, East Boothbay, Maine, had laid the keel on Hull 133 at its shipyard. This new tug will join Moran's growing fleet of oceangoing vessels that includes 90 versatile tugboats, 10 tank barges, and six dry bulk barges in 2024.
Did you check out our 2021-2022 WorkBoat Construction Survey?
>>> https://www.workboat.com/resources/reports/2021-2022-workboat-construction-survey