Covid-19, worker shortages, and the price of steel curbed the number of inland barge deliveries over the past year.
Conrad Shipyard LLC, Morgan City, La., was awarded a $140 million contract in March from the Navy for the design and construction of up to eight 151'×49'×14' yard, repair, berthing, and messing (YRBM) barges.
A YRBM barge provides a temporary home away from home and workplace for service men and women whose vessels are in port for repairs and/or maintenance.
Conrad's YRBMs incorporate functional spaces which are designed to allow the sailors to work, sleep and eat comfortably. The fixed-price contract has a potential value of over $140 million.
The YRBM barge is an American Bureau of Shipping A1 accommodation barge that provides pier-side living accommodations capable of berthing 199 mixed-gender personnel, messing for 300, and space for medical offices, classrooms, workspaces, laundry rooms, storerooms, and lounge areas.
Conrad expects to deliver the first YRBM barge to the Navy in late 2023. If the Navy exercises options for the additional barges, peak production is expected to occur from 2023 through 2025.
"We are excited to enter into this partnership with the Navy to help modernize its fleet," Conrad Shipyard CEO Johnny Conrad said in March. "Not only will this contract provide an abundance of jobs for our workforce in the Morgan City area, but it will also help to support a multitude of small businesses."
Late last year, Bollinger Shipyards LLC delivered the 400'×100' ocean transport barge Holland to General Dynamics-Electric Boat's Groton Shipyard.
The Holland will support the construction and maintenance of the Navy's Columbia-class ballistic missile submarines and Virginia-class fast attack submarines. General Dynamics-Electric Boat is the prime contractor on the design and construction of the Columbia-class submarine, which will replace the aging Ohio-class ballistic missile submarines and is a top strategic defense priority for the U.S.
In November 2019, General Dynamics-Electric Boat selected Bollinger to build the Holland. The concept and contract design were handled by the Bristol Harbor Group, Bristol, R.I., while Bollinger performed the detail design engineering at its Lockport, La., facility, and construction at the Bollinger Marine Fabrication facility in Amelia, La.
The Columbia class is now being built at Electric Boat's Quonset Point, R.I., manufacturing facility. Shipyard personnel will construct and outfit Columbia modules at Quonset Point which will then be transported by the Holland to the company's final test and assembly facility in Groton. The first Columbia module is expected to arrive in Groton in 2023.
Demand for liquefied natural gas (LNG) in the maritime sector is growing rapidly. Over the next several years, it's estimated that 400 new vessels utilizing LNG are expected to enter service. Many believe LNG is the leading solution to fuel the maritime sector as the industry advances its sustainability goals through a transition to lower-carbon fuels.
LNG is a process through which natural gas is cooled to a liquid state and reduced in volume by nearly 600%, which makes it easier and safer to transport. Bunkering barges either transport the gas to locations where it can be returned to a gaseous state for energy, or it can be used to refuel other vessels which use LNG.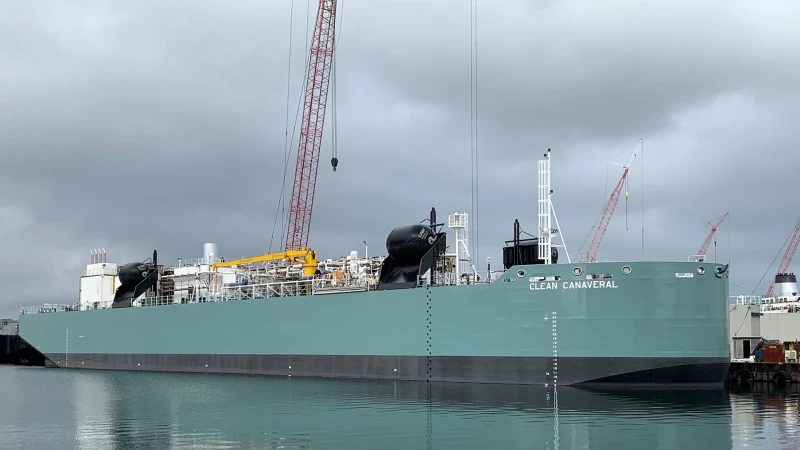 In Wisconsin, Fincantieri Bay Shipbuilding delivered the 340'×66'×32'10" LNG bunkering barge, Clean Canaveral, to Polaris New Energy six months ago. Bay Shipbuilding is the main commercial business unit of Fincantieri Marine Group in the U.S. One month earlier, the shipyard was awarded a contract from PNE Marine Holdings, an affiliate of Polaris New Energy, to build a second 5,500-cu.-meter LNG bunker barge. Polaris New Energy is the marine bunkering subsidiary of Seaside LNG Holdings, a subsidiary of Northstar Holdco Energy focused on the production and delivery of LNG as a clean transportation fuel.
The new ATB barge, a sister vessel to the Clean Canaveral, will join Northstar Holdco's growing fleet that delivers LNG to cruise ships, container vessels, bulk carriers, car carriers, and tankers.
The 5,500-cu.-meter ATB will be fitted with four 1,375 CBM IMO Type C tanks. It will utilize a cargo handling system designed and developed by Wärtsilä.
"LNG is recognized as a clean, dependable, and competitively priced fuel for the shipping industry," Tim Casey, senior vice president LNG for Northstar, said when the contract was announced. "The completion of this sister vessel to the Clean Canaveral further distinguishes Northstar's capabilities to manage the last-mile logistics of LNG safely and effectively across the U.S. coastline."
McAllister Towing LNG Services LLC is operating the ATB Polaris/Clean Canaveral for Polaris New Energy. The 4,000-hp tug Polaris is fitted with a JAK-400 coupling system and was built at Master Boat Builders Inc.
In addition to those bunker barges, Bay Shipbuilding is constructing the largest LNG bunkering barge ever built in the U.S. for Crowley. The 416' barge is expected to be completed in late 2023. Crowley will operate the vessel under a long-term charter with Shell NA LNG LLC.
The barge, which will have a capacity of 12,000 m3 (3.17 million gals.) of LNG, will be the largest Jones Act-compliant vessel of its kind, and the second Jones Act-compliant bunker barge Shell has under time charter in the U.S.
Serving the U.S. East Coast, it will be used to help expand the current LNG network capacity and meet demands for cleaner energy sources for ships.
Kirby Corp. announced in late March that it was getting in on the offshore wind industry gold rush by signing an agreement for its wholly owned subsidiary, Kirby Offshore Wind, to provide barge transportation services for offshore wind towers and turbines to Maersk Supply Service. Maersk has been selected by Empire Offshore Wind, a joint venture between Equinor and BP, as the installation contractor for the project off the coast of New York. Kirby's deal with Maersk represents a 20-year framework agreement.
Kirby will provide the Jones Act-compliant feeder barges and tugs that will transport the wind towers and turbines from New York's South Brooklyn Marine Terminal to a specialized Maersk wind turbine installation vessel (WTIV).
Kirby will be investing $80 million to $100 million in two new ABS-classed feeder barge and diesel-electric hybrid tugboat units which will be constructed in U.S. shipyards. Each feeder barge will transport next-generation turbines of 15 megawatts and higher as turbine technology advances. Additional information about the tugs and barges had yet to be disclosed as WorkBoat went to press.
Kirby's offshore marine facility in Staten Island, N.Y., as well as its marine headquarters in Houston, will be the base of operations for the company's offshore wind activities.