November 23, 2022
Increase Your Utilization & Performance with Riteks. We are formulated to keep you going.
Riteks Inc. was founded in 1989 to provide industry support to customers through custom chemical manufacturing and raw material sourcing. Since then, we have expanded our market to include value-added protective coatings. At Riteks, we focus on providing fully formulated coating solutions that add value, protect assets, and decrease downtime. With our years of experience, Riteks has developed these coatings and solutions for the Inland and Offshore Marine Vessel market. Riteks has a strong line of high-performance epoxies, linings, topcoats, and foam that have been optimized to exceed customer expectations. We provide specifications tailored for individual project needs that will save application costs and reduce environmental impact, while providing longer performance which extends the time between regular maintenance. Riteks' protective coatings are produced in the United States and are readily available for your project from start to finish.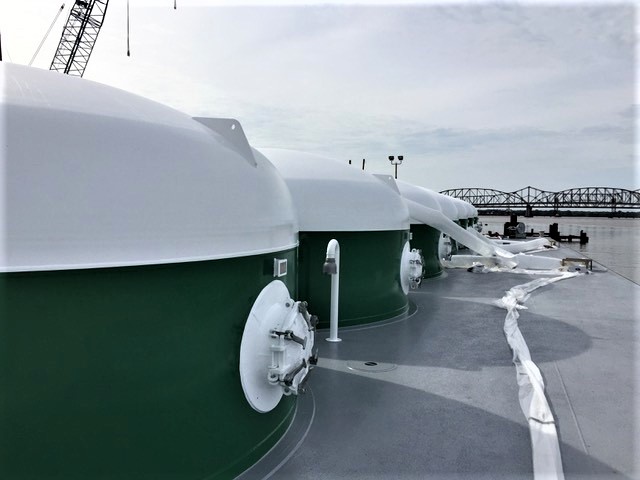 Below are Riteks' Core Products with Exceptional Performance for internal & external applications in the Inland and Offshore Marine Vessel market:
RitePoxi One Coat Marine Epoxy
The RitePoxi One Coat Marine Epoxy was designed as a true one coat system specifically for inland and offshore marine vessels. This is a unique epoxy formulated with ultra-low VOCs and HAPS. RitePoxi One Coat Marine Epoxy is applied on both internal and external surfaces, even directly to metal which eliminates the need for a primer. It has high build capabilities and can be applied up to 30 mils DFT sag free. This epoxy does not require a topcoat because it has a high gloss finish and retains its gloss for 18-24 months. RitePoxi One Coat Marine Epoxy benefits inland and offshore barge and tug owners, operators and shipyards by reducing environmental costs, lowering labor costs through reduced application time, eliminating risks associated with multiple coat systems, and decreasing downtime by bringing their customer's vessel into service quicker resulting in more work.
*Glass flake and non-skid versions are available for high foot traffic areas and where high abrasion resistance is required.
RiteLiner
RiteLiner products are high build Novolac Modified Epoxies that are applied in one coat. This product line has very low VOCs and ultra-low HAPs, with excellent adhesion designed for direct-to-metal applications. RiteLiner is designed to be used as a tank liner for applications that require excellent resistance to hydrocarbons, alcohols, and petroleum products. RiteLiner is a superior option for high temperature materials as it has temperature resistance up to 500°F, and proven to return a tank back into long term service quickly without force drying.
*For highly abrasive material being transported, glass flake versions are available.
RiteThane Direct to Metal Urethane
RiteThane DTM Urethane is a high build acrylic urethane for industrial exterior applications. It can be used as a single coat or topcoat that will provide excellent weathering, corrosion, and chemical resistance.
*Glass flake and non-skid versions are available for high foot traffic areas and where high abrasion resistance is required.
RiteFloat
RiteFloat is a versatile closed-cell polyurethane foam that has numerous industrial and marine applications that include new construction and barge maintenance. RiteFloat provides a permanent repair which will restore buoyancy, repair and prevent leaks, stop corrosion, add structural integrity, form a sound barrier, and act as a fire retardant. RiteFloat can be applied while your asset is in service, greatly reducing downtime.
Hull Bottom System
Riteks offers a hull bottom system with a 10-year performance. This system is designed for easy repair, decreasing fuel and maintenance costs. This one coat application is applied over our hull epoxy.
*Riteks' coatings are compatible with most Antifoulings used throughout the industry. Contact your Riteks Representative for details.