The first draft environmental assessment for a California offshore wind energy area is out from the Bureau of Ocean Energy Management, starting a 30-day public review and comment period on the 178-page document.
The 276-square mile Morro Bay Wind Energy Area about 20 miles off the state's central coast could be developed to a potential 3 gigawatt generation potential, roughly enough to power 1 million homes, according to BOEM.
It lies close to busy sea lanes between California ports, fishing and recreational industries and migration routes for protected marine mammals and other wildlife. The draft assessment includes all those issues and BOEM's present thinking on how they can be addressed.
"The WEA was designated after extensive collaboration with other Federal agencies and the State of California, as well as engagement with ocean users, Tribes, local communities and the public," according to BOEM's announcement of the document. "Designation of the Morro Bay WEA underscores BOEM's commitment to an all-of-government approach to achieve the (Biden) Administration's ambitious offshore wind energy goals while conserving and restoring ocean and coastal habitats."
The draft assessment analyzes potential impacts from future commercial leasing by wind energy developers and related site characterization and assessment activities.
Those concerns include environmental impacts and socioeconomic effects, including the desire for "environmental justice" that has been professed by the Biden administration.
Early-stage site characterization activities would involve geophysical, geotechnical, archaeological and biological surveys at sea to develop specific project proposals – including anchoring and operated meteorological buoys to document wind and oceanographic conditions.
"Public input on our environmental analysis and identified measures to avoid or reduce potential impacts from leasing activities is an important part of our process under the National Environmental Policy Act," said Doug Boren, regional director of the BOEM Pacific office. "BOEM will analyze and consider all comments before we finalize our analysis."
The draft assessment notes the relation of the wind energy area to maritime traffic. The American Waterway Operators has called for BOEM to move cautiously in consultation with the Coast Guard for early avoidance of potential conflict between energy development and shipping.
BOEM's analysis of Automatic Identification System (AIS) data notes shifts over time in vessel traffic.
"Vessel traffic patterns moved closer to shore between 2011 and 2017 with changes to air quality regulations for vessels within 24 nautical miles from shore. More vessels traversed the Morro Bay WEA in 2017 than in 2011," the report says, noting most were cargo ships.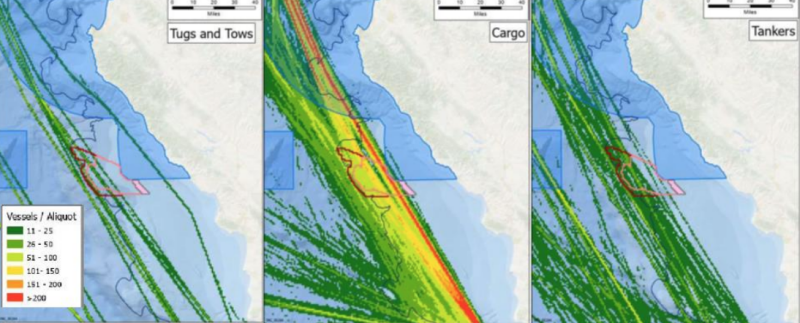 The Coast Guard is conducting the Pacific Port Access Route Study, or PACPARS, to evaluate safe access routes, which can be used to determine if a shipping safety fairway or other routing measures will be needed, according to the report.
The report says the Morro Bay port complex accounts for about 4 percent of California's average $226 million in commercial fisheries landings, primarily sablefish, Dungeness crab and rockfish.
"Potential impacts to commercial fishing from the Proposed Action are expected to be minor and temporary in duration (5 years or less), and primarily associated with a spatial incompatibility around the data collection buoy(s) and interactions with Project vessels, which is comparatively small in size when compared to the full extent of available fishing grounds," the report states.
It says BOEM will require wind developers to use "best management practices…to minimize adverse effects to commercial fishing from their site assessment and site characterization activities."
The 30-day public comment runs until Friday, May 6, and BOEM will host two virtual public meetings online:
– April 14 from 5 p.m. to 8 p.m. Pacific time.
– April 19 from 9 a.m. to noon Pacific.
The draft EA, instructions on how to submit comments, and information on the public meetings can be found online at: www.boem.gov/morro-bay.