Never have there been so many technological solutions to advance maritime operations, maintenance, navigation, mission management and more.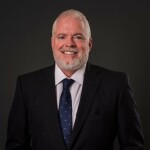 As the digital era enters a new phase defined by unprecedented breakthroughs in autonomy, electrification, artificial intelligence and immersive reality, the future of marine defense will require the Navy to leverage and deploy a full range of technology options across the service to build a fleet that is efficient, flexible, precise, and competitive.
One of the critical technologies for future maritime operations and defense is artificial intelligence (AI). In addition to being essential to operating uncrewed vessels, AI can be used for predictive modeling to improve missions, equipment performance, and threat detection.
Connectivity is another essential technology, as controlling a large hybrid fleet from greater distances by collecting, analyzing, storing, and transmitting system data requires a wider range of connectivity and storage options. At the same time, our sailors, equipment, and command centers need instantaneous access to secure and accurate data throughout deployments. This increased connectivity also comes with the possibility of creating gaps in cybersecurity, which must also be addressed.
A lesser-discussed but essential aspect of maritime defense involves hardware and software replacement and obsolescence. OEMs often stop making replacement parts long before the end of an asset's 30-to-40-year lifecycle, making it critical that marine operators future-proof equipment with upgradable hardware and updatable software.
Immersive reality, including augmented and virtual reality (AR/VR), makes it possible for ship technicians to visualize the equipment and monitor for issues long before they may be detected by other monitoring systems while benefitting from live technical support from anywhere in the world. This will ultimately reduce repair costs and increase the equipment lifecycle.
Concepts for autonomous transportation, self-learning systems and immersive reality technologies have been popularized and promoted throughout the industry for decades, but that future is now here. This a pivotal moment to unlock the future of maritime defense.
Keith Haasl is the vice president and general manager of Fairbanks Morse Technology. He leads the Fairbanks Morse Technology division, which includes overseeing the development and deployment of artificial intelligence, advanced digital defenses, SMART engineering solutions, mission management and virtual reality enhanced services.