"We can drink beer for breakfast but we have to wait until after lunch to have whiskey, right?"
Thus begins Tales from a Tugboat Captain, Thomas Teague's lively account of his 48 years working on the water. When Teague asked that question, the year was 1972. He was 18, just out of high school and about to sign on as crew aboard a friend's commercial fishing boat. The captain said OK, and that was the beginning of Teague's career on the water.  Two years later he got a job as a deckhand on a tugboat and never looked back.
Now 65, he is captain of Reinauer Transportation's 81'x28', 2,100-hp twin-diesel harbor tug Franklin Reinauer. The tug moves barges, docks ships and does assist work in the Port of New York and New Jersey.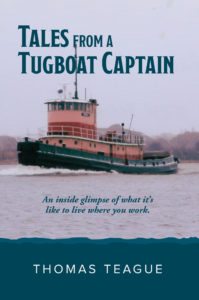 "Yes, it was very different back then," Teague laughed as he compared his early days as a hawsepiper with life on a tug today. Anyone could get a job on a tug, and supervision was minimal. "It did not really matter what you did as long as you got the job done," he told WorkBoat during a recent interview.
Teague and his fellow shipmates got the job done for the most part, but accounts of their off-hours activities make this book a fun read. Teague is a compelling storyteller who uses vivid descriptions, good dialogue, salty (make that very salty) language and plenty of humor to bring scenes and tugboat characters to life. A drunken bar fight in Delaware involving gallon jars of mustard, mayonnaise and ketchup that turned out badly is particularly noteworthy. So, too, are tales of crewmember shenanigans used to fight boredom, and the nicknames they give one another — names like Dusty, Baldy, Skateboard, Big Nose Jack and Mark Spitz. That one was earned by a mate named Mark who fell overboard into the Hudson River, swam to shore and survived.
While much of the anecdotal narrative focuses on his early career (this is the first book in a series), Teague also gives straightforward information about the challenges tug captains and crews face — handling a barge, dealing with bad weather, navigation, keeping six-hour watches, living aboard for a week or more without a break and the dangers inherent in the work. "I try not to explain things to death," he said, "but I want to let people know how things work  and what it is like to live on a tug."
In a chapter called "Dangers," he recounts the tragic stories of tug people he knew who had fatal accidents that might have been avoided had they paid better attention.
The book features several color photographs, including one of Teague enjoying a beer on a tug in 1976. Today, he said, that would be grounds for immediate dismissal. "There is zero tolerance. People sometimes joke that they will go up the street and have a drink. I say if you do that, don't come back because it is zero tolerance."
Teague, who holds a 1,600-ton master license, has worked for Staten Island, N.Y.-based Reinauer for 34 years. He said the industry began to change after OPA '90 brought in new  pollution and safety regulations. Subchapter M is adding more  requirements.
The biggest change for Teague is more paperwork. He is a Coast Guard-designated examiner for assessment of candidates for towing vessel licenses, and he has always enjoyed training new crew. The big difference today, he said, is that unlike him, young guys with no experience would never get a job today. The companies hire maritime school graduates. Even so, he said, the guys he trains ask, shortly after they first start to steer, "When do your knees stop shaking?"
"I tell them it gets easier the more years you put in, and I stay close by to keep them out of trouble. They learn by doing, just the way I did."
Tales from a Tugboat Captain, which was independently published, is available on Amazon. News of book signings and other events appears on Facebook at Captain Tom Teague