On Jan. 23, 2020, Washington state Gov. Jay Inslee laid down the law: The burning of fossil fuels to power the state's vessels, vehicles and facilities must be significantly reduced or eliminated. It's called Executive Order 20-01 — "State Efficiency and Environmental Performance." In it, he "hereby orders" that, among other things, "The Secretary of the Department of Transportation shall ensure that the Washington State Ferry (WSF) system begins the transition to a zero-carbon-emission ferry fleet, including the accelerated adoption of both ferry electrification and operational improvements that will conserve energy and cut fuel use." The target date is 2050.
OK then. For a fleet of 21 car ferries that burn 19 million gals. of diesel per year, that's a tall order. Not long ago, WSF had been contemplating a transition to natural gas-powered ferries as a cleaner and less expensive alternative to diesel, but the executive order put an end to that. Now it's electri- fication all the way. Or, at least, hybrid-electrification for starters.
For ferries, going electric is a trend all over the world, led by Scandanavia, so WSF will have a lot of company, includ- ing two other Pacific Northwest operators.
In Canada, BC Ferries now has six Island-class battery- hybrid-electric car ferries, and to the west, across Puget Sound, Kitsap Transit has one hybrid-electric passenger boat and is preparing to build an all-electric sister vessel.
In July, WSF issued a request for information (RFI) prior to putting out a request for proposals this fall for the design and construction of five hybrid-electric Olympic-class ferries, with the first to be delivered by June 2027 and the fifth by December 2031. According to the RFI, over the next 20 years, WSF intends to also convert six ferries, including three Jumbo Mark IIs, from diesel to hybrid electric and build a total of 16 new hybrid electric boats. Doing so, WSF said, will reduce the ferry system's greenhouse gas emissions by 76% and toxic pollutants by 59% by about 2040. Total cost is estimated at almost $4 billion.
BATTERY CHARGERS
The new hybrid-electric Olympic- class boats will have a capacity of 144 cars and 1,500 passengers. According to the RFI, the propulsion will be "hybrid battery-diesel electric with an automated charging system." In addition, the "primary source of energy will be shore-based electricity to charge the onboard batteries, with diesel genera- tors providing additional and/or backup energy."In other words, the new boats must have plug-in battery replenishment, which means establishing shoreside rapid charging systems capable of "full battery charging during a 20-minute dwell time at each terminal."
Again, a tall order. David Sowers, WSF's director for terminal engineer- ing, said in a video interview that "the connection between the vessel and the terminal is really key to making the whole thing work."
WSF plans to provide electric charging at 16 of its 19 terminals, some of which are in the middle of urban areas and some of which are on remote is- lands. "Currently there are not enough megawatts to charge up a boat," said Sowers, "we need to work with the electric utilities to bring more power to the terminals."
Nicole McIntosh, a WSF terminal engineer for 25 years, suggested put- ting more of the electrical interface infrastructure on the boats to avoid permitting problems for over-water electrical infrastructure shoreside.
With that concept in mind, current plans envision a robotic charging arm coming from the vessel to a shoreside power connection.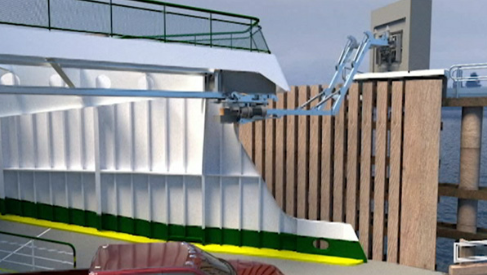 Even so, getting enough electricity to the 16 charging terminals is a "real challenge because some of these utility companies don't have the infrastructure yet to help us achieve these goals," said Sowers. "We don't want surges in the system and have all the lights in Seattle dim when a boat plugs in." Still, the boat's batteries will need an uninterrupted flow of electricity for 20-25 minutes to recharge the boat.
One solution to the charging challenge is shoreside buffer batteries that can be charged overnight or during periods of lower demand on the grid. "Shoreside batteries are being used in case there is not sufficient power available on the dock side," said Henk Grunstra, product director for Damen Ferries in the Netherlands. Damen designed and built the Island-class ferries for BC Ferries. These were built as hybrid-electric with the expectation of becoming all-electric as soon as pos- sible. "The boats are expected to oper- ate for 40 to 50 years," he said, "so it's a no-brainer to go with electricity as soon as you can. It's definitely cheaper than conventional diesel propulsion."
Getting the necessary shore power is proving to be the greater challenge of crossing the bridge to fully battery-electric. Damen recently built and delivered a pair of all-electric car ferries for operators in Ontario for Great Lakes routes, but the shoreside infrastructure is not yet in place for charging so the boats are not in service. "Apparently it's much quicker to build a vessel then to change the quay side," said Grunstra.
ISLAND-CLASS FERRIES
Meanwhile, the Island-class ferries are operating on gensets and batteries, providing "clean, quiet and efficient hybrid battery-electric" propulsion, said Ed Hooper, BC Ferries' execu- tive director of shipbuilding. "At an economical cruising speed of up to 12 knots, the vessel typically oper- ates with one diesel generator running together with the batteries to provide power."
Economical cruising with battery power not only reduces emissions, it also translates into a reduction of generator engine maintenance and less frequent genset overhauls. The batteries' life expectancy is between eight and 10 years, "depending on a number of factors, which are applicable to all batteries," said Hooper.
The 266'×55' Island-class ferries were built at Damen's shipyard in Romania. Each vessel has a pair of 1,500-kW generators and an 800-kWh bank of Corvus lithiumion batteries. But getting shoreside power established is still a work in progress.
"We have completed preliminary plans for upgrading the shore-based infrastructure to allow for plug-in/ recharge-from-shore capability," said Hooper. BC Ferries is still looking for government grants to help offset the costs but "no timeframe has been final- ized for the shore upgrades."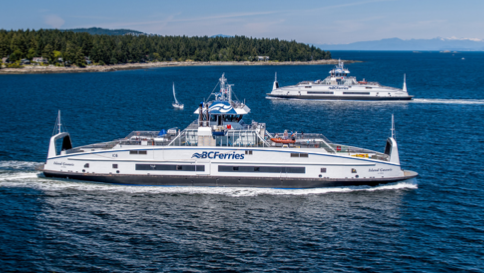 Kitsap County, across Puget Sound from Seattle, currently operates a fleet of 10 passenger ferries that range from high-speed, low-wake catamarans to a 100-year-old wooden monohull. It also owns and operates the Waterman, a 150-passenger aluminum catamaran with hybrid-electric propulsion. Designed by Glosten in Seattle and built a few years ago by All American Marine in Bellingham, the Waterman's power package includes two 400-hp Cummins QSL9 engines with vari- able speed generators and two 40-kWh racks of XALT lithium ion batteries.
The entire system is tied together with BAE Systems' HybriGen software that controls the combination of battery and generator power and integrates the electric drive motors, as well as the house load. Ray Scott, Kitsap Transit's marine services director, said the operators can force the generators to be on or off, but "in our opinion it's better for the system to do what it wants rather than force something it doesn't want to do."
What it wants to do is monitor bat- tery capacity and have a generator kick in when the meter hits 25%. When the charge level is back at 85%, the generator(s) shut down. "The generators also will come on if we ask for 615 rpm or more to make sure we do not draw the batteries down too fast. That way they can keep the charge up while using full power," said Scott.
Kelly Greenwood, one of the captains that operate the Waterman, said she likes using the system. "But it definitely took a little while to get used to it, especially when the engines kick off when you're underway. Hearing your engines die while coming into a dock is generally not a great thing."
The Waterman is not operated as a plug-in with shore power recharging, but it could be, according to Joe Hudspeth, BAE's business development manager, global marine. "The beauty of our system is someone can install a HybriGen system today with the variable-speed genset technology, and as their shoreside infrastructure improves, they can simply rely just on shoreside charging," Hudspeth said. "They can add more batteries, if necessary. They can take out the generators or they can leave them in as emergency backup. We don't have to change any of our hardware, any of our hybrids today can be fully electric tomorrow just by adding more batteries. Nothing else needs to change."
Going all-electric is the plan for the Waterman II, now getting design and engineering completed by Seattle's Glosten. Whether the vessel will have emergency gensets depends mostly on the Coast Guard, said Scott. "They might be OK with completely redundant systems, like the Maid of the Mist", an all-electric passenger boat that operates in Niagara Falls, N.Y.
ZERO EMISSIONS

A primary goal at Kitsap Transit, Washington State Ferries, BC Ferries and many other ferry services worldwide is zero emissions, especially greenhouse gases. And if getting there saves money on fuel and main- tenance, so much the better. The most viable method for getting to zero right now is batteries, ideally charged from a clean grid of shoreside power.
Damen's Grunstra said the battery market is improving all the time. "I think there are maybe 100 kinds around the world at the moment," he said, "so you can choose whatever battery you like. If you wanted to charge the batteries very quickly, you might want a certain chemistry. If you want to take a lot of power in a short amount of time, you will need to choose the chemistry that is suitable."
And Hudspeth said electric systems are increasingly able "to get more energy out of smaller and lighter-weight energy storage systems."
Capital cost for hybrid-electric is "definitely more," said Scott, "but return-on-investment should repay that in not that many years, especially with the price of fuel being what it is."
Grunstra agreed. "The interesting thing about batteries and electric power is that in the long run it's cheaper," he said. "If you only have a future of five years or 10 years, it may not be the case that electrification makes sense, but if you have a window of 40 years like BC Ferries, it's a no-brainer. You are definitely cheaper with electric over diesel."
Electric power is also being adapted for near-future, high-speed ferries. Hudspeth said BAE will be powering the world's first all-electric, high-speed passenger ferry, the Be- luga24, for Green City Ferries in Sweden. The carbon-fiber, foil-assisted, 147-passenger catamaran will have HamiltonJet waterjets at the end of the BAE powertrain. Battery-electric will be used for short runs and hydrogen fuel cells will provide electricity for longer journeys.
Back in Puget Sound, Washington Maritime Blue, a non-profit consortium of marine businesses and organizations, is spearheading a project to design and build a high-speed hydrofoil for passenger service between Bremerton and Seattle. The boat will be built from carbon-fiber materials and powered by battery-electric propulsion. Glosten is working on the design/engineering and Bieker Boats in Anacortes is working on plans for the carbon-fiber structure. Funding has been found for this part of the project. Construction grants are still being sought.
WSF says it has enough money on hand ($1.33 billion) to convert its three largest boats, the Jumbo Mark IIs, to build five hybrid-electric Olympic-class ferries, and to establish re-charging power in central Puget Sound. Construction of new ferries is legally restricted to Washington state shipyards. Vigor is the largest and has built all of the Olympic-class ferries to date, with Nichols Brothers Boat Builders building some of the boats' superstructures. Kitsap Transit also has secured funding for Waterman II.
With the advent of electric cars, busses and trucks as well as electric boats, the grid's capacity will be stretched as never before in the years to come.