Fincantieri Marine Group announced today that it had suspended Bay Shipbuilding's general manager Craig Perciavalle following allegations of criminal conduct during his time at Mobile, Ala.-based shipbuilder Austal USA.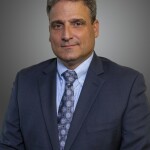 Perciavalle, the former president and CEO at Austal, was at the Alabama shipbuilder from 2012-2021. He joined Bay Shipbuilding in late 2021.
"We are aware of the criminal indictment and civil complaint filed against Craig [Perciavalle] related to his previous employment before coming to FBS," said Marco Galbiati, CEO of FMG. "We have chosen to suspend him from his current duties until these matters are resolved."
Jan Allman will serve as FBS' interim general manager, in addition to her role as FMG's senior vice president for public affairs and community relations.
On March 30, a federal grand jury in the Southern District of Alabama indicted Perciavalle and two others charging them with orchestrating an accounting fraud scheme at Austal USA, which builds vessels for the Navy, including the Independence-class littoral combat ship (LCS). Austal USA is a wholly owned subsidiary of Austal Ltd.
According to court documents, from at least in or around 2013 through at least in or around July 2016, Perciavalle, 52, Joseph Runkel, 54, and William Adams, 63, all of Mobile, and their co-conspirators allegedly conspired to mislead Austal Ltd.'s shareholders and the investing public about Austal USA's financial condition, the U.S. Department of Justice said.
Specifically, according to the indictment, the defendants artificially suppressed an accounting metric known as an "estimate at completion" (EAC) in relation to multiple LCSes that Austal was building for the Navy. Suppressing the EACs allegedly had the effect of falsely overstating Austal Ltd.'s reported earnings in its public financial statements. The indictment further alleges that the defendants and their co-conspirators manipulated the EAC figures in part by using so-called "program challenges"—ostensibly cost-savings goals, but which in reality were "plug" numbers and fraudulent devices to hide growing costs that should have been incorporated into the company's financial statements. The defendants allegedly did this to maintain and increase the share price of Austal Ltd.'s stock, the Justice Department said.
According to the indictment, when the higher costs were eventually disclosed to the market, the stock price was significantly negatively impacted, and Austal Ltd. wrote down over $100 million in previously wrongly booked profits.
Perciavalle, Adams, and Runkel are each charged with one count of conspiracy to commit wire fraud and wire fraud affecting a financial institution, five counts of wire fraud, and two counts of wire fraud affecting a financial institution. If convicted, they each face a maximum penalty of 30 years in prison for the conspiracy count, 20 years for each count of wire fraud, and 30 years for each count of wire fraud affecting a financial institution.
Also, on March 31, the Securities and Exchange Commission charged Perciavalle, Rukel and Adams for orchestrating a fraudulent revenue recognition scheme that allowed its parent company to meet or exceed analyst expectations.
The SEC alleges that, from at least January 2013 through July 2016, Perciavalle, Runkel, its current director of financial analysis, and former director of the LCS program Adams, engaged in a scheme to artificially reduce the cost estimates to complete certain shipbuilding projects for the Navy by tens of millions of dollars. The complaint alleges that Perciavalle, Runkel, and Adams knew that Austal USA's shipbuilding costs were rising and higher than planned, but they directed others to arbitrarily lower the cost estimates to meet Austal USA's revenue budget and revenue projections, the SEC said.
The complaint further alleges that Austal USA's parent company, Austal Ltd., prematurely recognized revenue and, as a result, met or exceeded analyst consensus estimates for earnings before interest and tax (EBIT), a key financial metric for the company.
"We allege that Austal USA's executives manipulated its financial results, causing harm to U.S. investors in the securities of its parent company, Austal Limited," said Jason Burt, regional director of the SEC's Denver Regional Office. "As the complaint articulates, if the defendants had not fraudulently manipulated the cost estimates, Austal Limited would have missed, by wide margins, analyst consensus estimates for EBIT."
The SEC's complaint, filed in the U.S. District Court for the Southern District of Alabama, alleges that Perciavalle, Runkel, and Adams violated the antifraud provisions of the Securities Exchange Act of 1934 and seeks disgorgement plus prejudgment interest, civil money penalties, and officer and director bars.