Conrad Shipyard, Morgan City, La., held a steel cutting ceremony Tuesday for two new Damen Multi Cat vessels for Great Lakes Dredge & Dock (GLDD).
Conrad recently signed a licensing agreement with the Netherlands-based Damen Shipyards Group to build the new 30.30mx12.50mx3.80m (99'3"x41'x12') boats to Damen's Multi Cat 3013 design.
The two vessels, which will have a draft of just over 8', will be the first Damen Multi Cats to be built in the U.S. Fully compliant with the Coast Guard and Army Corps of Engineers stability criteria, the Multi Cat 3013s will be used for dredging support operations.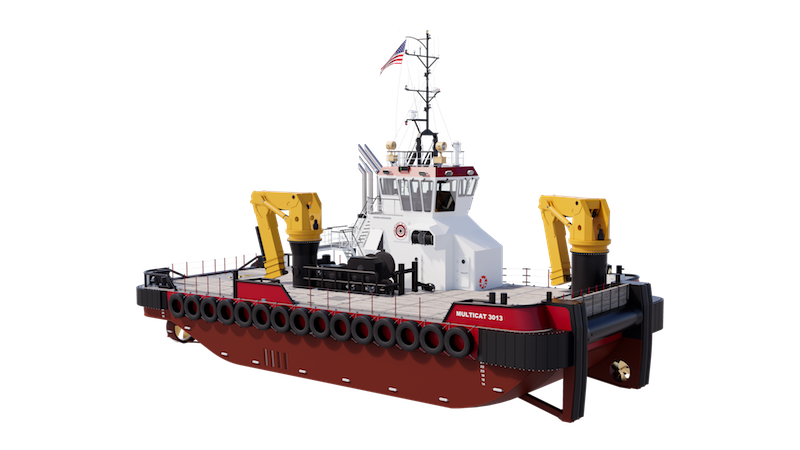 The Damen Technical Cooperation (DTC) licensing agreements are a means by which U.S.-based operators are able to access Damen's vessel portfolio and be fully compliant with the Jones Act. License holders construct the vessel themselves in their own country, drawing upon Damen's experience in the engineering and production of the platform and on Damen's support throughout the building process.
"Right now, GLDD is a very big part of Conrad (GLDD has 12 hulls under construction at the shipyard.), and this is a very unique vessel," Dan Conrad, the shipyard's senior vice president told those in attendance. "These projects only succeed when there is great understanding and cooperation between customer and ourselves."
For these vessels, what's on deck is the meat of the operation. These cats will feature two HS Marine AKC 410 HE 2 deck cranes — one on the bow and one aft of the pilothouse; Ridderinkhof hydraulically driven anchor winch; Kraaijeveld KA-30/2-H-TR anchor handling winch; Kraaijeveld KA-20/2-H-TR towing winch; and twin Brevini 8-ton tugger winches. There will also be two Mampaey 20-ton towing hooks aboard.
With its large winches and deck cranes, the Multi Cat is designed to perform a wide range of tasks including handling submerged and floating pipelines as well as anchor handling and logistics supply. Large tank capacities onboard will ensure the Multi Cats can also supply dredgers with the required replenishments.
Capacities will include 182 cubic meters of fuel oil, 80 cubic meters of fresh water, 4.5 cubic meters of hydraulic oil, and 2.8 meters of lube oil.
David Johanson, GLDD's senior vice president, project and area operations, Gulf of Mexico, said that the Multi Cat eliminates the need for assorted floating support equipment such as derrick barges, towboats and anchor barges. It also significantly increases operational safety — enabling hose and pipe maintenance works to take place securely on deck reducing the risk of man-overboards compared to standard industry methods utilizing floating pontoons. "This will improve our operating efficiency," he said.
Main propulsion will come from three Caterpillar 3412D TTA diesel engines, producing a total of 2,500 hp at 1,800 rpm. The mains will connect to Promarin fixed-pitch wheels in Optima nozzles through Reintjes WAF 464 marine gears with 5.591:1 ratios. The propulsion package will give the new Multi Cats a speed of 9.6 knots and a bollard pull of 35 metric tons. For added maneuverability, the new multi-purpose dredge support vessels will feature a 360° hydraulically driven, 310-hp bowthruster.
Ship's service power will come from two Caterpillar C 04.4 gensets, sparking 107.5 KVA (one KVA is equal to 1,000 volt amps) each. Hydraulic power will come from a Caterpillar 3412D TTA engine, producing 632 kW of electrical power.
The electronics suite will feature a Furuno FAR 2117 radar system, Furuno FE-700 echosounder, Furuno DS-80 speedlog, Furuno GP-150 D GPS, Furuno NX-700 Navtex, Furuno FA-150 AIS, two Pesch search lights, Cassens & Plat Reflecta 1 compass, Tokimec ES-160 gyro compass, Transas Navigator Pro chart system, Sea Pilot 75 autopilot, two Sailor RT5022 VHFs, twin TR-20 handheld VHFs, Thrane & Trane system 500 SSB, and two Sailor H-2095 C Inmarsat-Cs.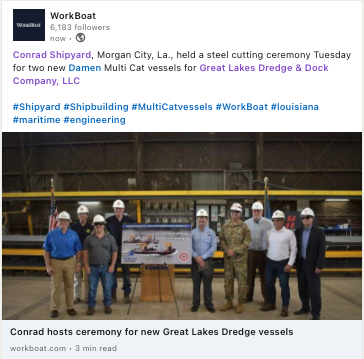 Stay connected, and follow us on LinkedIn: https://www.linkedin.com/company/workboat-com