A 2020 University of Southern Maine graduate and native of Portland, Maine, is serving at Portsmouth Naval Shipyard as part of the largest mobilization of reservists in Naval Sea Systems Command (NAVSEA) history. The mobilization is tied directly to the Covid-19 pandemic.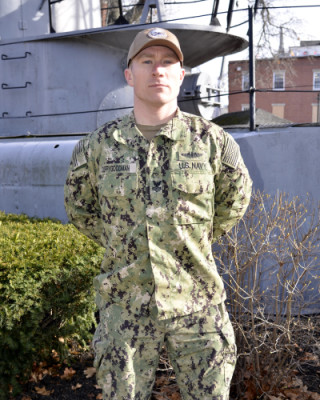 Petty Officer 1st Class Blasius Duffygoodman is one of the reserve sailors deployed to the Navy's four public shipyards as part of the Surge Maintenance (SurgeMain) program. Established in 2005 to augment the Navy's organic civilian shipyard workforce in times of need, SurgeMain has 2,200 enlisted reserve sailors and 240 reserve officers across 75 units.
"Living in Maine and mobilizing to Portsmouth Naval Shipyard in Kittery, Maine, adds a local factor to the equation," Duffygoodman said. "I am not only serving to support my country; I am also serving to support my local community."
Between mid-March and late June, up to 25% of the naval shipyards' production workforce had been on administrative leave due to being at high risk for severe complications tied to the Covid-19 virus. As a result, the four shipyards collectively experienced schedule impacts for most of the ships and submarines undergoing maintenance. This delayed maintenance work could result in delays to ship and submarine maintenance which could cause disruptions to the Navy's deployment schedules and require ships and sailors to remain forward-deployed for longer periods of time.
NAVSEA, the largest command within the Navy, oversees the construction, delivery and maintenance of all the Navy's commissioned ships and operates four naval shipyards — Norfolk Naval Shipyard in Portsmouth, Va., Portsmouth Naval Shipyard in Kittery, Maine, Puget Sound Naval Shipyard and Intermediate Maintenance Facility in Bremerton, Wash., and Pearl Harbor Naval Shipyard and Intermediate Maintenance Facility in Honolulu. Workers at each of these shipyards perform a vital role in national defense by performing maintenance on ships, submarines and aircraft carriers required for combat-ready fleet forces.
"The four naval shipyards are critical to providing deployable, combat-ready warships for our sailors and marines," said NAVSEA's Commander Vice Adm. Bill Galinis. "Augmenting our organic civilian workforce with SurgeMain Reservists allows us to address the maintenance challenges generated by the pandemic so we can return ships back to the Fleet."
Duffygoodman is a machinist's mate (aviation) responsible for working with Computer-Aided Design (CAD) programs and using additive manufacturing to produce tooling, prototypes and training aids.
"I work with the 3D print section at the shipyard's inside machine shop," Duffygoodman said. "I enjoy interfacing with different shops on the shipyard and contributing to creating solutions to issues. It's great when someone from another shop comes into the 3D print shop with a problem and wants to work with us to help solve it. Collaborative problem solving to reduce the time and labor costs required in conventional manufacturing is something this team prides itself on."
According to Duffygoodman, the values required to succeed in the Navy are similar to those found in Portland.
"I grew up with very affable parents," Duffygoodman said. "I learned soft skills from them and it has helped me be a good co-worker."
As a member of the U.S. Navy, Duffygoodman, as well as other sailors, know they are a part of a service tradition providing unforgettable experiences through leadership development, world affairs and humanitarian assistance. Their efforts will have a lasting effect around the globe and for generations of sailors who will follow.
"Creating a teamwork culture between SurgeMain Sailors and civilian shipyard employees has meant so much to me," Duffygoodman added. "Being part of such a momentous unified effort toward the Navy's mission continues to inspire me day after day. I'm honored to contribute my effort in order to overcome the adversities caused by the coronavirus."