PROTECT YOUR HIGH-COST INVESTMENT
The Marine Industry over the last few years has been transitioning Mooring Lines from the conventional Nylon/Polyester to the Synthetic Lines. Synthetic Lines are Safer, floats on water, light weight, stronger than steel and have much less snap back should it break.
This all comes with a higher price tag. There is a draw back, most lines can not be spliced on site should they become damaged. Therefore, the high performance, safer, high cost line becomes unserviceable.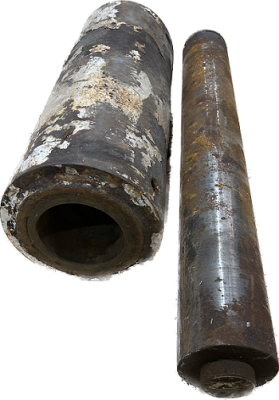 The majority of mooring line damage occurs from frays caused by non-rotating (sticking) steel fair lead rollers. Steel Fair Lead Rollers become rusted, pitted and jagged and require constant painting and maintenance and offer little protection for mooring lines. This can and does cause frays in the mooring lines. Ships crews use wire ropes and lines wrapped around them and pulled by the mooring winch to try and free them up, but this method only provides short term satisfaction.
Shipwright Marine has been providing an upgrade and maintenance free roller replacement for

over six years now and has more than 500 in the industry. We work with an American-owned company that has a high strength fabric reinforced composite material that our replacement rollers are made of. The roller is solid and has an ultimate compressive strength of 50,000 psi. It is also self-lubricating on the shaft, UV resistant, and water resistant. The upgraded roller weighs only 68 lbs. compared to the steel one at 320 pounds. Because these rollers are light weight, they turn much easier and will not stick like the steel rollers, making them virtually maintenance free and friendly to soft lines. Due to the manufacturing process the rollers are a dark greyish color, or white but they can be painted using a aerosol paint spray.
The steel shafts are replaced with an Annealed stainless steel material. The smooth surface of the stainless steel coupled with the self-lubricating bore of the roller ensures years of service with virtually no maintenance. This coupled together makes for a combination that will not damage the high-cost mooring lines.
Reach out to our management team to learn more about this product and process.