In a lot of land-based industries, particularly construction, "digital twins" are becoming more and more commonplace. Once considered just a buzzword, the idea of a digital replication of an asset, which can be referenced and updated throughout the asset's life, is more accessible than ever before, and the return on investment is presenting itself clearly.
Now, the technology is beginning to make its way into the commercial marine sector, with companies like Fort Lauderdale, Fla.-based Digital Twin Marine taking the tool from land to sea.
The company was founded by husband and wife Tom and Nicky Bruger in 2020. Tom previously worked for a marine surveying company performing inspections for ships, while Nicky worked in the construction industry, working with digital twins for land-based use. Putting that experience together, they've built up the Digital Twin Marine brand, encouraging their customers to "know your ship," and demonstrating the value that this largely land-based technology can provide for ships and vessels. The Brugers spoke with WorkBoat reccently to explain how this technology can be leveraged successfully in the commercial marine industry.
What is a digital twin?
If you ask 10 people what a digital twin is, you'll get 10 different answers. There are disagreements about exactly what types of data needs to be included for a digital twin, but for our purposes we can just go with the most basic definition: It is an accurate, 3-D model of a space or asset, often interactive. Using some kind of reality capture, whether it be 360-degree photography or laser scanning, an entire space is recorded, with that data then being processed and turned into an accurate digital representation.
The technology can be a bit intimidating at first for those not as familiar with the tools, but companies like Digital Twin take care of the heavy lifting. They will come in and perform the scan themselves, using whichever methodology in terms of hardware that makes the most sense for the customer's specific need and plans for the digital twin, and process the data as well. Typically within a couple of days from the start of scanning – the time will vary for this process depending on the size of the project – you will have your working digital twin to be used however makes the most sense in this specific case.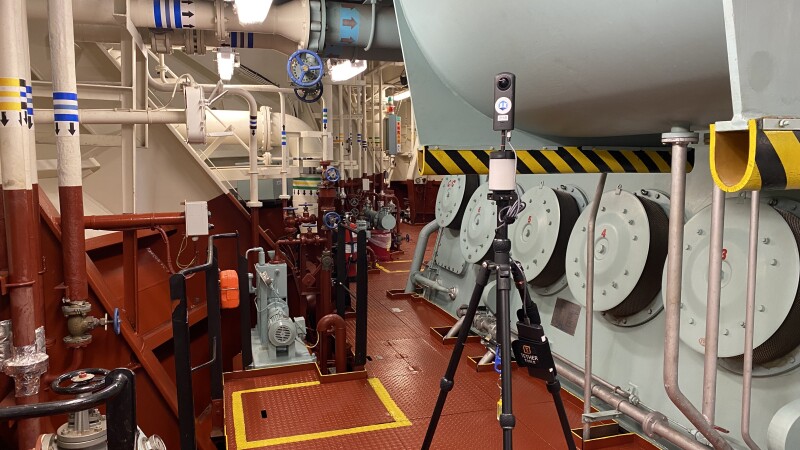 What value do digital twins add?
New technology and the broad idea of 3-D visualization sounds great, but in order to make the investment customers want to know what tangible return they can expect on that investment. For Digital Twin, they point to three main pillars on which the value of this technology can be built – project management, marketing, and training – each of which Nicky Bruger explained in some detail to WorkBoat.
In terms of project management, it's fairly simple. As Nicky explained, a port engineer has a complex job often overseeing multiple tankers which are constantly on the move. To address problems, they "oftentimes have blurry photos that someone from the boat has sent combined with two-dimensional drawings." At best, you may have a 3-D CAD model, but one from when the ship was first built. If you can compare those as-built models with a digital twin captured within the previous six months or so, you'll be much better informed if and when a problem arises. Also, you can more easily work with an onboard engineer, all without having to physically go on-site, saving both time and money in the process, to say nothing of the headaches that are spared.
These models can also be used effectively for marketing and training. If, for example, a vessel owner is looking to charter on of its ships, an interactive 3-D model will give potential customers a much better idea of what exactly they'd be potentially chartering and whether or not it would fit their needs even before seeing it in-person. Any way a potential customer's life can be made easier is sure to result in more success in the long run.
Similarly, these accurate models can allow vessels to train new employees on the layout of the ship as well as some of the procedures – an example is taking a video of someone running an oily water separator and embedding that within the digital twin to be viewed by the trainee – without being physically there. That allows training to be done perhaps before a ship returns to port, or without having to pause any activity that may be ongoing to prepare for a departure.
Other use cases for digital twins
While project management, marketing and training are the three main general areas in which customers can see a return on their investment with digital twins, the Brugers shared other more unique uses their customers have found. One example is as an inventory of sorts. A tanker company was going out on a bareboat charter and needed to have the exact condition of the vessel as well as an accurate accounting of the inventory when the ship was handed over. This accurately caught model details everything in a way that does not require a huge spreadsheet with a massive amount of photographs which would require tons of man hours to put together.
They also mentioned the case of a port engineer stuck in Germany during Covid whose ship in the Caribbean was preparing for drydock. This could typically be a massive headache. But since the engineer had a complete digital twin of the ship he could send that out to vendors and the shipyard, ensuring that process goes smoothly without delays.
As digital twin technology becomes more proven in early adopting industries like construction and other land-based spaces, other industries will follow suit. Commercial marine is a natural next step for the technology, with value to be added from companies like Digital Twin Marine entering the space.