New York Harbor commuter ferry operator Seastreak upped its game in December with the arrival of the Courageous, a 720-passenger vessel built by Midship Marine, Harvey, La., that stretches by 7' the fleet's last 150'x40' acquisition, the Commodore, delivered in 2018.
The Courageous now ranks as the largest capacity high-speed ferry in the U.S., company officials say.
"It's basically a sister ship, but it's a couple of frames larger," said Seastreak president Jim Barker. The other difference is upgrades in passenger amenities and comfort, he added: "It's a couple of notches above any ferry boat I've ever seen."
With steady increases in passenger volume and company growth, Seastreak officials made the decision to go even bigger in 2019, stepping up from the 600-passenger capacity of the Commodore. As the covid-19 pandemic struck in spring 2020, the company saw ridership plunge.
But Seastreak persevered with the newbuild plan; the new vessel's name was conceived that summer as a tribute to medical workers who continued to travel by ferry to treat covid patients, said James D. Barker, Seastreak's director of business development and marketing.
After making the transit from New Orleans to New Jersey, the Courageous started service in mid-December, running peak departures including 6 a.m. and 8 a.m. out of the Seastreak terminal at Highlands, N.J.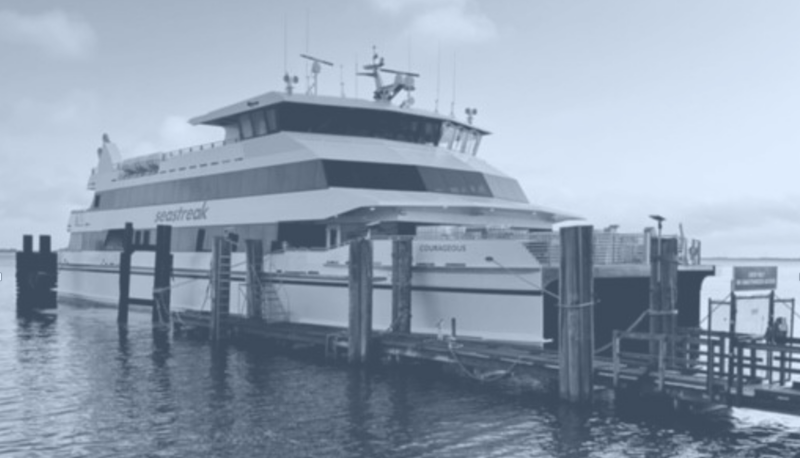 One important design different with Courageous is a modified bow radius that allows more versatility with bow loading at different landings, said Brian Achille, Seastreak's director of engineering. That includes matching to the Steamship Authority docks at Martha's Vineyard, Mass., a big summer destination for Seastreak customers that the company hopes will surge back in summer 2022.
The company had its best season ever in 2019, and with the easing of restrictions during 2021 saw commuter ridership return to almost 60 percent of that baseline. The arrival of covid's omicron variant and new precautions in New York City – delayed office reopenings, Broadway shows temporarily halted and other setbacks – dropped ridership back to around 25 percent in late December, Barker estimated.
"Hopefully this will be temporary and short-lived," said Achille. Commuters have been saying they planned on returning to city offices in January, so the operators are hoping for that return once the latest covid surge subsides.
With a wheelhouse electronics suite by Furuno USA, the Courageous has a distinctive LED lighting system on outdoor areas of the vessel with red, white and blue color scheme.
Another major upgrade is latest-technology insulated glass in the cabin windows, that both solar load on the passenger space and fog-free views – "a huge problem" on older boats during the frigid harbor winters, said Barker.
"Boasting the highest level of interior finish of any high-speed ferry ever built, passengers will commute with ease," and enjoy "360 degree open-air views, two fully stocked bars, and specially designed engine and jet room noise insulation ensures riders a comfortable and quiet commute," the company said in announcing the delivery.
"We put in a lot more insulation for sound deadening," including the vessel's water jet room, said Achille. Other quieting was added to generators and the engine exhaust system.
In all the Courageous' value has been appraised at $18 million, "and I don't think you could build it for less that 20," said Barker.
He credits the success to Seastreak's relationship to Midship Marine. The shipyard kept the project moving forward despite three covid-related closings and Hurricane Ida, and it proceeded without any penalty for delay, said Barker.
"They did a great job," he said. "We built this without a change order."
"We started our relationship with Midship back in 2011" with the first of several re-powering projects, said Achille. The Seastreak Highlands ferry is in line for re-power next winter if ferry ridership continues to recover.
Operated since 1989 by the Hinojosa family, Midship builds a range of vessels, including the Incat Crowther-designed Ultra Jet I and II catamaran ferries recently delivered for work in the Yucatan tourist industry.
"They've got orders, and they're full," said Barker. "These boats are built with a handshake. It's a very high level of trust."
Seastreak's volume in December was about 2,400 one-way trips per day on Tuesdays-Thursdays and fewer trips on Mondays and Fridays. After the late 2021 plateau in ridership, the company was looking forward to more commuters returning.
"The arrival of the Courageous coincides nicely with the growth we are expecting in the coming year, since passengers will have more room to spread out and create distance between themselves and others," said James Barker.