There is no other port quite like Louisiana's Port Fourchon. Operated by the Greater Lafourche Port Commission (GLPC), it sits at the southernmost point of Louisiana accessible by road and is near the greatest amount of energy infrastructure in the Gulf of Mexico, miles closer than any other service port.
"Over the years, we have taken an increasingly holistic approach to our port development," said the port's executive director, Chett Chiasson. "Since Hurricane Katrina [in 2005], we have focused on making sure that our projects and infrastructure are built to a higher standard. We have increased the base elevation of our newer slips, our roads, bulkheads, you name it."
In addition, the port's benefactors have continued to add hundreds of additional acres of wetlands through its continued development to protect its tenants' assets "in a natural way," said Chaisson. Wetlands are a natural barrier against hurricanes.
From anywhere inside the port's facilities, it's only about a mile to the Gulf of Mexico.
"Port Fourchon is a model of persistence," said Davie Breaux, the port's deputy director. "We understand what the industry needs."
It's a multiuse coastal port that functions primarily as a land base for multiple offshore energy support service companies.
The Gulf of Mexico provides the U.S. with about 18% of its domestic oil supply. More than 95% of tonnage moved within Port Fourchon's facilities is energy related. When Port Fourchon is not available to service the energy industry and infrastructure, all other U.S. Gulf Coast port facilities combined can fulfill only 25% of the nation's demand for those services.
The port, which also supports a healthy commercial fishing industry, primarily shrimp boats, is not filled with traditional commercial cargo but with a multitude of individually leased and independently-run specialized docks and service facilities.
You won't find any container terminals, breakbulk cargoes, or bulk grain elevators. What cargoes you will find are specialty tools, drilling fluids, and mud, as well as other equipment needed to support the offshore energy industry.
Another commodity of great importance to offshore service companies are the people who work the rigs and other offshore structures. The South Lafourche Airport is only 22 miles from Port Fourchon, and approximately 15,000 people per month are flown by helicopter to offshore locations supported by the port's customers.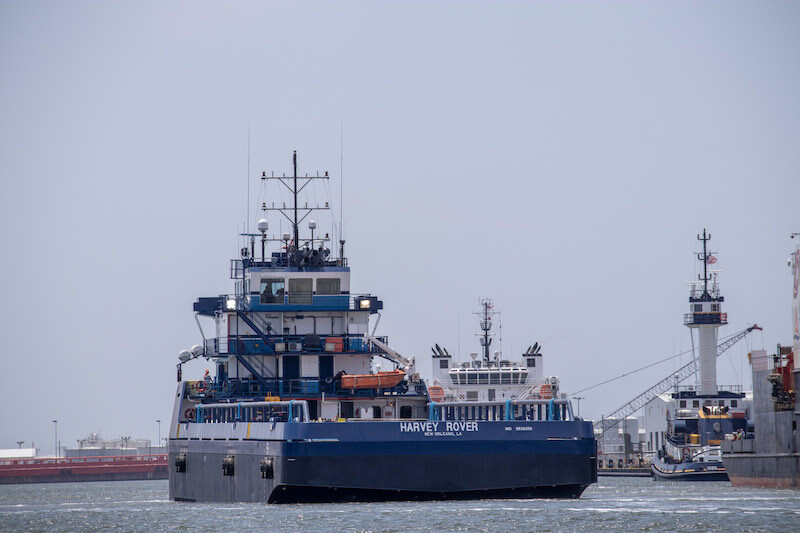 In fact, Port Fourchon itself almost lays out like an airport. But instead of a concrete concourse loaded with Delta planes and another concourse full of Southwest planes, at Fourchon, there are channels with a group of Edison Chouest Offshore (ECO) vessels, Jackson Offshore OSVs just beyond that, and clusters of Hornbeck Offshore, Harvey Gulf International Marine, Candy Fleet, Seacor Marine, Otto Candies and any service vessel company you can think of — all represented.
LOCATION, LOCATION, LOCATION
For oil companies, one of Port Fourchon's most attractive aspects is its location. It sits at the mouth of Bayou Lafourche, where it empties into the Gulf and is easily accessible from any area in the Gulf and Caribbean. The actual entrance to the port is along Belle Pass.
Up to 270 vessels use the port's channels daily, and approximately 1,000 trucks travel in and out of Port Fourchon in any 24-hour period. It is home to more than 200 companies that operate within and/or utilize the port by land, air, or water.
It's estimated that the port's daily impact on the energy industry is $46 million — and more than $500 million to the national gross domestic product. But when Louisiana Highway 1 (LA 1), which offers the only land access to Port Fourchon, is closed because of storm water, that economic engine is shut off.
In 2020, traffic in and out of Port Fourchon was halted seven times due to hurricanes and tropical storms. Water overtops the road prior to each storm coming ashore and takes its time receding once the storm passes. The port itself was still operational. It's built-up higher than LA 1. But when the road goes under, there's no way in or out.
Port officials have worked hard for years to get the money to complete the elevated LA 1 highway connection between Port Fourchon and Golden Meadow, La. It's the port's top infrastructure challenge.
Currently, the $463 million Phase 2 of the elevated highway connection between Leeville, La., and Golden Meadow, La., is under construction.
Where is the money coming from? The majority, about $150 million, is from BP as part of the Deepwater Horizon 2010 accident accountability fund and $130 million from an Infrastructure for Rebuilding America (INFRA) grant. In addition, $95 million is from the state of Louisiana, $25 million from GLPC, $12 million from the oil and gas industry, $1.2 million from Lafourche Parish, and $1.2 million from the LA 1 coalition.
"If we would have had the elevated highway in 2020, we would only have had to shut down once instead of seven times," said Chaisson.
Breaux said that under the leadership of GLPC, Fourchon is constantly evolving and changing with the times. "Our efficiency makes us different," he said. "We're not sitting on our hands waiting."
In May, the GLPC signed a Cooperative Endeavor Agreement (CEA) with C-Logistics, Bollinger Fourchon, and Grand Isle Shipyards. The agreement paves the way for the development of a multipurpose heavy industry facility that will support deepwater rig, drillship and heavy lift installation vessel repair and refurbishment; wind farm fabrication, assembly, and repair; general heavy industry fabrication; project cargo and logistics; and decommissioning, all at Fourchon Island.
Fourchon officials said the CEA demonstrates a commitment by the key tenant organizations to work toward maximizing the full potential of Fourchon Island in the coming years.
Plans are underway to build a bridge and connector road to join Port Four- chon with the 1,000-plus acre site at Fourchon Island, and to dredge Belle Pass to 50' to get those vessels into port. "We lose business because we don't have capacity to handle deepwater rigs, drillships, heavy lift installation vessels and the rest," said Chaisson. "That business is taking place in other countries."
According to Chiasson, the agreement provides GLPC with additional clout to apply for more funds to aid in the process of helping Fourchon Island reach its full potential.
"We have aggressively pursued dollars to build the bridge and connector road, and that project is on track to begin construction in the near future," he said. "However, the complete development of Fourchon Island requires partnerships such as this to be successful. The commitment shown by these tenants will be the key to unlocking the growth of Port Fourchon moving forward."
ENVIRONMENTAL CONCERNS
The oil and gas industry has long been tied to an environmental whipping post across the world. Oil spills like the Exxon Valdez and Deepwater Horizon have helped foster the idea that oil companies place mining black gold ahead of protecting forest green or deep ocean blue.
But Breaux said that stereotype is not relevant in 2023. "Today, oil companies are all about keeping it clean," he said.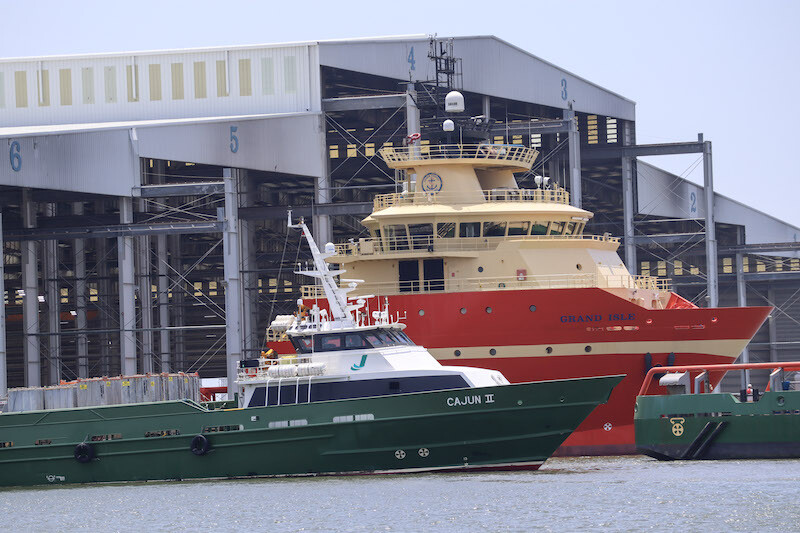 The port works with local entities doing research on coastal restoration and marsh creation methods. It prides itself on collaboration between industry and environmental concerns and considers itself a shining example of how industry and environment can coexist successfully. "Here, industry and environmental leaders work side by side," said Breaux. "We look at who our expansion will affect, and we do it for industry, the community, and the environment."
GLPC is Green Marine certified, a voluntary environmental certification program for the North American marine industry. It is a rigorous, transparent, and inclusive initiative that addresses key environmental issues through performance indicators.
Participants are ship owners, ports, terminals, seaway corporations, and shipyards based in Canada and the U.S. To receive certification, participants must benchmark their annual environmental performance, the results of which must be approved by an accredited external verifier. Participants agree to publication of their individual results.
In addition, GLPC has partnered with SailPlan, a platform for real-time, highly accurate emissions and air quality monitoring, to deploy emission measurement technology throughout Port Fourchon, giving officials a precise 360° view of its emissions footprint.
Breaux said port officials are currently working with a vendor to install several EV charging stations and building a library of data to help them improve, alongside all their tenants, in reducing emission levels throughout the port.