Look around you. Nearly everything you see got there via a containership, breakbulk or bulk ship. Ocean shipping is responsible for delivering almost everything you own.
Today, just under 90% of containerships are powered by heavy fuel oil. During a typical long-haul transport, a single cargo vessel can emit over 6,000 tons of CO2, in addition to other harmful pollutants and particulates.
The IMO's hope in its pledge to cut greenhouse gas emissions in half by 2050 from 2008 levels, is that new innovations in fuel technology and propulsion will eventually bring the emissions rate down to zero.
Most commercial vessels have operating lives of 20-30 years, and many of the ships being built this decade will still be in operation in 2050. Retrofits will be a key factor in reaching IMO goals. This will likely mean modifying existing diesel engines and engine rooms with double-walled piping, new ventilation systems, and new fuel storage tanks to name a few.
Alternative fuels and propulsion methods like ammonia, biofuels, electric power, fuel cells, hydrogen, methanol, and wind can help accelerate decarbonization while simultaneously bolstering energy security.
Though these are all cleaner options, each alternative fuel comes with its own set of pros and cons. Issues such as regulation, safety, pricing, infrastructural availability, supply chain constraints, lifecycle emissions, and barriers to adoption must be considered.
In June 2021, the Marine Environment Protection Committee (MEPC 76) conducted a work plan that incentivized measures to move away from fossil fuels to low- and zero-carbon fuels.
Below is a breakdown of each alternative fuel method and its current use in the maritime industry.
Liquid Natural Gas (LNG)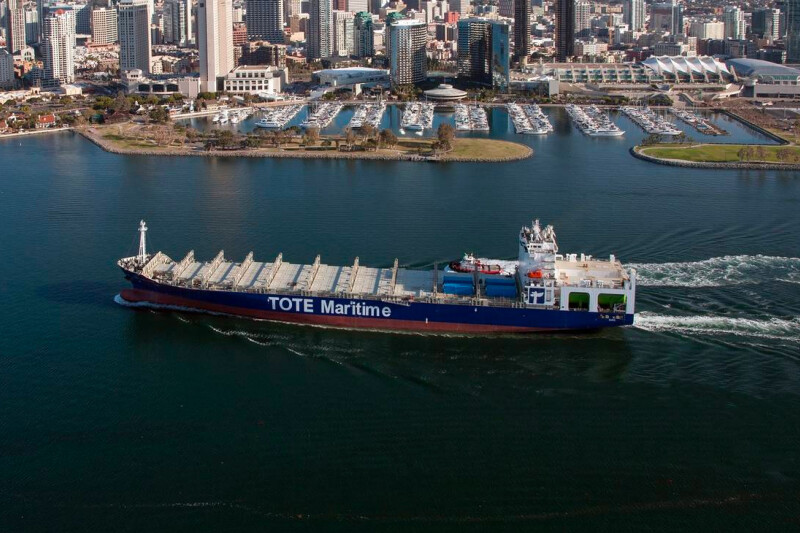 LNG is widely recognized as the largest segment of the alternative fuel market and has been utilized as a fuel for the past two decades.
In 2022, the DNV, using figures from its Alternative Fuels Insight (AFI) platform, said 275 vessels that will be built built to sail on alternative fuels were contracted in 2022. LNG propulsion will be used on 222 of the ships, or 81% of total orders.
LNG is natural gas that has been cooled to –260° F, changing its state from a gas into a liquid, and reducing it to 1/600th of its original volume. LNG produces 40% less carbon dioxide (CO2) than coal and 30% less than oil, which makes it the cleanest of the fossil fuels.
In the U.S., some companies have already made the switch over to LNG. In 2015-2016, TOTE Maritime launched the world's first two LNG-powered 764' Marlin-class containerships and conversion to LNG power is underway on their 839' Orca-class ships. These ships operate on dual-fuel engines and can run on either fuel oil or LNG.
Existing U.S. regulations do not specifically address the design and installation of natural gas fuel systems on commercial vessels, nor do they address byproduct emissions from their infrastructure projects.
Electricity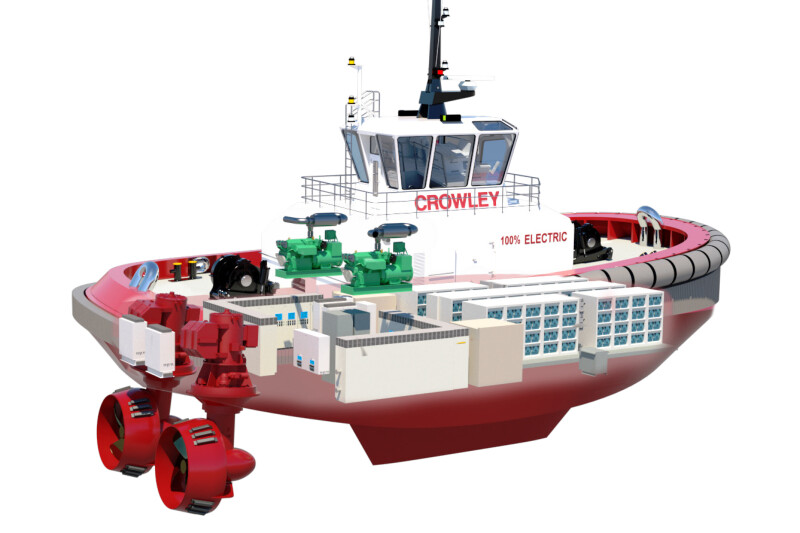 Electrified shipping is gaining traction globally. By 2030, electrified ferries, tugboats, and cargo ships are expected to be valued at $14.2 billion.
Crowley Maritime Corp. is building the first all-electric tugboat in the U.S., the eWolf, scheduled to go into operation in the Port of San Diego in 2023. The 82' eTug will have 70 tons of bollard pull and will replace an existing tug that consumes over 30,000 gals. of diesel per year. The vessel is being built at Master Boat Builders in Coden, Ala.
International use of electric tugboats is also on the rise. Damen Shipyards has plans to build a fleet of battery-powered electric tugs with expected delivery dates in early 2024. The tugs will be built at Damen Song Cam shipyard in Vietnam, the birthplace of the first battery-powered tugboat, Sparky, commissioned in 2022.
California start-up, Fleetzero, seeks to power global cargo ships with electricity. The company secured $15.5 million last June and is in search of a vessel to convert to run on its container batteries. The company's plan is to segment shipping routes into shortened trips, focusing on smaller ports and utilizing a battery sharing scheme.
The world's first fully electric autonomous cargo vessel was launched in Norway in late 2021. The 80 m, 3,200-ton ship is powered by eight batteries with a capacity of 6.8 MWh, drawn almost exclusively by hydropower generation.
Casco Bay Lines, Portland, Maine, recently previewed its new hybrid ferry, expected to join the Casco Bay Line feery fleet in mid-2024. General Manager Hank Berg discussed the infrastructure difficulties with sourcing power during hours of operations. The short interval between passenger drop-off and pick-up allows for a 10-minute charging window every hour. For Casco Bay Lines to charge their boats directly from the power grid, the peak electricity rates are cost prohibitive. Instead of pennies per kilowatt, rates can be as high as $15/kilowatt. Their plan to avoid these high costs is to build a battery bank stationed at the terminal which charges during non-peak hours.
It is worth noting that the generation of electricity contributes to GHG emissions unless that electricity is generated by renewable sources.
Hydrogen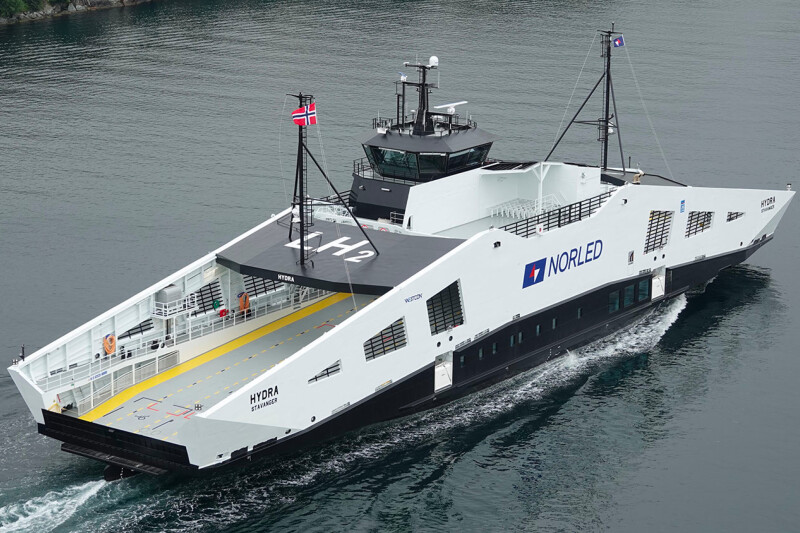 Hydrogen fuel cells have a long track record of supplying efficient, clean power for a wide range of applications like passenger cars, buses, and trains.
Many in shipping recognize hydrogen's potential, but the barriers to implementing it are substantial, including advanced storage requirements and fire hazard mitigation. Hydrogen is characterized by having the highest energy content per mass of all chemical fuels (120.2 MJ/kg), which can lead to increases in the effective efficiency of an engine.
However, hydrogen also has a lower volumetric energy density, and liquid hydrogen may require two times more space than liquefied natural gas (LNG) for the same amount of energy. To liquefy, hydrogen also requires low temperatures below -253° C (-423.4° F). To contain this temperature extreme, the required volume to store liquid hydrogen could be even greater when considering vacuum insulation for cryogenic storage materials.
In 2021, SWITCH Maritime announced the world's first hydrogen fueling of a commercial marine vessel. The Sea Change is a zero-emissions, 75-passenger ferry powered by hydrogen fuel cell technology. After undergoing sea trials for a year, the vessel arrived at its homeport in San Francisco in March. The 70' catamaran ferry is equipped with a hydrogen fuel cell system from Zero Emissions Industries.
It seems there's ambiguity for the title of "world's first." Also the Norwegian ferry operator Norled recently put into operation a liquid hydrogen-powered ferry.
Supply chains around hydrogen production are still in their infancy, though money is pouring into their development.
The Port of Corpus Christi has been encouraged by the Department of Energy (DOE) to submit a full application for its Horizons Clean Hydrogen Hub (HCH2) through the Regional Clean Hydrogen Hubs Program. The Regional Clean Hydrogen Hubs program (H2Hubs) includes funding up to $7 billion to establish six-10 regional clean hydrogen hubs across the U.S., as part of a larger $8 billion hydrogen hub program funded through the Bipartisan Infrastructure Law.
Ammonia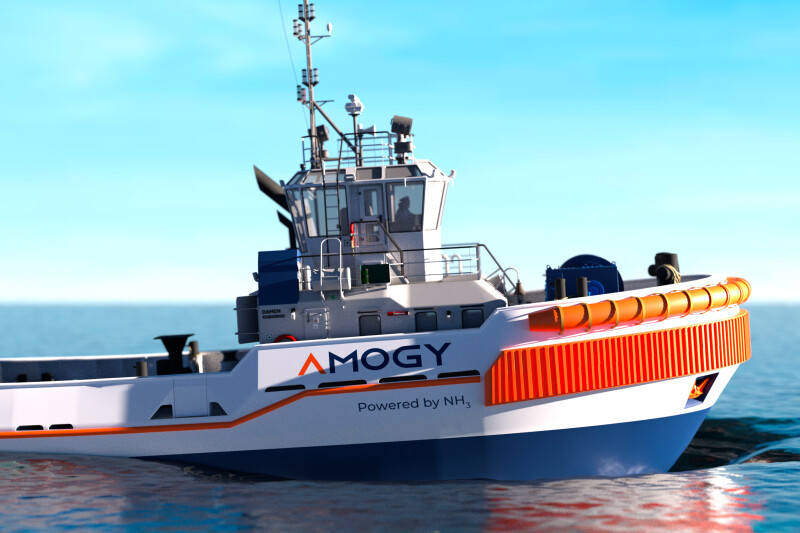 According to the International Energy Agency, Ammonia is predicted to become the leading fuel source for cargo ships by 2050.
Ammonia is being positioned as a zero-carbon alternative since it emits no carbon dioxide when burned. This inorganic compound is readily available, and it can be artificially created using renewable energy sources like wind and solar, designating the fuel type "green."
The density of ammonia is also 30% higher than hydrogen, and it can store 50% more energy per cubic meter than hydrogen. The compound remains liquid at room temperature with moderate pressures, which allows the use of less robust gas cylinders.
According to a 2020 aggregate investment study on decarbonizing the maritime industry, annual ammonia demand could increase by 670 to 946 million tons and represent a potential $5 trillion market by 2050.
The race is on to produce the world's first ammonia-powered vessel. In March 2023, Amogy Inc., Brooklyn, N.Y., announced plans to retrofit a 105' tug with an ammonia-powered propulsion system, with hopes to deploy the vessel in late 2023.
Biofuels
The two most common types of biofuels in use today are ethanol and biodiesel, both of which represent the first generation of biofuel technology.
Biofuels are derived from biomass or renewable biological sources into a liquid fuel for use in combustion engines. Biomass examples include renewable raw materials like crop waste, food waste and algae.
A Frontiers in Marine Science study from 2022 titled "Opportunities Surrounding the Use of Sargassum Biomass as Precursor of Biogas, Bioethanol, and Biodiesel Production" notes "the potential use of this material is as a precursor in biorefineries where multiple value-added products are generated concurrent with the ultimate production of biofuels."
In 2021, the DOE announced $61.4 million towards technologies that produce low-cost, low-carbon biofuels.
Methanol
Methanol was the second most popular alternative fuel choice in 2022. The DNV platform said that methanol fuel will be used on 35 out of 275 ships ordered, or 13% of the total orders placed.
Methanol can reduce GHG emissions like nitrogen oxide by up to 80%, and carbon dioxide up to 15% compared to conventional marine fuels.
Under ambient conditions, methanol is a liquid fuel. This quality alone facilitates the transport, storage, and usage with safety procedures similar to existing diesel procedures.
Alternative Propulsion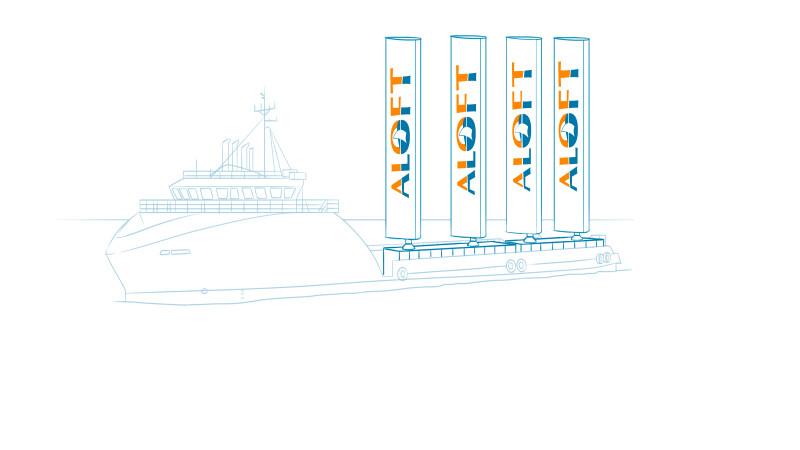 Not all alternative propulsion methods require engines. This year, Aloft Systems is producing containerized wind-propulsion systems to reduce fossil fuel emissions in the maritime industry. The deployment of these robotic sails can be easily implemented into a fleet to reduce fuel consumption. The company projects that given the right conditions, fuel costs can be reduced by 6% harnessing the wind.
According to the AAPA, 58% of U.S. ports have begun looking into the use of alternative fuels in vessels that operate at their ports.