Whether you're on an 85' towboat on the Mississippi River or a 740' ro-ro vessel steaming down the East Coast, if there's an accident aboard your vessel you need to know the exact location of every crewmember.
That won't be an issue if all crewmembers are wearing a small watch-like object on their wrists — called a wearable — and the vessel is outfitted with electronic nodes from Scandinavian Reach Technologies (Scanreach), Strum, Norway, a wireless IoT-mesh node network marketed in North America by Seacoast Marine Electronics, Halifax, Nova Scotia, under the name ConnectPOB.
The wearable — a form of wireless connectivity technology — assigns each crewman a number and sends out an electronic signal every three to five seconds that is picked up by electronic nodes mounted throughout the vessel and then forwarded to the wheelhouse. There the crewman's location is displayed on the vessel's general arrangement screen. "If there's a fire aboard a ship, you can see exactly where everybody is," said Henk van Heaven, director at Seacoast Marine Electronics.
An accident doesn't have to encompass the entire vessel to require immediate attention. If an individual is in distress for whatever reason and pushes the button on their wearable, that signal is picked up by a nearby node and "about three seconds later" an alarm goes off in the wheelhouse.
The number on the screen assigned to the crewman changes from yellow to red and whoever is on watch "can exactly see where the injured person is and send in a rescue crew," said van Heaven.
Seacoast Marine also offers Scanreach's ConnectFuel monitoring system, which uses a specialized fuel sensor on the engine. Those same nodes that are tracking crewmembers "will transport data from fuel sensors over the nodes back to the wheelhouse," said van Heaven. "All the nodes are doing is making the data-line wireless."
The electronic nodes, essentially wireless transmitters, send data to other nodes, and the data is transmitted through steel plating. An electronic node is about the size of a cigarette pack. Put each electronic node on a wall and plug it into a power source (each node has a backup battery in case power is lost).
Nodes are located throughout a vessel, as are the 60 nodes that Seacoast Marine recently installed on a 728' Great Lakes cargo vessel.
"All the nodes were installed in about two hours," said Van Heaven, noting that "the more you put in, the more accurate" the system is.
The nodes were placed throughout the vessel, from the Fo'c'sle to a tunnel under the cargo hold (for someone who might be working in the tunnel), to crew accommodation spaces, and the engine room.
Scanreach and Seacoast Marine are expected to soon offer additional types of wireless data systems, including wind and temperature sensors for inside a vessel. In the works is also a system to wirelessly transfer data from electronic engines through nodes to the wheelhouse.
"They want to transfer all that data wirelessly," said van Heaven.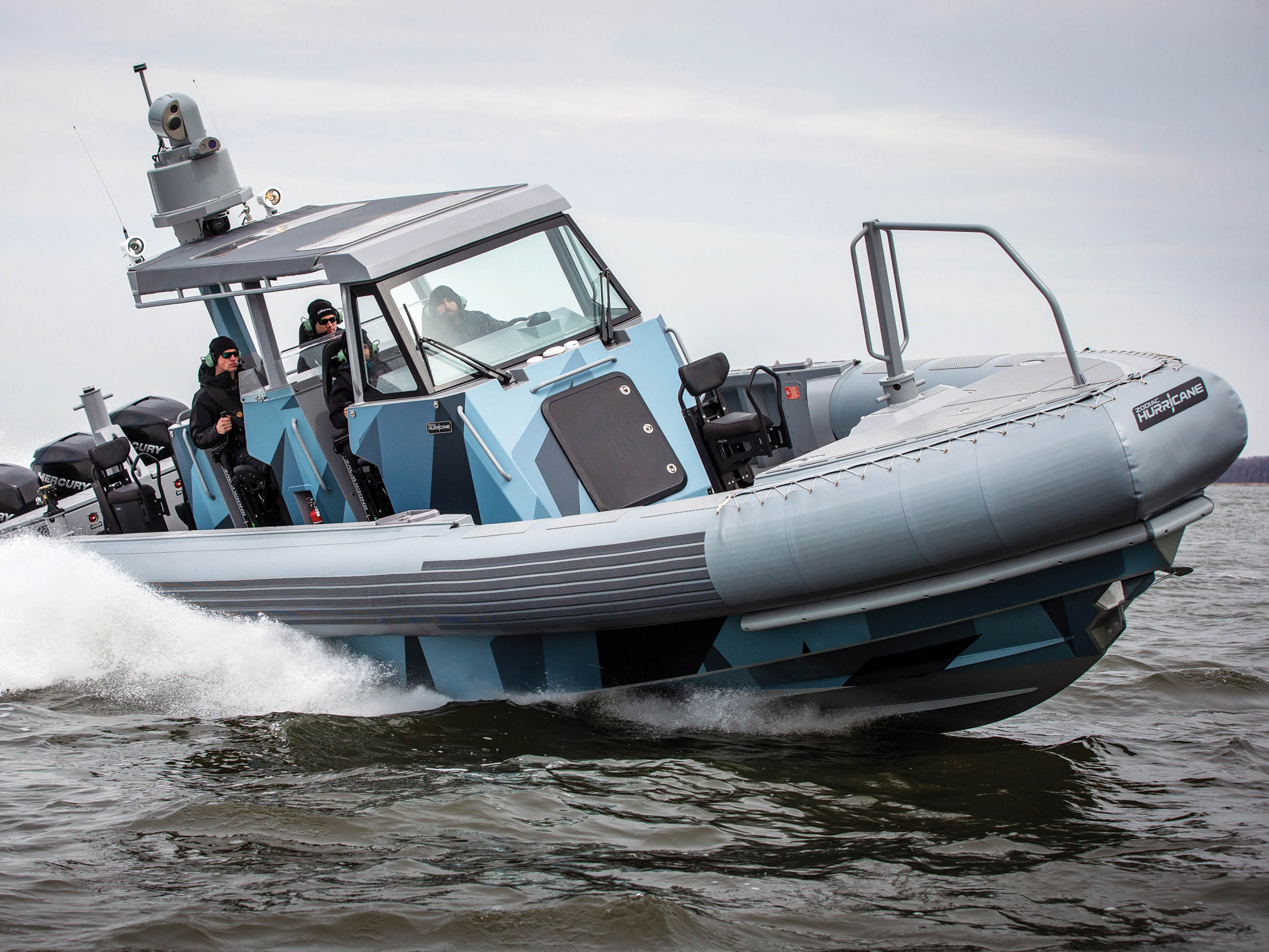 DAVID CLARK
Understanding what a fellow crewman or the captain is telling you can be especially difficult on a windy day when pounding through choppy seas in small workboats.
Wireless headsets from the David Clark Company Inc., Worcester, Mass., take away that uncertainty, allowing crewmembers to understand what others are saying and communicate their own observations.
And since the headsets are wireless, there's no cord tethering you to the boat. Thus, you can leave the vessel and board another boat, say in the case of an interdiction by a patrol boat, and still be able to communicate if you are within 300'.
Three components make possible wireless communication with a David Clark headset. There's the gateway that serves as a relay between the boat's intercom system and the belt station that comes with each wireless headset.
The belt station is a small rectangular box with a heavy-duty clip that is attached to your pocket or belt and then connected to the headset's earphones (called domes) by a short wire. The belt station picks up the gateway's wireless signal and sends it to the earphones over the wire. If the belt station's batteries run low, replace it with a charged belt station while yours is recharged. Belt station batteries generally last about 50 hours.
The third component is the headset with either one or two ear domes, depending on the model. The ear domes don't have wireless circuitry. The wireless components are in the belt station, which means your head is carrying less weight that over a period of time could be uncomfortable. Each ear dome features volume controls to produce preferred hearing levels in each ear. The domes also provide hearing protection on those days when the wind noise alone makes it difficult to hear.
The David Clark wireless system is basically designed for workboats, patrol boats, and military craft no longer than about 50'. That's because an unobstructed line of sight is needed from the gateway to a wireless headset, which isn't usually possible on larger vessels.
All the components in a David Clark headset are watertight, marine grade, and corrosion-resistant.
FURUNO
In the next year if you happen to be in the Antarctic on a cruise ship operated by Seabourn Cruise Line and are about to step onto Antarctic's icy shore, you can thank Furuno's latest wireless system, the WAASP W3, for ensuring a safe landing.
The WAASP W3 was introduced about 20 years ago by the New Zealand electronics company ENL (Electronic Navigation Ltd.) as a multi-beam sounder for commercial fishing. The WAASP W3 is still sold to commercial fishermen, but the "technology has been adapted to other things besides commercial fishing," said Furuno's Alan Terry.
The most recent rendition is surveying for cruise boats, where the WAASP W3 is available in two models, the W3P, a fixed system, and the W3Pi, a portable system.
The portable system has been available for about a year but only since late fall has Furuno — a sister company to ENL — been marketing it in the U.S.
"What's been done over the last 20-plus years is develop it into a wireless, multibeam bottom-mapping system that a tender (that's working with a cruise ship) can use in an area that doesn't have very good chart coverage," said Furuno's Bart Disher.
The tender's bottom information is wirelessly transmitted back to the cruise ship in real time, showing where it's safe to anchor and allow passengers to go ashore. There is a line-of-sight operational range of two nautical miles.
The WAASP W3Pi is a "big advantage for a cruise ship looking for anchorage because you don't have to worry about damaging ecological systems" or damaging the vessel. And being portable, the WAASP W3Pi can quickly be moved from one tender to another, Disher said.
Besides marketing the mapping system to cruise ships, Furuno is talking with barge companies in Alaska that would use it when the spring thaw hits Alaska's inland rivers. That's when ice pushes sand to places it hadn't been on the riverbed, causing barges to get stuck and potentially back up other barges.
The WAASP W3 system is not complicated and comes with all the required hardware to get it up and running.
"If you understand how to use PC plotter or PC echo sounder, it'll be simple to understand the use of the WASSP wireless system," said Disher.