What's the difference between an emergency response vessel (ERV) and a patrol boat?
Patrol boats do exactly what their name suggests — they patrol. They are designed to keep bad things from happening, acting as a deterrent. ERVs answer emergency calls, including firefighting. They don't keep bad actors from doing what they do.
Following the 9/11 terrorist attacks in New York, scores of small patrol and emergency response craft were built throughout the U.S., many of which were partially or mostly funded by the federal government. Metropolitan areas which previously could not afford to build a new patrol boat or ERV suddenly had the money.
And shipyards that could build these vessels suddenly saw that part of their businesses grow exponentially.
Over the past 20 years, boats that can handle both patrol and emergency response missions have become more prolific in ports and on waterways across the U.S.
MULTIMISSION
These crossover boats can be one-offs or multiple-boat fleet enhancements.
WorkBoat's Boat of the Year in 2022 is a prime example of a multimission boat. Late last year, MetalCraft Marine delivered the 85'×26'×12' aluminum firefighting, rescue, patrol boat Monjed 2 to the Kuwait Fire Force.
Because of the uniqueness of the boat's operational location, MetalCraft started looking at outside designs that were used in severe sea state conditions that could still make good speeds and carry heavy loads.
The boat's design, based on MetalCraft's FireStorm model, has very tall hulls that are wide enough to house large diesels and lots of firefighting equipment.
The Monjed 2 features two Jason fire pumps, spewing 5,000 gpm each through telescopic monitors that extend 40' above the deck.
"MetalCraft started on preliminary designs back in early 2015. Several concepts did not fly due to the instability of shooting 12,000 gpm from 45 feet above the water," Bob Clark, MetalCraft partner and contracts manager, said at the 2022 International WorkBoat Show in December. "Even a catamaran design would need to be very large and very heavy with a super low center of gravity to support the force of 12,000 gpm from the tower monitors. The boat would also need to handle severe seas if a fire occurred during a storm event. MetalCraft started looking at outside designs that were designed around severe sea states that could make good speeds and carry heavy loads. This led us to the wind-farm boats of the North Sea." Main propulsion comes from two MTU 10V 2000 M86 diesel engines, producing 1,360 hp at 2,450 rpm each. The mains connect to twin MJP DRB 500 waterjets through ZF 665 two-speed marine gears.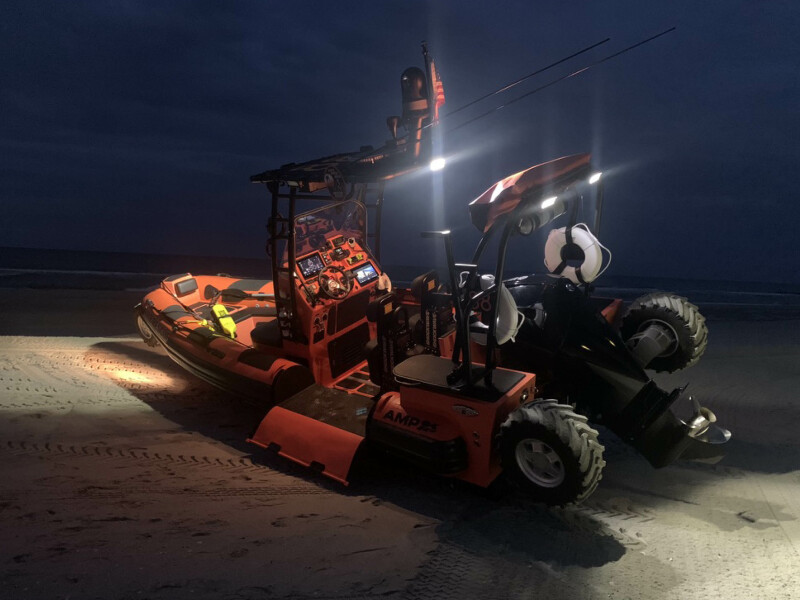 In August, Ocean Craft Marine delivered a 23' fiberglass amphibious rescue boat, employing the shipyard's high-performance concave reverse-chine-designed hull form, to the North Myrtle Beach (S.C.) Rescue Squad.
Formed in 1958, the North Myrtle Beach Rescue Squad is one of the oldest rescue squads in South Carolina. The squad is responsible for water rescue to swimmers/boaters in distress, overturned boats, jet ski crashes, aquatic search, and rescue, vehicles in the water, medical emergencies on boats, aircraft emergencies involving the water, and post-hurricane search and rescue.
The squad is used by the Coast Guard, South Carolina Department of Natural Resources, Horry County Fire Rescue, North Myrtle Beach, and Myrtle Beach city governments.
"We don't do a lot of amphibious boats because they're hard to get right, but this was the right application," said Todd Salus, Ocean Craft Marine's vice president sales and marketing. "The North Myrtle Beach Rescue Squad's amphibious rescue boat is a highly specialized craft providing the unique ability to launch and recover the boat from any beach, thus providing for greatly enhanced incident response times from this rescue team. We hope that the boat's unique capabilities will help to save many lives."
Salus said the amphibious search and rescue boat is unique from all other rescue boats because it utilizes Ocean Craft's proprietary four-wheel-drive amphibious land mobility system, which greatly expands the boat's rescue capabilities and significantly reduces the squad's response time.
Main propulsion comes from a Mercury Marine 250-hp V-8 outboard motor.
Additionally, the boat features shock-mitigating seats mounted to a deck track system for ease of adjustment. The boat was designed to exceed North Myrtle Beach Rescue Squad's stringent operational requirements, including the need for a hinged and folding T-top as well as a folding electronics arch at the stern due to the height restriction at the firehouse.
Salus said the amphibious search and rescue boat can handle high-speed tactical turns at varying speeds and in rough sea conditions without fear of submersion. It also features an exceptional high load-carrying capacity of more than 1.5 tons and the ability to run continuously at speeds of 63 mph in high sea state or seas as shallow as 3.3'.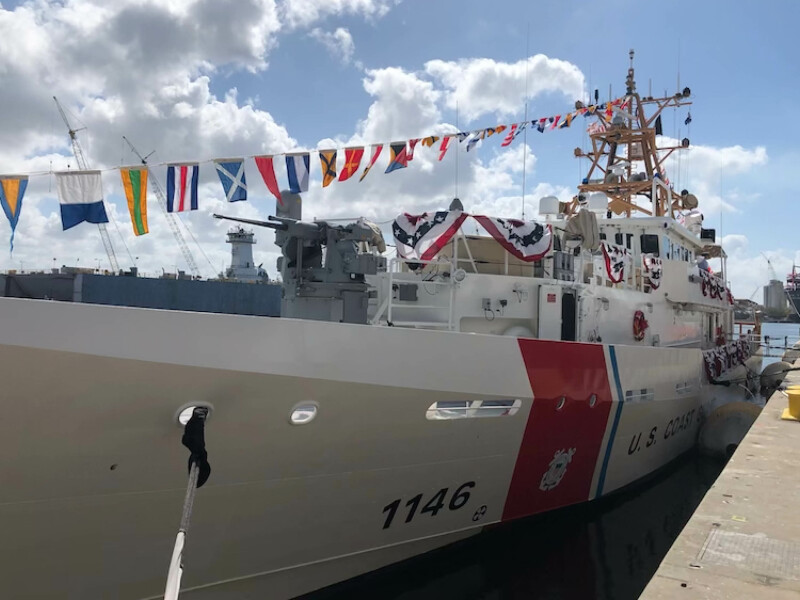 As of January, Bollinger Shipyards LLC, Lockport, La., has built and delivered 47 Sentinel-class fast response cutters. The FRCs are replacing the aging 110' Island-class patrol boats built by Bollinger 30 years ago.
The Coast Guard has taken delivery of the 154'×25' cutters in Key West, Fla., before sending them around the U.S. and the world. Part of the cutters' mission is search and rescue operations, which qualifies them as ERVs. Each FRC is expected to be on duty an average of 2,500 hours per year.
Bollinger has delivered 170 vessels to the Coast Guard over a 35-year period. This is the 47th FRC delivered under the current program. For the FRC, which has a draft of 9'6", Bollinger is using a proven, in-service parent-craft design based on the Damen Stan Patrol Boat 4708.
Main propulsion comes from twin MTU 20V4000 M93L diesel engines producing 2,900 hp each. The boats have an endurance of five days and 2,500 nautical miles.
FRCs are being deployed in support of the full range of missions within the Coast Guard and other branches of the U.S. armed services. The FRCs have a flank speed of 28 knots, state-of-the-art command, control, communications, computers, intelligence, surveillance, and reconnaissance (C4ISR) technology, and a stern launch and recovery ramp for a 26', over-the-horizon interceptor cutter boat.
OTHER QUALIFIERS
Other boats that are used in emergency situations include:
Fuel ships. When recreational boaters have an emergency, it's usually a commercial ERV that comes to the rescue. Weekend boaters that run out of fuel in open water can qualify as an emergency. That's where Peterson Fuel, Fort Lauderdale, Fla., can help. The company's fuel "ships" service the Fort Lauderdale and Miami area. Peterson's latest new build is a 34'×12'×6' steel hulled craft that can carry a cargo of up to 2,500 gals. of fuel. Sporting a 3' draft, the 20-dwt Peterson Gas is powered by twin Suzuki 225 outboards with stainless-steel, 3-bladed props, giving the boat an eight-knot running speed. For additional maneuverability, the fuel ship has custom-made bow and stern thrusters, a Sea Star steering system and is fitted with a Yanmar 3JH40 auxiliary engine to run its hydraulic systems.
Among the models Safe Boats International, Bremerton, Wash., brought to the 2022 International WorkBoat Show was a 39'2"×10' Safe 38 full cabin boat that has a range of 360 nautical miles at 34 knots. However, the 1,275-hp 38 can reach a top speed of 55 knots. The boat's collar system is 100% Safe XDR-1 extreme duty reinforced with a blue rubstrake.
Lake Assault Boats LLC, Superior, Wis., was also at the WorkBoat Show promoting its 22' and 24' rigid inflatable boats (RIBs) engineered for fast fire and rescue response. The boats can operate in as little as 12" to 14" of water.