Catamaran designs are ruling the offshore wind market for crew transfer vessels, based on the deep experience of United Kingdom and European naval architects and builders who have shared their expertise with U.S. counterparts.
Typical is the 68'×28.4' crew transfer vessel (CTV) Atlantic Endeavor, owned and operated by Atlantic Wind Transfers to support Dominion Energy's Coastal Virginia Offshore Wind pilot wind farm.
UK-based vessel designer Chartwell Marine oversaw the vessel's construction when it was built at Blount Boats Inc., Warren, R.I. Blount also built the Atlantic Pioneer, the first CTV to be launched in the U.S. market, which has serviced the Block Island Wind Farm since 2016.
"Even with the pandemic, international collaboration to build out an innovative U.S. CTV fleet has continued," Andy Page, managing director, Chartwell Marine, said in a prepared statement when the Atlantic Endeavor was delivered. "We've been proud to continue working remotely with Blount to deliver a vessel to AWT's specifications, a testament to the yard's adaptability. As U.S. offshore wind continues to grow, it will be crucial to ensure a strong blueprint for a sustainable future is laid using reliable, trusted vessel designs."
With several gigawatts of offshore wind capacity to be installed the next few years — and the Biden administration's goal of 30 megawatts by 2030 — the U.S. offshore wind sector must rapidly build out its maritime supply chain to ensure new projects can be constructed, operated and maintained effectively. AWT selected the versatile Chartwell Marine design, which can keep pace as project requirements change. The new vessel offers high standards of comfort and reliability for technicians working on offshore turbines.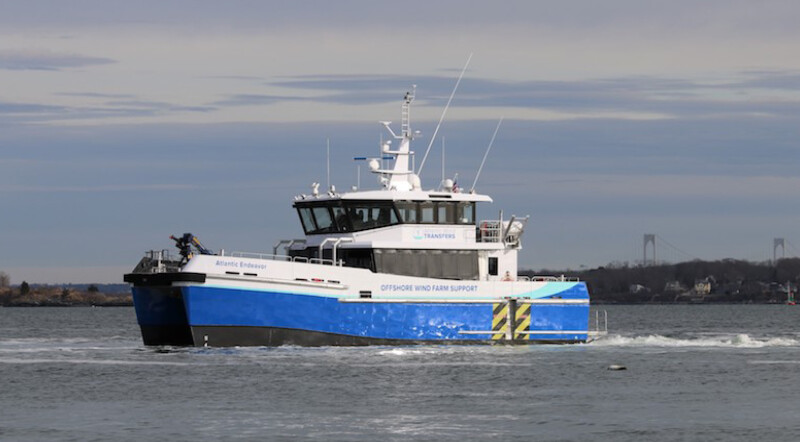 AWT decided to equip the vessel with advanced surveying equipment to prepare for future operations in the region, supporting wind farm owners and operators such as Dominion Energy as additional generation capacity comes online. The U.S. East Coast will require diverse operational profiles and versatile fleets, and flexible vessel platforms will be a cornerstone for building these vessels.
"This is our second CTV entering into service and Chartwell Marine has been a responsive partner throughout the design and build process, adapting its proven vessel formula to ensure we continue to provide the highest levels of service for our current and future clients," said Charles Donadio, president and CEO of Atlantic Wind Transfers. "The Chartwell 24 has set the benchmark for effective vessel performance in the U.S., and we look forward to continue working with Chartwell on improvements to future designs as the U.S. East Coast offshore wind farms build out."
"Safety and reliability are top priorities for Dominion Energy, and AWT has a proven track record in the U.S. of delivering on these priorities," said Joshua Bennett, vice president of offshore wind, Dominion Energy. "As the owner and operator of the first offshore wind farm in U.S. federal waters, we take our responsibility to meet and exceed established global standards in crew transfer operations very seriously."
MONOHULL DESIGN
Now DLBA Naval Architects, Chesapeake, Va., a division of Gibbs & Cox/Leidos Company, has another concept for U.S. offshore wind operators.
European designs may not be best suited for operations in U.S. offshore wind farms, due to different environmental and regulatory conditions, said Jeffrey Bowles, director at DLBA. In contrast, DLBA's design is an aluminum 118'×24.8'×4.9' monohull, classed USCG Subchapter L and ABS HSC, crewboat.
One unique aspect will be the need to adhere to 10-knot speed limits to protect highly endangered northern right whales on the move.
"The planing monohull is the jack of all trades," said Bowles. "If you're only going to be able to do 10 knots you're going to need a bigger boat out there."
Bowles and his team began thinking along those lines when developers started shopping around for U.S. builders, about the same time Blount was building the first U.S.-flag CTV.
"Three or four years ago everyone, was saying 'We want catamarans,'" said Bowles. "I said, wait a minute guys, they might be good for over there, but conditions are different here."
A conventional, non-hybrid diesel version of the DLBA design would have four Volvo Penta D13 engines for a total 3,200 hp turning Volvo IPS drives. Speed would be up to 20 knots. Two Cat C4.4 ACERT would drive gensets for ship's power. It would have accommodations for a crew of six and up to 13 passengers.
DLBA is currently engaged with hybrid system vendors, exploring the feasibility and performance benefits that could be attained with a hybrid propulsion system. BAE Systems' design is one possible hybrid solution architecture that can be implemented on the SATV.
Monohull design offers several advantages, according to DLBA. One is more comfortable seakeeping, without extreme hull slamming in heavy seas. A monohull vessel is also more mission-flexible, able to carry deck equipment like a Palfinger 15500 crane and aft A-frame hoists and winches, on a lower-profile deck to handle sensor and buoy deployments for science missions. The lower deck can also more easily accommodate side-to-side personnel transfers between vessels.
Arrangements afforded by a monohull include increased useable arrangement volume below deck, more room for maintenance around equipment, and flexible arrangement configurations for different missions
The 36-meter monohull design compares very similarly with the average 26-meter catamaran. The monohull has the capabilities to perform transfer in waves exceeding two meters, according to DLBA. Based on investigation into local environmental conditions, the monohull is expected to have a 90% operability rate in all seas up to 1.8 meters, the designers say. They are refining the hull form to improve head sea performance at 20 knots to achieve a 1.75-meter safe operating envelope.
TRIMARAN DESIGN
Another approach is offered by Marsun Shipyard in Thailand, which in July announced a contract for two Inertia M3 high-speed trimaran crew transfer vessels with U-Ming Marine Offshore Co. Ltd. (UMO), a joint venture between U-Ming Marine Transport Corp. and World Marine Offshore (WMO).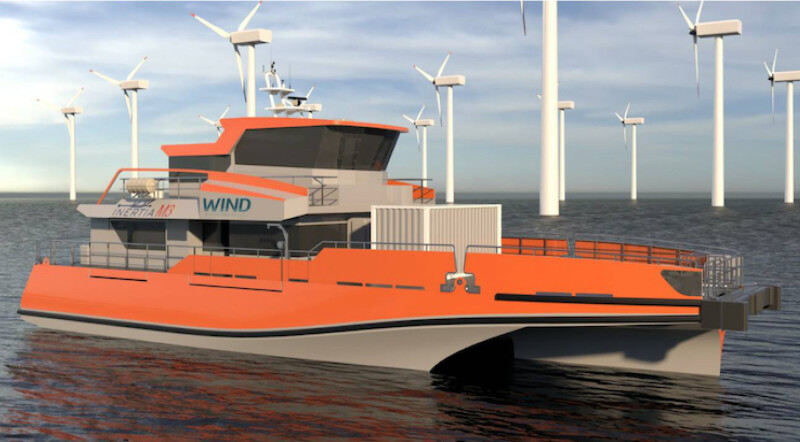 The vessels are designed by WI-ND Naval Architects based on the proven Inertia trimaran hull form, and in close collaboration with Sydney, Australia-based high-speed craft experts One2three Naval Architects.
The aluminum hull features three independent and identical drivelines in three separate hulls, giving the vessel unparalleled redundancy, maneuverability, and flexibility to optimize engine running hours. Optimized hull features give the vessel high inertia and soft motions to provide a comfortable platform for extended periods offshore. Together with the hydraulic Softbow fender, the latest generation of Inertia trimaran hulls can transfer service personnel in up to three-meter significant wave height. The hull design can also handle hybrid installation.
The accommodations feature 24 passenger seats with 180° visibility, two single officer cabins and two double crew cabins along with a generous crew mess and TV lounge area. The entire superstructure is installed on resilient mounts and together with the low vibrations from the waterjet propulsion, the noise levels in the superstructure will be well below 60 dBA at all speeds.
The forward deck area features a large cargo deck for containers and toolboxes as well as an impressive 50-cu.-meter climate-controlled storage facility under deck only made possible by the trimaran hull shape.
Likewise, Singapore-based shipbuilder Strategic Marine recently delivered a pair of 27-meter (88'6") CTVs to WEM Marine Ltd., a UK-based offshore support vessel provider with a growing fleet servicing the renewable offshore wind energy sector. "With 23 CTVs now delivered to offshore wind vessel operators and more than 10 years in this market our team have been able to deliver two of our best ever vessels to service the growing renewable energy market," Chan Eng Yew, CEO of Strategic Marine, said in a prepared statement.
The CTVs have been designed to meet the specific requirements of WEM who intends to deploy the vessels in UK and European waters.
The vessels are powered by two Caterpillar C32 engines driving fixed pitch propellers. There's accommodations for 24 technicians and three crew. Personnel transfer to the wind turbines is facilitated by a patented active fendering system.
Incat Crowther and China's AFAI Southern Shipyard delivered a pair of Incat Crowther 35 CTVs in August to MHO-Co A/S. The CTVs work in the North Sea for Ørsted.
The 112'11"×36'2"×13'8" MHO Asgard and MHO Apollo are the first hybrid CTVs in operation with extensive zero-emission capability.
"Designing and building hybrid CTVs is a huge step in the environmental direction, and I am proud that we have found partners who share our vision for sustainable development in the offshore industry," MHO-Co CEO and founder, Mik Henriksen, said in a statement announcing the deliveries.
The vessels will service the Hornsea Project 2 offshore wind farm off the Yorkshire coast in the North Sea for Ørsted. The aluminum vessels are the third and fourth Incat Crowther-designed vessels for MHO-Co A/S, Esbjerg, Denmark, following the deliveries of MHO Esbjerg and MHO Gurli.
The Asgard and Apollo have 13'8" drafts and are powered by an advanced propulsion system that was developed in collaboration with Danfoss and Volvo Penta. The system is comprised of a pair of diesel drivetrains and a pair of diesel-electric drivetrains, each driving Volvo Penta IPS drives. The main diesel engines are Volvo Penta D13s, producing 515 kW each and giving the boats a running speed of 25 knots.
Generators for the diesel-electric propulsion train are Volvo Penta D8-MH units. Three additional units are located in the hulls amidship, alongside a Volvo Penta D5 used as a harbor generator. Propulsion is via Volvo IPS units. Additionally, a Corvus battery system provides stored power for zero-emission operation.
The system offers flexibility, allowing the vessel to operate in zero-emission electric mode for up to eight hours, or in combination with diesel propulsion for a maximum speed of 25 knots. The flexibility is enhanced by the use of multiple modular generators, meaning power generation can be optimized for the operational profile.
Incat Crowther worked with MHO to develop a design that offers more space and functionality. The flexible layout features a 110-sq.-meter foredeck with multiple tie-downs, deck crane, moon pool, and the capability to take Bring-to-Work (BTW) systems.
The Asgard and Apollo accommodate 24 technicians in mid-deck cabins. A comfortable saloon for technicians is located on the main deck with 24 suspended seats, lockers, a pantry, and a separate mess. Additional technician rest spaces are also located on this deck, as is a large wet room with lockers and showers.
"Designing and building hybrid CTVs is a huge step in the environmental direction, and I am proud that we have found partners who share our vision for sustainable development in the offshore industry," MHO-Co CEO and founder, Mik Henriksen, said in a statement announcing the deliveries.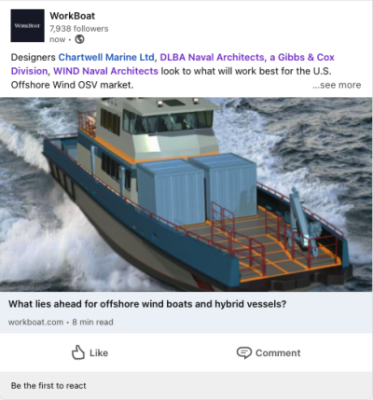 Stay connected, and follow us on LinkedIn: https://www.linkedin.com/company/workboat-com