Almost any person unfamiliar with the workboat industry could identify a tugboat when he or she sees it.
While there have been many technological changes over the decades, the basic shape of the tug has not changed drastically and probably won't in the coming years. However, other changes are occurring.
"In some ways the technological advances could be viewed as shortening the economic life expectancy, but in reality, we are having many conversations with owners about the operating costs of the new tugs 10-15 years after construction which didn't previously occur," said Ernst Schneider, CGD graphic designer, Robert Allan Ltd. "Considering these longer timeframes and higher maintenance costs is enabling some owners to justify the increased investment in items like hybrid propulsion and battery power that can then reduce the operating costs over the long term."
Cole Van Gundy, director, commercial operations, Crowley Engineering Services, agreed. "Many owners and operators seek designs that meet increasing customer demands for efficiencies and crew comfort. Many of these requirements drive up design and build costs, but they also have potential to substantially lower the operational and environmental costs. It is important that owners and operators look at the entire lifecycle and environmental costs of their vessels when considering new designs."
NEWBUILD TUGS
Crowley Fuels LLC took delivery in April of a new Alaska-class 100,000-bbl. articulated tug-barge (ATB) unit, which is being used to transport multiple clean petroleum products to the Alaska market. The ATB was built by Bollinger Shipyards at its Amelia, La., facility. The ATB unit consists of the twin Z-drive, 7,000-hp, 128'x85'x19' tug Aveogan paired with the 400'x85', 100,000-bbl. ocean barge Oliver Leavitt. The coastal carrier is the first in Crowley's fleet to be dedicated to the Alaska market.
Crowley's Jensen Maritime Consultants, provided the functional design. Bollinger's engineering team provided the integration, detail design and construction package. Jensen designed the ATB to meet Ice-class and Polar Code requirements, which includes increased structural framing and shell plating and extended zero discharge endurance. The double-hulled design also features a barge form factor to achieve high-cargo capacity on minimal draft.
"The new vessel's advanced design and environmental protection features mark a new era for fuel transportation services in Alaska," said Rick Meidel, vice president and general manager, Crowley Fuels Alaska. "She will give many years of safe and reliable service for our valued customer Petro Star."
Main propulsion for the tug comes from twin Wabtec 8L250MDC engines that develop 3,384 hp at 1,000 rpm each. The engines meet EPA Tier 4 and IMO Tier III emissions standards and are married to twin Schottel SRP-560 azimuthing Z-drives with carbon fiber shafts to enhance maneuverability, and an Intercon C-series 50 coupling system with a first-of-its-kind lightering helmet. The tug has a running speed of approximately 11 knots.
Eastern Shipbuilding Group Inc., Panama City, Fla., delivered the second of two 80'x38'x13'2" 5,100-hp Z-drive tugs in June to Bisso Offshore LLC, New Orleans.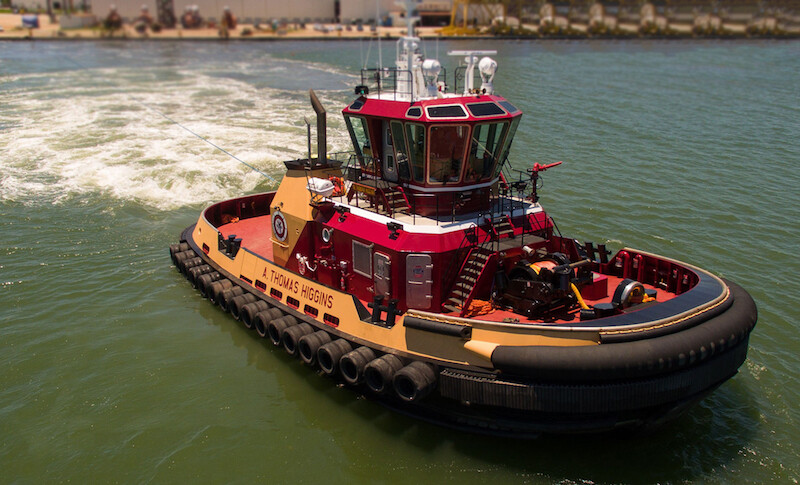 The sister vessel, the C.D. White, was delivered in January 2020. The two vessels are examples of the trend toward higher horsepower, more compact tugs.
"Customers have indeed been asking for higher power, more compact tugs to handle the large, new +20,000 TEU container ships entering service and the US ports undertaking major dredging projects," said Schneider. "Five to 10 years ago 70- to 80- ton tugs were thought of as very high power but increasingly have become the norm for many new tugs. As more tugs are performing indirect escort towing maneuverers to safely handle these larger ships at increased transit speeds thankfully more of them are also being built to the latest escort towing safety standards which Robert Allan Ltd. has led the development of in cooperation with classification societies."
Porter Sesnon, general manager, ship assist and harbor escort services, Crowley Shipping, said that older harbor tugs have performed remarkably well with the new, larger containerships.
"Harbor tugs of 20 years ago were certainly designed to handle smaller containerships but have managed to handle the larger containerships," said Sesnon. However, depending on the local harbor safety guidelines, an additional tug may now be required to assist these massive containerships to berth. About 10-15 years ago, the standard job would require two tugs in, given the mismatch of bollard pull of the tugs and deadweight tonnage of these ships."
Bisso's RAL RApport 2400 designed tugs have been customized by the designer, builder, and owner to provide specific operational features including a high bollard pull forward and aft, enhanced maneuverability and escort performance, better fuel economy, crew comfort, and safety under the new Subchapter M requirements, and reduced emissions meeting the new EPA Tier 4 emissions regulations.
Brusco Tug & Barge, Longview, Wash., has signed an agreement to build a pair of Robert Allan Ltd. designed 78'x40'x14' tugs at Diversified Marine Inc. The new boats will be the 9th and 10th Robert Allan designed tugs built at Diversified Marine for Brusco.
The tugs, which will have a 17' navigational draft, will be powered by two Caterpillar 3516E Tier 4 main engines. Each of the tugs in the three-build series will have more power than the last. The Noydena, delivered earlier in 2020, boasted 6,008 hp with 89-ton bollard pull. The second tug will deliver 6,302 hp and the third 6,772 hp and an anticipated bollard pull in the mid to high 90-ton range. The Z-drives on the second tug will be the first in the U.S. from Berg Propulsion.
"Currently we are seeing increased market pressures to deliver high power tugs at very cost competitive purchase prices," said Schneider. "As a result, we are working with our clients to optimize both existing and new designs to increase the functionality and towing and escort performance of more compact high-power tugs while decreasing the build cost through construction efficiencies. It is critically important through that throughout this we still maintain the high safety standards that our designs are renowned for."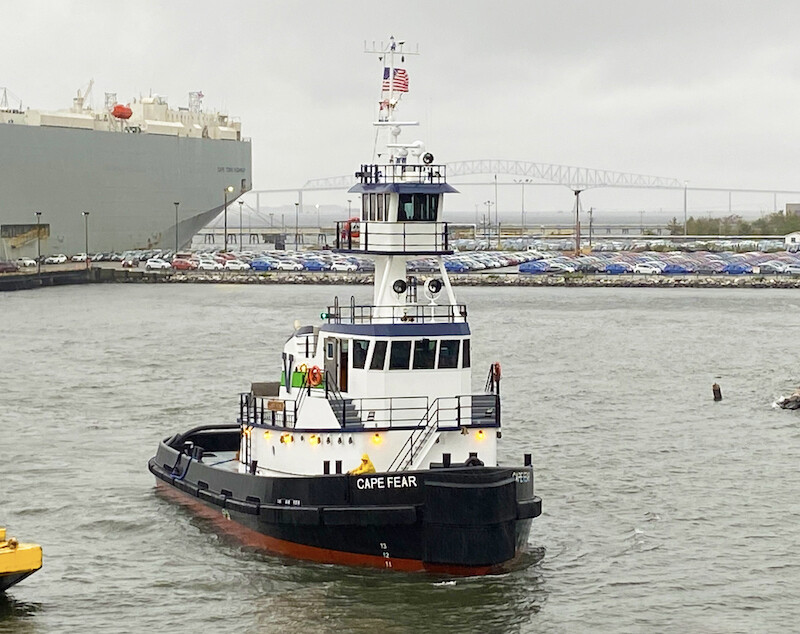 Vane Brothers took delivery of the 3,000-hp 94'x32'x13' Cape Fear, the 17th Maryland-built tugboat to join the Baltimore-based company's expanding fleet. Chesapeake Shipbuilding, Salisbury, Md., has delivered 15 3,000-hp, model-bow tugs to Vane Brothers since 2008.
"The 3,000-horsepower tug is powerful, practical and a perfect fit for Vane's harbour and coastwise towing operations," Vane Brothers president, C. Duff Hughes, said when the tug was delivered in late October. ""Keeping this series of tugs similar in construction is a great benefit to our crews, purchasing agents and contracted vendors."
Great Lakes Towing Co. named two new tugs, the Pennsylvania and Wisconsin, at the Cleveland, Ohio, facility of its sister company Great Lakes Shipyard in December. The new tugs are the fourth and fifth vessels in a series of 10 Damen Stan Tug 1907 ICE harbor tugs that Great Lakes Shipyard is building for its sister company.
The tugs deliver up to 30 tons of bollard pull and can be found in operation all over the world. Their relatively small size and high maneuverability is a good fit for the Great Lakes region with its narrow waterways and many low bridges. The tugs' ability to operate safely in icy waters is also essential given the very cold temperatures that occur there in the winter. The tugs are also fitted with hybrid propulsion systems to minimize emissions when idling and also to reduce main engine lifecycle costs. The first Damen Stan Tug 1907 ICE for The Great Lakes Towage Company entered service in July 2017 and the sixth tug in the program will be delivered later this summer.
FUTURE OF TUGS
So, what does the future hold for tugs? One thing most agree on is that the tug industry will use more environmentally friendly equipment and propulsion systems going forward.
"We are seeing a number of requests for vessels that utilize existing tech-nologies while having the flexibility to adapt for alternative fuels," said Van Gundy of Crowley Engineering. "We have a number of concepts under development that utilize alternative fuels and hybrid technologies to meet customer requirements. Some level of automation will be included within many of our new vessel designs to augment the operators' abilities."
"Our expectation is that in the coming years owners will further embrace green technologies to reduce environ- mental effects both above and below the waterline," said RAL's Schneider. "Today's newbuilds implement the latest exhaust emissions controls. Additionally, underwater radiated noise is also gaining higher importance to owners and ports reducing the impact the tugs have on surrounding marine environment. Items such as hybrid propulsion systems or the use of large capacity energy storage batteries provide the opportunity to reduce the environmental footprint of the newest generation of tugs. And we are not only working with owners on new designs implementing these features, but also seeing them move forward with the actual construction."
"The future for tugs is brighter than ever with an ever-increasing focus on carbon reduction and sustainability," said Paul Manzi, vice president, ship assist and escort, Crowley Shipping. "It is a segment of the maritime industry that is ripe with opportunity to apply alternate energy sources to supply power, whether it is electric supplied by batteries charged by shoreside utility company sources or dedicated microgrids powered by fuels cells or hydro- gen, LNG as direct fuel, or in hybrid configurations or bio-fuels. The smaller localized systems give great opportunity to provide a lower carbon footprint.
"Efficiency and safety will also improve," Manzi continued. "With the application of autonomous technology, there is an opportunity to manage operating costs more closely and provide a safer operation. This can be achieved through use of cameras and sensors aiding in navigation, shoreside monitoring of engine performance and power supply, and improving dispatching efficiency through the use of artificial intelligence to predict movement patterns."