Signet Shipbuilding & Repair (SS&R), Pascagoula, Miss., is currently building two 103'4"x45'6"x15'7", 299 gt. Robert Allan Ltd.-designed advanced Rotortugs 92-32W purpose-built vessels — Signet Sirius and Signet Capella — for Signet Maritime Corp., Houston, to support the Port of Corpus Christi channel improvement project.
With a height-of-eye draft of 24'6, Signet Sirius is 85% complete and will be launched on May 29, with a delivery date of July 2023. Signet Capella is 65% finished, with a delivery date of November 2023.
"With the vessels nearing delivery, we've completed the full cycle of design and construction in 3D, and it's improved the production methodology and efficiency of our shipyard significantly," said Signet Maritime's Gayle C. Snyder. "All future vessels constructed at SS&R will follow the same design regimen."
These 92-metric ton bollard pull (85 in reverse) escort/ship assist tugs are the result of years of iterative simulation and design, specifically developed to meet the challenges of escorting deep-draft very large crude carriers (VLCC) in the Port of Corpus Christi after the pending completion of the 54' final depth channel improvement project. "The increased depth allows vessels in the port to achieve greater loading drafts, increasing their hull resistance and necessitating deliberate tug design of this degree for assist," said Snyder.
The three-thruster Rotortug is designed to increase maneuverability, but also unique in that the vector of vessel travel and the vector of line tension do not have to be aligned, as they must be on a conventional tug or ASD tug, allowing for more complex, effective, and efficient maneuvers during ship escort at speed. "This, along with a next-generation Markey Machinery Agile Class III render/recover winch package, exceeds the design criteria to perform constant tension ship escort in up to a two-meter, six-second wave period as found in the U.S. Gulf of Mexico," said Snyder.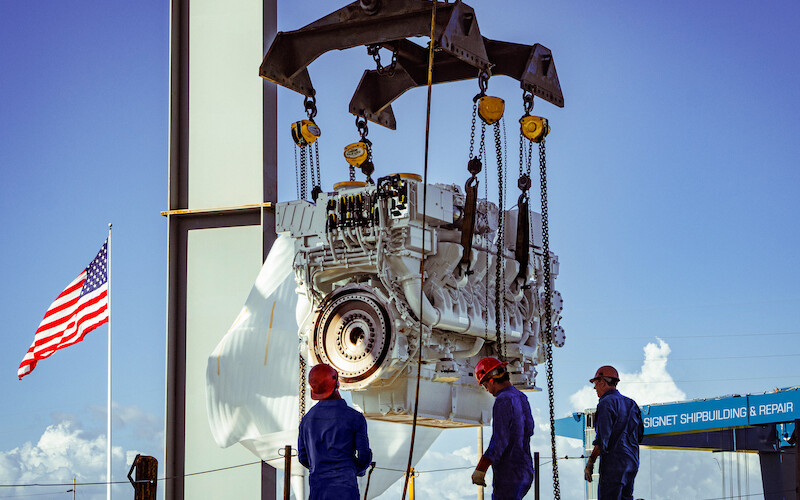 Main propulsion comes from three MTU 12V4000 M65L, Tier 4 marine engines with a total of 7,725 hp. The mains connect to Kongsberg US 205 controllable pitch Z-drives that contain 2,500mm dia., 4-bladed nibral propellers in nozzles.
Snyder said that to the best of Signet's knowledge, the new tugs are the first towing vessels to receive an ABS ENVIRO notation, first in the U.S. to achieve an ABS LEV (low emissions vessel) notation, and first in the U.S. to receive an ABS Cybersecurity-1 (CS-1) notation. "When we started the vessels, these claims were true, and cannot speak as to if other, smaller vessels have beat us to these with shorter deliveries," said Snyder.
Ship's service power comes from a pair of Tier 3 John Deere 6135AFM85 gensets, sparking 300 kW of electrical power each.
"The tugs are built in modules and represent some of the most complex structural vessel construction in the United States, with complex geometries of strakes, chines, and hull structure for efficient hydrodynamics and escort stability," said Snyder. "The foundations for the Markey Class III render/recover winches are integrated into the hull structure of weight reduction and increased escort performance."
The new tugs will have two winches each — a Markey Machinery DESF-52 AGILE, 200-hp, electric winch on the bow; and a TESF-32 AGILE, 200-hp, electric winch on the stern.
Also on deck, the tugs are equipped with a Fire Fighting Systems AS (FFS) SFP 1,000-kW centrifugal fire pump, and two FFS 1200LB, remote operated monitors with 10,600 gpm flow and a range of 400'.
Tankage includes 45,000 gals. of fuel oil; 3,500 gals. diesel exhaust fluid; 5,300 gals. potable water; 500 gals. lube oil; and 160 gals. hydraulic oil.
"We also have worked extensively with Robert Allan Limited to design to meet intact damage stability standards for all below-deck watertight spaces, making the vessel survivable for the crew in the event of a breach of the aft or forward thruster rooms, or main engine room — not required by regulation, and difficult to attain on a vessel of this size, but critical to Signet's standards of safety in design," said Snyder.