Digitalization may prove to be one of the offshore support vessel (OSV) sector's most effective tools in facing the challenges of decarbonization, recruitment and even diversity.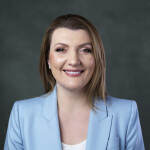 New technologies and digitalization are helping OSVs achieve their goals, but it is important to remember that they are not the solution in themselves. The focus should be on how technology is used and the benefits or opportunities it can offer – not only in streamlining operations and cutting costs but also in matters relating to ESG (environmental, social, and governance).
In the offshore support sector, the introduction of new technologies is sometimes met with questions over potential job losses, but this need not be a cause for concern. While digitalization is bringing about fundamental changes within the industry, OSVs are extremely complex machines, and digitalization will not change that. Instead, it provides the potential to enhance the operation and management of assets while creating a range of new roles.
OFFSHORE PERSONNEL IN TRANSITION
Where connectivity needs to reach beyond land-based or LTE networks, recent statistics from Inmarsat shows an 83% increase in data usage by OSVs over a 12-month period (June 2021–June 2022). Across all parts of the shipping industry, around 70%–80% of current data consumption is attributable to crew. This reflects changing expectations of life at sea but also the willingness of seafarers to engage with technology.
Such engagement could easily translate into the digitalization- and data-driven decision-making that optimizes vessel sustainability and allows offshore operators to lead on ESG – rather than being portrayed as only responding under pressure from regulators, investors, or society. Digital solutions that monitor, report, and advise on sustainability in a transparent way are also likely to attract the next generation of tech-savvy, environmentally aware talent with the skills needed to drive the offshore support vessel industry forward.
Increasingly, vessel managers and seafarers will need to engage with others in the offshore industry with specialized knowledge in the field of digitalization. According to latest figures from data analytics and consulting firm GlobalData, the number of offshore oil and gas companies recruiting for digitalization-related positions grew by 3% between June 2021 and June 2022. Companies in this sector are reportedly hiring for digitalization-based roles at a higher rate than the average across all industries.
I have learned from experience that digitalization is not only creating more jobs but also levelling the playing field for men and women. Digital transformation is creating a wide range of roles where both men and women can succeed, and that extends to OSV operations. The skillsets and expertise required for the industry's digital age are transparently gender neutral.
Digitalization will create a new kind of crew with a more rounded view of a vessel's operational profile – a crew that expects digital technologies to be integral to performing their roles.
Despina Panayiotou Theodosiou is the co-CEO of satellite communications and digital solutions provider Tototheo Maritime.