Humankind is committed to a never-ending quest for food, clothing, and shelter. To that list, we should add data. To that end, the construction of vessels designed to gather information continues.
MIDSHIP MARINE
Midship Marine, Harvey, La., is due to begin construction on a 65'×24'×4.6' aluminum research and educational catamaran. Designed by Australian-based Incat Crowther for the University of Wisconsin-Superior Lake Superior Research Institute, it will operate as part of the university's research and education system.
The vessel will "not only provide educational opportunities, but it will also advance scientific research on Lake Superior," Dr. Matthew TenEyck, director of the Lake Superior Research Institute (LSRI), said when the project was announced in 2019. The planning phase for the 65-footer began in 2019 with a $1 million anonymous grant to LSRI to bring a new floating classroom and research program to campus. But that was just the beginning. The catamaran is being completely constructed and equipped using private funding. LSRI operated the L.L. Smith Jr. research vessel and program from 1978-2012. The new 65' floating classroom will be state-of-the-art and allow for more passengers and a formal platform to make the boat available to educators or researchers from any discipline worldwide.
A hybrid battery propulsion system to reduce greenhouse gas emissions includes a pair of John Deere diesels, and two Esco Power electric motors from Belgium, hooked up to Twin Disc gearboxes. That's designed to give the 65' catamaran a maximum speed of 18 knots and a range of 690 miles at 12 knots. Also, in the engine room will be a 25-kW Northern Lights generator.
On the main deck will be wet and dry research labs, a moon pool opening, and a hydraulic winch and A-frame, aft of which will be fold-down diving platforms on the transom for sampling and analysis work. The upper deck will include a 310 sq.ft. Classroom with Internet and communication technology, and the pilothouse. There's a maximum capacity of 49 passengers. The vessel is scheduled to be completed in spring 2024.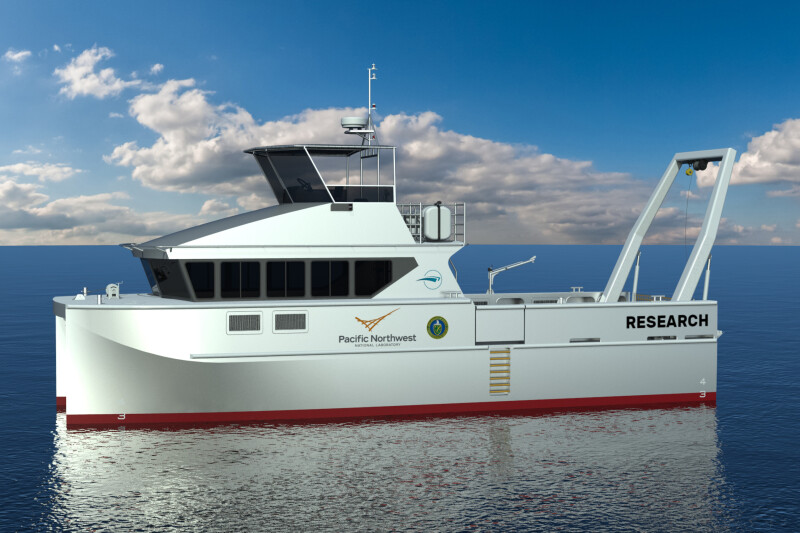 SNOW & CO.
Another Incat Crowther-designed aluminum, hybrid-powered research vessel is being built in the Pacific Northwest at Snow & Co., Seattle. The 50'×16'×3'6" Resilience is being built for the Department of Energy's Pacific Northwest National Laboratory in Sequin, Wash. The hybrid package is comprised of twin 501-hp Volvo Penta D8-510 diesels, matched up with Danfoss Editron 20-kW generators. Power is stored using a Spear Trident battery system, which will allow the Resilience to operate quietly in a zero-emission electric state. The vessel's speed will be 6 knots when running on electric power and 28 knots running on diesel.
On-deck research gear includes an A-frame, boom crane, and a movable davit, as well as a foldable swim platform. There are crew accommodations for two.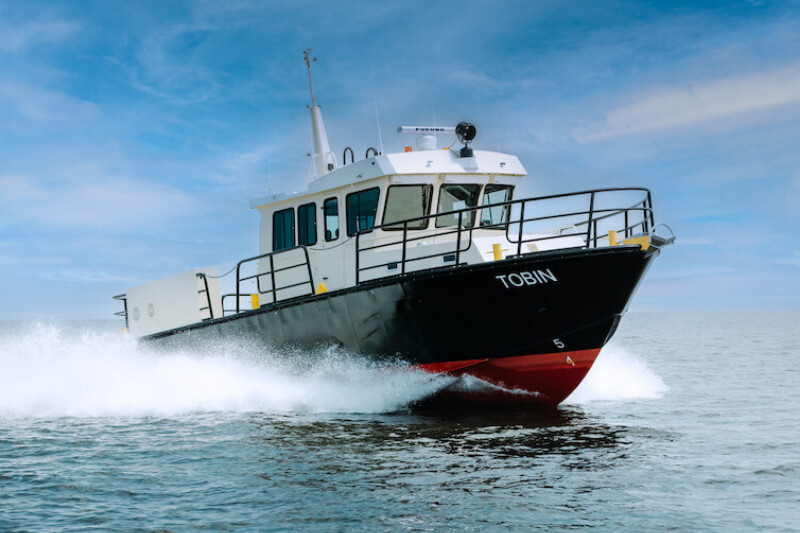 SILVER SHIPS
Silver Ships, Theodore, Ala., delivered the largest of its Endeavor series to the Army Corps of Engineers in August. The 49'×16'3"×8'2" aluminum Tobin
is set up to hydrographically map the mouth of the Mississippi River, thus producing data on the river's rapidly changing bottom to help keep the waterway open by preventing the development of obstructions to navigation.
Onboard technology making this possible includes the EchoTrac E-20 survey system, which features a single-beam transducer to chart river depths and monitors water changes that could adversely affect vessels traveling the river.
Twin Caterpillar 800-hp C18 Tier-3 engines give the Tobin a top speed of 28 knots, fast enough to help prevent delays in research scheduling. There's also a 25-kW Caterpillar C2.2 Tier 3 generator. The Tobin will operate year-round out of the Corps of Engineers Venice Sub Office in Venice, La.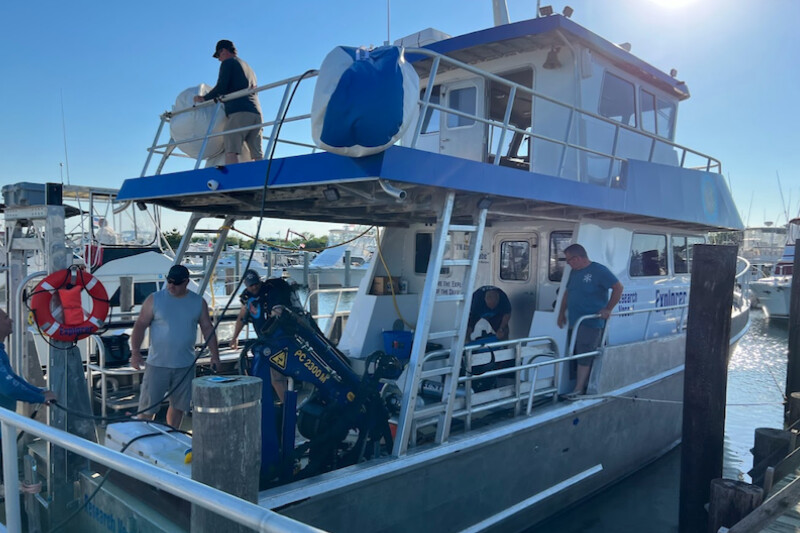 DELAWARE BAY SHIPBUILDING
Researching and salvaging shipwrecks is the task of the 45'×15'6"×6'4" Explorer, based out of Cape May, N.J. The aluminum Explorer's lines were developed by Mike LeMole of LeMole Naval Engineering in Tuckahoe, N.J., and then put into 3D by Stephen Pollard of Specmar Inc., St. Helen, Ore. Delaware Bay Shipbuilding completed the 45-footer in less than 12 months.
Research and diving equipment includes a Coltri scuba compressor and a Palfinger Marine crane. In 2023, the Explorer is scheduled to explore
the wreckage of the Andrea Doria, an Italian passenger liner that sank in July
1956, after colliding with the Stockholm off the coast of Nantucket in the Atlantic Ocean. The Explorer's propulsion comes from twin 670-hp Cummins QSM-11 diesels with ZF V-drives with 2.037:1 reduction, giving the 45-footer a top speed of 27 knots.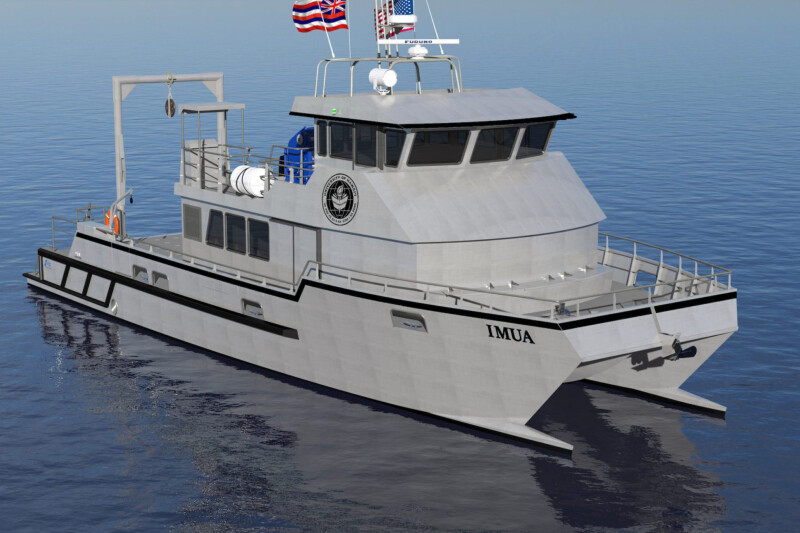 ALL AMERICAN MARINE
A multipurpose research vessel for the University of Hawaii at Manoa that will operate in Hawaiian waters and along offshore ocean routes is being built by All American Marine, Bellingham, Wash. Teknicraft Design, Auckland, New Zealand, designed the vessel using digital modeling and computational fluid dynamics analysis testing. The 68'6"×25' semi-displacement aluminum catamaran will work on multiple science projects, including advanced studies on marine mega-fauna, pelagic and coastal ecosystems; oceanographic surveys; and K-12 learning experiences for up to 20 people. The vessel will have comfortable living quarters, large wet and dry lab spaces, and the latest oceanographic equipment.
The propulsion package includes twin 800-hp Scania DI16 082M Tier 3 engines that should deliver excellent fuel economy while maintaining a cruising speed of 22 to 24 knots and a minimum survey speed of three knots. Offshore missions will include eight scientists and 22 students and crew on day excursions.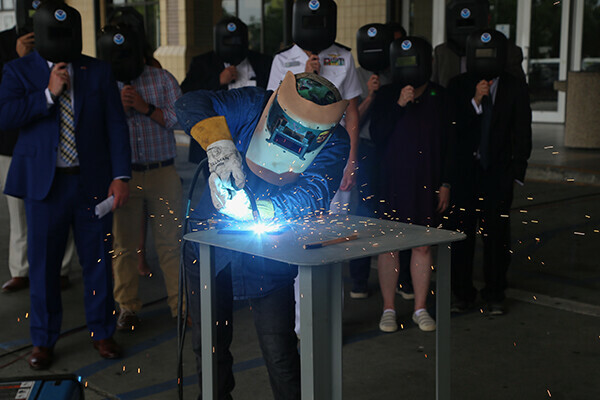 THOMA-SEA MARINE CONSTRUCTORS
NOAA's aging fleet of research vessels is being boosted twofold at Thoma-Sea Marine Constructors, Houma, La. First will be the 244'6"×51.25'×15'8" Oceanographer, the keel of which was laid in June 2022, to be followed by its sistership, the Discoverer. The Oceanographer will be homeported in Honolulu. Both vessels will carry the same names as previous ships that were in the NOAA fleet from the mid-1960s to the mid-1990s. Each will operate with a crew of 20 and accommodate up to 28 scientists.
Research missions on the vessels will include shallow coastal, continental shelf, and worldwide ocean surveys and data collection. By using the latest propulsion technologies and emission controls, each vessel has the potential to save 15,000 gals. Of fuel per year with a carbon dioxide reduction of 5,700 tons.