Mystery, convenience, and stress are terms that can be used to describe the wheelhouse atmosphere mentioned in this story and the generating role played by wheelhouse electronics.

For the mystery and stress components, the goal is to reduce or eliminate their effects. The convenience factor would be a welcome addition to any wheelhouse.
Let's start with Furuno and the mystery component, followed by the convenience of Simrad's multifunction display controls and the Si-Tex SP-38 autopilot for stress relief.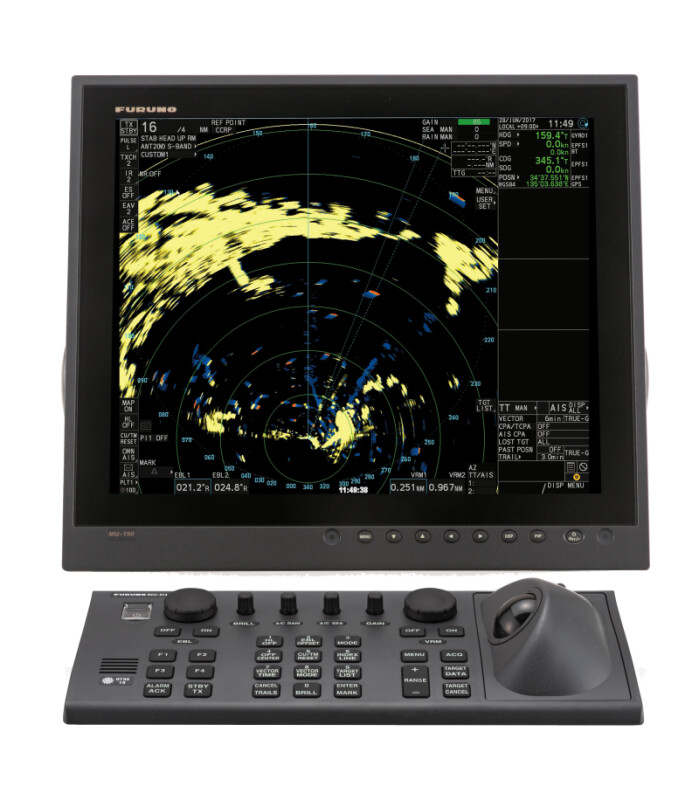 FURUNO
It's a dark night along the coast, with intense rain pushed by a stiff wind. It's a perfect time for those doing what they do best and when they think they can't be seen.
On the other hand, if you are in the surveillance business — police, customs, border patrol, Coast Guard — this isn't the ideal time and you need all the help you can get to stop those that specialize in conducting operations hidden from law enforcement agencies.
Being able to peer into the darkness and through the raindrop particles is a big advantage, one that comes with two of Furuno's newest magnetron radars, the FAR-2258BB, an X-band radar with 50 kW of output power, and the FAR-2268DSBB, an S-band radar with 60 kW of output power. Both replace radars — FAR-2157 and FAR-2167DS — that were in Furuno's FAR-2XX7 radar line that has been retired.
The FAR-2258BB and the FAR-2268DSBB offer "double the output power of our conventional navigation radars" said Matt Wood, Furuno's national sales manager. That provides about 20% additional detection range. Speaking of the FAR-2258BB, Wood said, "It's optimized to see very small targets on the water."
How small? Commercial fishermen like it because it picks up bait broils on the surface of the water, leading their vessel to a pack of fish. And the FAR-2268DSBB has a wide enough bandwidth that raindrops don't block the entire radar wave, allowing the radar to detect hard targets such as birds diving on baitfish on a reef. "A data point to keep a boat off the rocks," said Wood. "The 60-kW radar is referred to as bird radar."
That output power and enhanced target performance are ideal for small vessel detection or what is generally referred to as "dark vessel protection," Wood said. That's why when the 115-meter (377') Coast Guard cutter Douglas Munro was decommissioned and sold to the Sri Lanka navy, who will use it for small vessel detection, it left with a Furuno FAR-2258BB radar.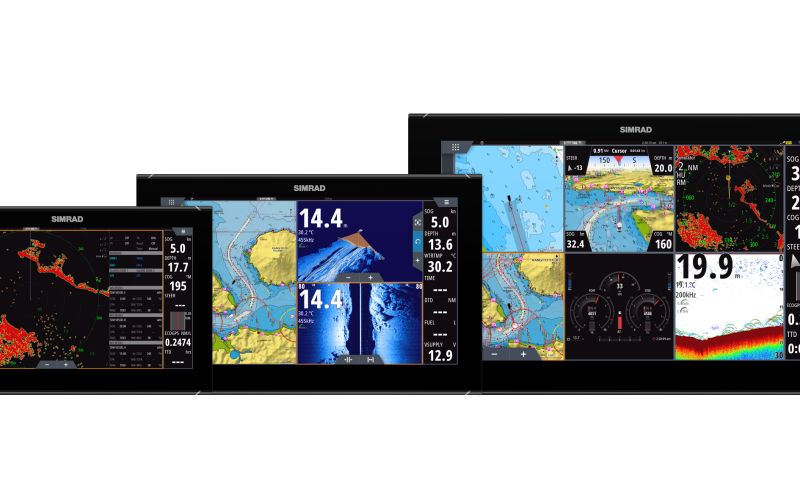 SIMRAD NSO & NSS
Workboat operators that want critical navigation systems close at hand — within arm's reach — should check out Simrad's NSS EVO3 and NSO EVO3S. They are multifunction display control centers with all-weather touch screens and keypads that have been taken to the next generation level. (The "3" in the product name means third generation and the "S" stands for higher performance.)
The NSO EVO3S displays charting, radar, or echo sounder data on a high-definition screen — maximum size is 24" — or combines them with up to six on-screen panels or overlay a couple.
What's new with the NSO EVO3S generation is the processing. "There's more memory, it's more intuitive," said Stephen Furr, territory sales manager with Navico Inc., Tulsa, Okla. A multicore processor provides "much more detail and the granularity is better." (Navico is the parent company of Simrad.)
The NSS EVO3 provides the same charting, radar, and echo sounder displays on a maximum 16" screen. The NSS EVO3 does come with a more traditional feature. There are buttons in addition to its all-weather touch screen. "Use the touch screen, use the buttons or a combination," said Furr.
The button feature is one reason Furr feels more NSS EVO3 multifunction display control centers might end up on patrol boats with a center console exposed to the weather. "You need a tactile feature to the display because you are outside," he said. The NSS also has a built-in echo sounder transceiver and built-in GPS receiver.
An attraction for both multifunction displays is "their intuitiveness, their ease of use," said Furr. That's especially apparent to younger vessel operators, "a generation accustomed to smartphones and tablets. The structure as laid out is a lot more familiar to someone who uses an iPhone or Android."
If it should happen that there's an issue with one of the multifunction display centers and a factory reset is needed, "with certain products out there, the guy in the wheelhouse is completely lost," said Furr. He would need to take it to a dealer. But Simrad will "take you through the steps to get it running so you can operate the vessel and get a "service person onboard or reset it to where it was."
The NSS and NSO systems also have the ability to save operating configurations that a captain favors. If there's a change in shifts when the captain that was relieved returns, his previous configuration can be reloaded. In the same way, if the display unit malfunctions the previous configuration can also be reloaded.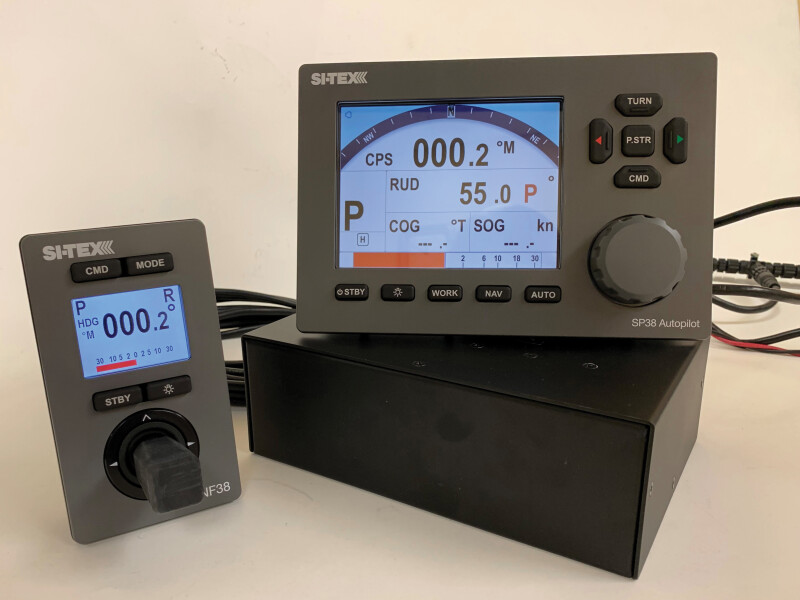 SI-TEX MARINE
"It's like having another guy on the boat," said Allen Schneider, vice-president of sales and marketing at Si-Tex Marine Electronics, Riverhead, N.Y.
Schneider was talking about Si-Tex Marine's SP-38 autopilot, which he describes as "a totally new autopilot aimed at the commercial market."
The SP-38 was introduced in 2020 with a large 5.7" sunlight viewable color display with night vision mode that gives all steering and compass information on the one screen. It's generally sold with a GPS satellite compass, which "gives very accurate compass headings," said Schneider, and being a NMEA 2000-based product, it can be set up for auxiliary steering stations.
"It's almost unlimited how many you can have on the pilot."
The SP-38 is said to be a quick learner when it comes to matching up with a vessel's steering characteristics. "It watches compass headings," said Schneider, "and sees how much rudder has to be applied for different amounts of compass error." If the boat is always pulling to the starboard, the SP-38 will install what's called a "ghost rudder," which means leaving a little port rudder in the system, so the boat tracks straight.
In the SP-38 and all autopilots, the heart of the system is an algorithm that helps the autopilot learn how to handle sea conditions. "The SP-38 has a whole new unique algorithm for the way it steers and adjusts automatically to sea conditions."
A feature Schneider said is "unique to (auto) pilots marketed to commercial applications" is the SP-38's work mode, which allows the autopilot to be tuned for a boat's behavior when it is working.
"For a tug that might be for when it's hauling a barge on the hip. They can tune the pilot so it will deal with that steering situation."
There's also nav mode, used when steering to GPS waypoints. "Most autopilots have nav mode. Not all have work mode," said Schneider.
The SP-38 has been installed on a few boats with reputations as being very difficult to steer.