Much of the stricken southeast Louisiana coast remained nearly inaccessible Thursday as response efforts continued, confounding damage assessments.
"We've just been waiting, they won't let us out there," said Ngoc Tran of St. Vincent Seafood Co., who was in Cut Off, La., waiting for the road open to the company's dock at Golden Meadow about 20 miles away.
One of the company's trawlers lay on its side, kicked over by Hurricane Ida's 150 mph gusts. Tran said she was searching for arrangements to get towing assistance to help right the boat.
"It's bad where we are, I'm sure up close and personal it's even worse," she said. "We'll look for tugs to pull her out."
Commercial fishermen who had secured their vessels in tried-and-true storm refuges found many capsized or washed away by Ida's 150 mph winds blasting across the southeast coast.
Reports continued to come in of heavy damage but quantifying it remains difficult, said Julie Falgout of Louisiana Sea Grant. "There's major damage at Dean Blanchard (Seafood Co.)" in Grand Isle, "boats sunk, a couple they can't find," Falgout said from Houma Thursday afternoon.
"It's unbelievable, and I can't even get down to the bayous," said Falgout. Freezer plants and fuel docks knocked out mean even fishermen who can get out don't have support, she added.
"There's no capacity, there's so much trash in the water they won't be able to fish close to shore," said Falgout.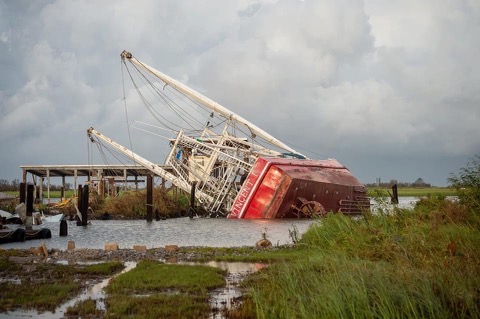 Overnight cruise lines still recovering from the pandemic shutdown are weighing their options for scheduled trips to or from New Orleans. "American Queen Steamboat Company is assessing the impact of Hurricane Ida on Lower Mississippi River ports and no vessels are in New Orleans or the Lower Mississippi River region," the company said in a statement Tuesday. "All guests and crew are safe with the American Queen currently in the northern Mississippi port of Tunica, (Miss.), American Duchess on the Ohio River and American Countess on the Upper Mississippi River in Minnesota. New Orleans is a resilient city and holds a special place in all of our hearts."
The American Queen was scheduled to leave Monday, Sept. 6 from New Orleans on a trip to Memphis ending Sept. 13, according to a published schedule, with the American Duchess sailing a reverse itinerary at the same time.
American Cruise Lines' American Melody was sailing along the lower section of the Mississippi last week "but had departed New Orleans well in advance of the storm and was able to adjust its sailing schedule to visit Vicksburg ahead of its normally scheduled stop there," the company said. "Currently, we have four riverboats operating on the Mississippi with three sailing itineraries on the Upper Mississippi and Ohio Rivers, that were unaffected by Hurricane Ida.
"We are supporting our partners in New Orleans and working with them to ensure a speedy and safe return of tourism."
Seven of the state's 17 refineries remained shut down Sept. 1. Valero's facility in St. Bernard Parish had its docks battered by runaway barges that broke loose. The Associated Press reported that cleanup was continuing after flooding inside the Phillips 66 Alliance Refinery in Belle Chasse.
The Bureau of Safety and Environmental Enforcement activated its Hurricane Response Team as Hurricane Ida made its way through the gulf, to monitor offshore oil and gas operators as they evacuated platforms and rigs.
Data from operator reports as of 11:30 CDT Sept. 1 showed personnel were evacuated from 249 production platforms, or 44.46 percent of the 560 manned platforms in the Gulf of Mexico, according to BSSE.
Meanwhile "personnel were evacuated from nine non-dynamically positioned rigs, equivalent to 81.82 percent of the 11 rigs of this type currently operating in the gulf," the agency reported.
Four dynamically positioned rigs were moved off location out of the storm's projected path as a precaution, representing 26.7 percent of the 15 DP rigs currently operating in the gulf.
Based on operator reports BSSE estimated 79.96 percent of current oil production in the Gulf of Mexico was shut in, along with 83.21 percent of the gas production.
"After the storm has passed, facilities will be inspected," the agency said. "Once all standard checks have been completed, production from undamaged facilities will be brought back online immediately. Facilities sustaining damage may take longer to bring back online."
Portable generators again are posing a lethal threat of carbon monoxide poisoning, as people try to cope with the grinding power outages and 100-degree heat index.
After recent hurricanes, the recovery periods have been as lethal as storms themselves; after Hurricane Laura in 2020 several shrimp fishermen taking refuge in a social club were poisoned by fumes from a portable generator.
Authorities reported similar cases in recent days, including one death in Orleans Parish that raised the storm's toll to eight people since Sunday. Power company Entergy said power was restored Wednesday to around 11,500 customers in New Orleans but nearly 1 million remained in the dark.
After marching to the Mid-Atlantic, Ida dumped 7 inches of rainfall on New York City Wednesday night, triggering an unprecedented flash flood emergency in the city as subway stations and basement apartments were inundated and cars and buses stranded. City officials reported eight deaths in flooded apartments.
Dale Dupont contributed to this story.