Still aground in Chesapeake Bay sediment after four weeks, the 1,095' Ever Forward is being relieved of its load.
Crews using barge cranes started lifting containers on April 9 from the stuck Evergreen Marine Corp. vessel, after two unsuccessful attempts with multiple tugboats to pull it back from where the ship ran astray out of deep water on March 13.
The lightering operation is going on during daylight hours, in a safety zone where the Coast Guard is allowing one-way traffic past the Ever Forward. Incoming vessels are required to contact by VHF Channel 16 the Coast Guard vessel on watch – at mid-week, the cutter Bonita – for permission 30 minutes before approach.
The Coast Guard says about 500 containers are planned to be removed from the ship, on recommendation from salvage consultants who advised lightering is required for tugboats and anchored pull barges to break the Ever Forward free from the friction of bottom sediment.
Port of Baltimore Executive Director Bill Doyle reported Wednesday that 93 containers had been unloaded and barged to the Seagirt Marine Terminal there.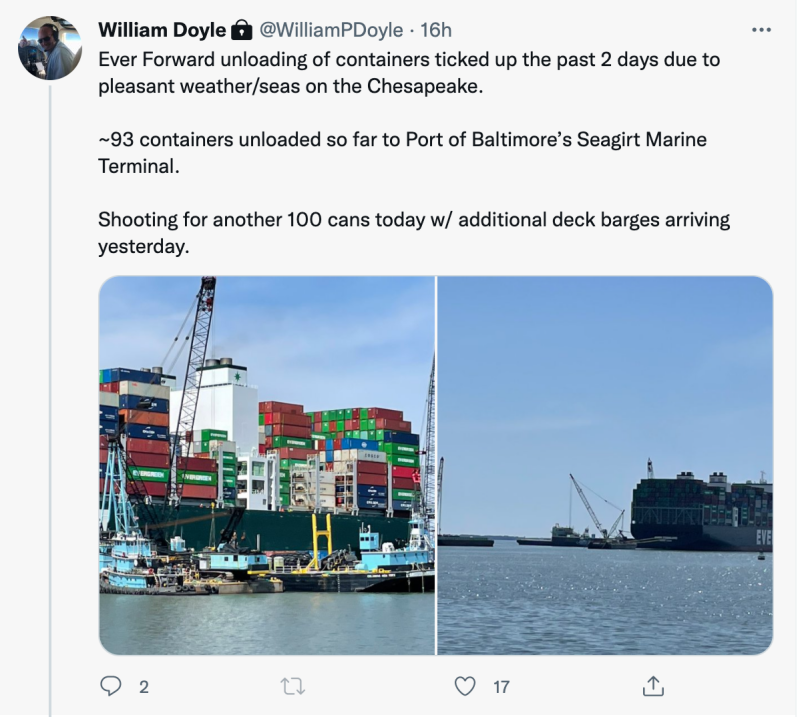 The Coast Guard is planning for the offload operation to be complete around April 15, to be followed by a new towing effort to refloat the Ever Forward, using anchored barges to apply more force from the astern of the ship.
When that operation commences the safety zone will be expanded to 1,000 yards and one-way through traffic will not be allowed, according to a marine safety information bulletin from the Coast Guard Maryland-National Capitol Region sector.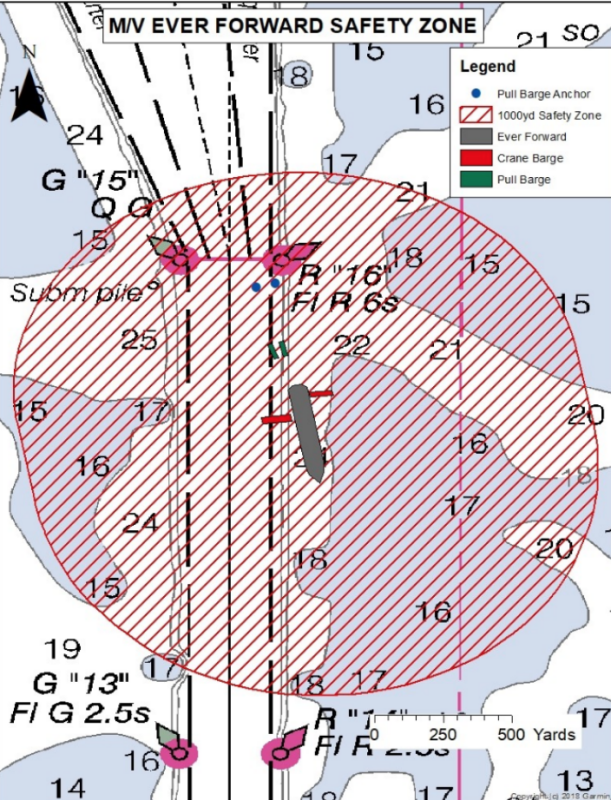 That Coast Guard advisory says "the pull barges remain out of the channel, but the anchoring system for the western most pull barge is in the federal channel with the other along the eastern edge of the channel. The location of these anchoring systems are marked with buoys having a flashing white light (Fl W 2s).
"Additionally, two crane barges are positioned on the port and starboard side of the Ever Forward to facilitate the offload of containers. The stern of the western most crane barge encroaches on the eastern side of the channel."