Dredging operations are being completed around the grounded 1,095' container ship Ever Forward and removal of containers to lighten the ship is expected to begin April 8 and continue to around April 15, the Coast Guard said Tuesday.
A marine safety information bulletin update from the Coast Guard Sector Maryland-National Capital Region said equipment staging will begin on the morning of April 6 for container removal and planned future pulling operations to refloat the ship, stuck near the Craighill Channel in the Chesapeake Bay since March 13.
"Two pull barges will anchor astern of the Ever Forward. The pull barges will remain out of the channel," according to the Coast Guard bulletin. "The anchoring system for the westernmost pull barge will be in the federal channel with the other along the eastern edge of the channel. The location of these anchoring systems will be marked with buoys having a flashing white light (Fl W 2s)."
Two crane barges will be positioned on the port and starboard sides of the ship to offload containers on barges for transit back to the Port of Baltimore. The stern of the westernmost crane barge will encroach on the eastern side of the channel, according to the advisory.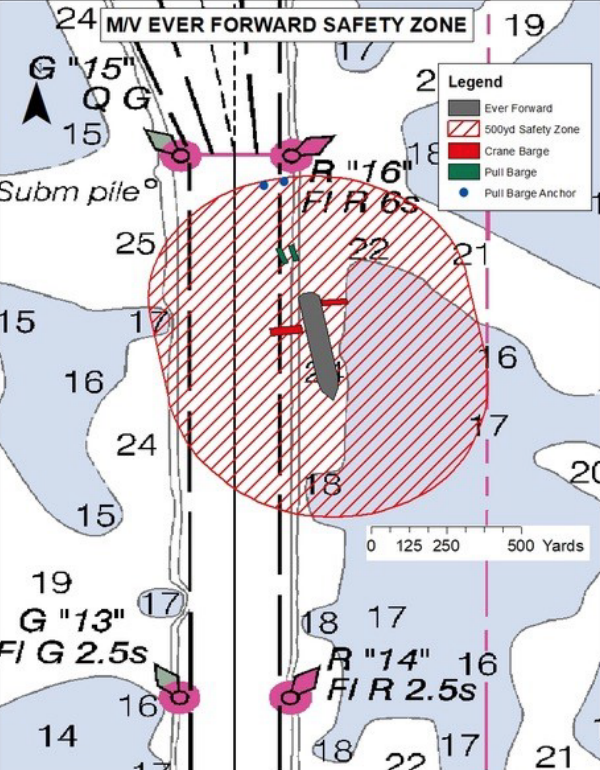 There will be allowance for one-way traffic at a reduced safe speed through the 500-yard safety zone throughout the daylight container lightering operations. Once that's complete and the ship lightened, the Coast Guard captain of the port will set the safety zone out to 1,000 yards.
The plan calls for a refloating and pull attempt impacting traffic movement on or about Friday, April 15th. It will be the third attempt to free the Ever Forward with its nominal 42.6' draft.
Two attempts with multiple tugs on March 29-30 failed to budge the ship, and salvage experts consulting with the Coast Guard concluded the ship must be lightened to overcome friction with the bay bottom.
The cause of the grounding remains under investigation. The Coast Guard says responders and a naval architect are monitoring the ship during recovery efforts, and no pollution has been detected.