Coast Line Transfers LLC (CLT), New Bedford, Mass., recently converted a fishing boat into a crew transfer vessel (CTV) for the Vineyard Wind 1 Project. The original boat, constructed by Geo Shipyard, New Iberia, La., in 2007, had been used for charter fishing before the transformation.
The decision to convert the boat into a CTV came about when a partner at Coast Line Transfers, Ed Washburn, spotted the vessel and proposed the idea. After exploring different subchapters under the U.S. Coast Guard certifications, CTL decided to proceed with the conversion and brought on naval architects Nautical Design & Consulting Inc., Berwick, La.
Rob Pearce, a partner at CTL, met a Bouyant Works (UK) representative at last year's International WorkBoat Show, which led to a Bouyant Works (UK) Wide Cup Adjustable fender being one of the first modifications made to the vessel.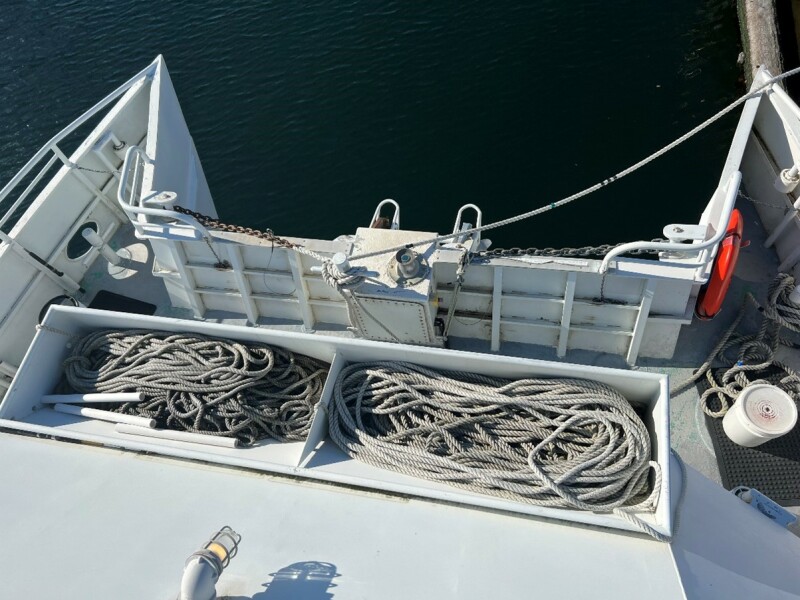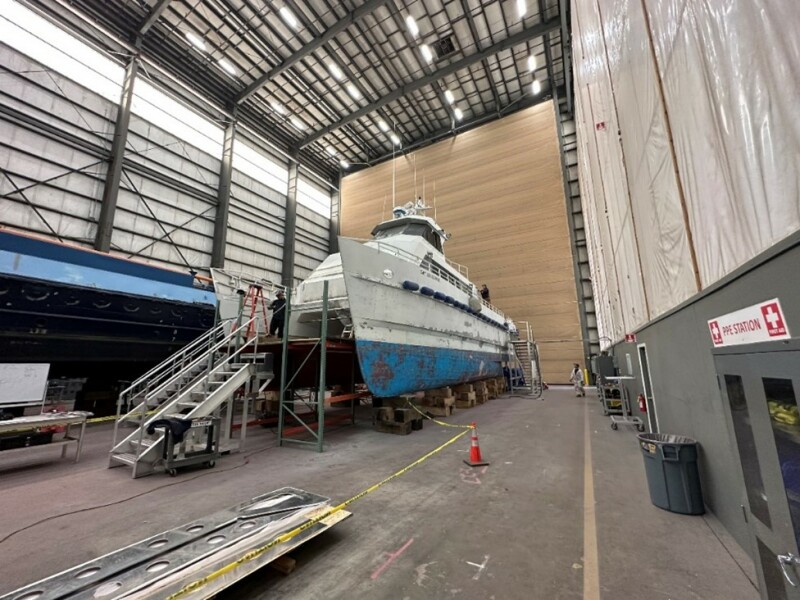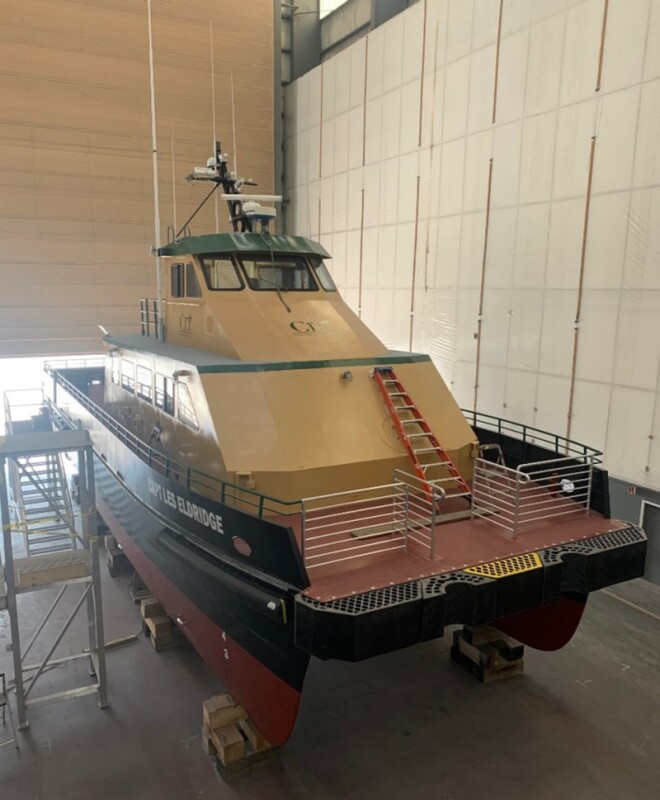 Hornblower Shipyard, Bridgeport, Ct., carried out the retrofitting in early 2023. The aluminum catamaran, Capt. Les Eldridge, now measures 62'x21.5'x20' and draws 9.5'.
"Bridgeport did all the painting and all the coatings; they resealed the windows and the pilothouse. They did a ton of little items that turned a dirty fishing boat into a much nicer high-speed crew transfer vessel," said James Stasinos, co-owner of Stasinos Marine and partner at CTL.
The ship's service power comes from a Lugar 9-kW AC. The vessel is equipped with two Furuno VX2s, a Rosepoint electric chart plotter, SIMRAD 1512, and a Furuno SONAR Depth sounder. Autopilot is a SIMRAD AP-35, and the vessel uses a KVH Azumuth 1000 for a digital compass and a Furuno RD 30 for its Global Positioning System.
Communications include VHF radios, iCom IC MC422, iCom IC M302, and a Raymarine DSC.
The CTV is powered by twin Cummins QSL 9.0 engines hooked up to a pair of bronze fixed-pitch propellers through two Twin Disc MG-509 reduction gears.
Current North Atlantic right whale speed restrictions limit the vessel to 10 knots, which makes the commute to the offshore cable-laying vessel approximately five hours each way.
"This boat doesn't burn much fuel at all. We did 60 gallons today to go all the way out there, take the offshore workers out, take the thousand pounds of garbage in, so it's a very fuel-efficient vessel," said Jon Stasinos, co-owner of Stasinos Marine and partner at Coast Line Transfers. "When we can run at speed, we can run at 24 knots, and we burn 40 gallons an hour. It's an awesome boat. The speed we're getting out of it and the performance has just been fantastic. This boat was an awesome find for us."
Capt. Les Eldridge is currently operating under a COI Subchapter T certification as it awaits the USCG to approve its final stability review, including a dual subchapter certificate, which will be both Subchapter T and L. Reduced passenger capacity right now allows CTL to run 26 passengers without deck cargo. Under Subchapter L, Capt. Les Eldridge can carry deck cargo and 18 offshore workers.
The CTV is currently able to carry 1,000 lbs. of deck cargo, but that number is also expected to increase with their final stability review. The distinction between passengers versus offshore workers comes as Subchapter T is a small passenger vessel, while Subchapter L is a vessel in support of offshore energy.
To create more space for cargo on the aft deck, Coast Line Transfers cut back the overhang and stairs. Typical cargo includes offshore consumables, ship spares, small spare parts, and trash from offshore vessels.
James Stasinos provided Workboat.com with a tour of the vessel.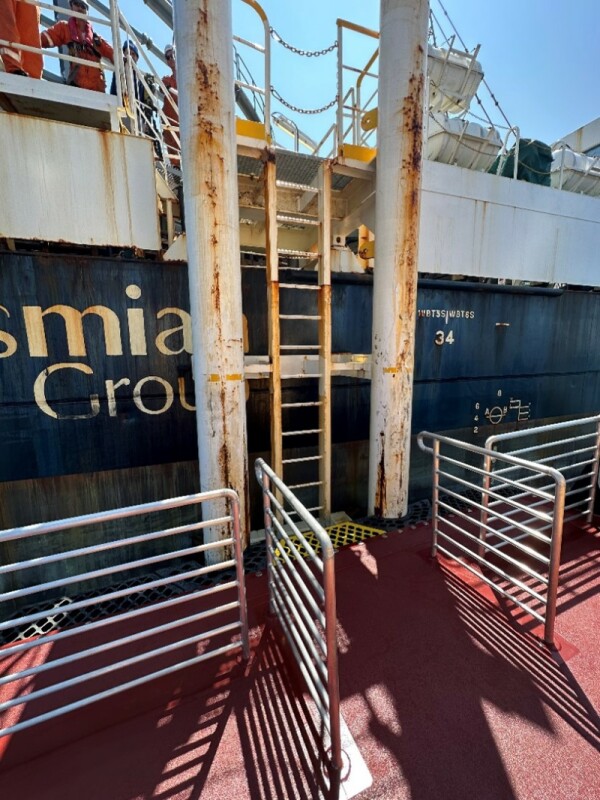 The most significant modifications were made to the bow. The anchor setup was completely removed, and an escape hatch was installed for Subchapter L compliance. Bow handrails and the Boyant Boatworks fender were added to enhance safety and functionality.
"The Boyant Boatworks fender is a multipiece section, so it can be replaced as it wears. For different transition pieces offshore, they can swap the pieces that touch the transition piece," said James Stasinos.
"Bridgeport was also responsible for fabricating all of the stainless pins in the fender," said James. When asked how the pins are removed, John jokingly remarked, "We'll let you know when we do it".
Additional upgrades to the CTV include 200% lifesaving capacity, changing from foam life rafts to two 25-person SOLAS A Pack lifeboats. Due to backorder from SOLAS, Coast Line Transfers outsourced to a local company that built the launchers that extend over the side rail.
Tankage includes 12,000 gals. of fuel oil and 250 gals. potable water.