November 11, 2021
SynDeck provides solutions with corrosion resistant and waterproofing systems
In 1983, the SynDeck marine line was developed by EPMAR Corp. specifically for the manufacture and repair of military, commercial ships, and offshore vessels.
From its first Naval approval in 1989, Syndeck underlayments and primary deck coatings have been specified as the standard for many military and commercial vessels, meeting globally recognized approvals. Since then Syndeck has successfully expanded to serve the ferry, cruise ship, offshore, workboat and inland waterways vessel markets by helping to solve their internal decking challenges.
SynDeck Systems Have Proven History, Performance, and Reliability
Our products go through stringent performance and safety standards including; fire protection, control of smoke, corrosion protection, and waterproofing that create IMO, ABS, or MIL-SPEC approved systems such as:
SynDeck RediDeck is the basis for all our deck leveling and waterproofing systems. It is ultra lightweight, seamless, and can include integral cove edge detail.
RediDeck can be used across all passageways, cabins and deck areas but is ideal as a deck leveling or resin screed system ready for final deck coverings like carpets, ceramics, VCT and EPDM rubber sheet and tiles where waterproofing and lightweight may be needed.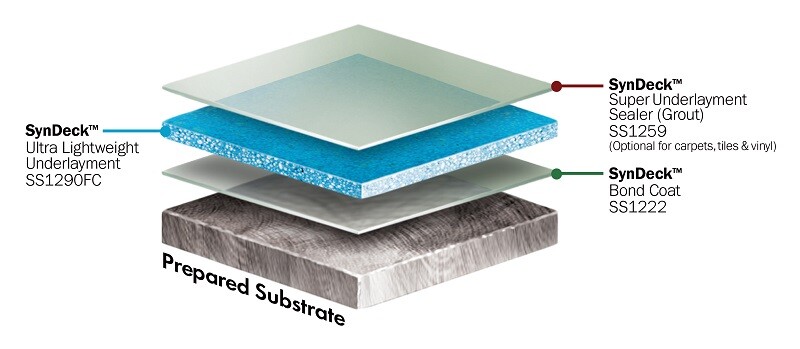 SynDeck Terrazzo is our quickest complete resin leveling and decorative system. Our terrazzo includes a three-step process along with numerous decorative colors and finishes that are available. Finish options include anti-slip surface, matte, and UV resistance clear sealers.
SynDeck Terrazzo is a complete system from the deck up and is used in all wet areas such as heads, showers, serveries, and passageways that may want the performance of a ultra lightweight, seamless 100% solids epoxy throughout.
SynDeck DecoDeck is our longest serving US Navy approved full resin system. This system uses the RediDeck™ leveling underlayment and 100% solids epoxy 5000 color range series with optional decorative flakes and various epoxy, polyurethane and polyaspartic clear sealers.
It has been used in the Navy for over 20 years and is specified to create an ultra lightweight but waterproof, easy to maintain deck covering.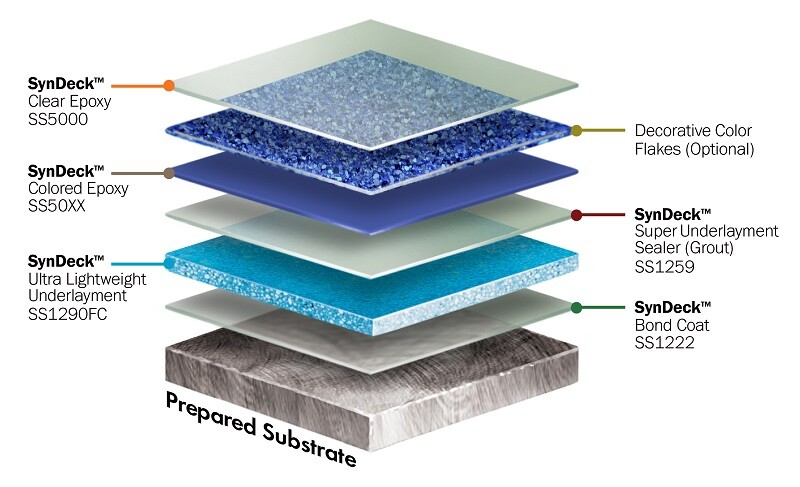 SynDeck NuFlexCoat is our newest coating and final finish system that is 100% solids epoxy based. It is more flexible than conventional epoxy coatings, self-leveling, and can be applied between 40-120 Mils (1-3mm). You may use a trowel, squeegee, or roller to apply. This system offers great coverage and adhesion performance.
It can be used as a standalone system applied directly to the deck which offers some deck leveling where no underlayment is required. You may also use it as part of the NuFlexDeck™ system where higher levels of deck leveling is required.
Request one of our system hard samples here.
When Weight Matters as Much as Performance
The shipbuilding and ship repair industry is highly focused on the efficiencies that come from ultra lightweight materials. The SynDeck Ultra Lightweight Underlayment system gives you the highest performance with the lightest possible weight, it weighs less than 1lb. per square foot at ¼ inch installed. SynDeck Ultra Lightweight Underlayment provides excellent corrosion resistance, levels out irregularities, grades and contours, is non-porous and completely waterproof. Let us show you how to take the weight out without losing performance. The cost-of-use savings (based on material plus maintenance costs) can be significant.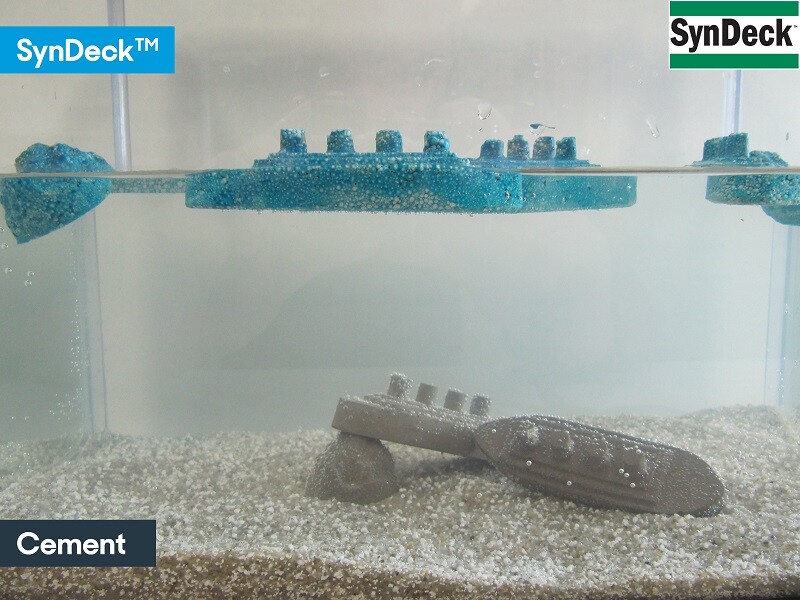 Read our weight savings case study here.
To learn more about SynDeck offerings go to syndeckmarine.com or email us directly at [email protected]