November 28, 2022
Does the HPTO from Timken meet the demands of the marine propulsion industry?

For high-speed engines above a certain size in use today, there is no standard industry clutch system available. When not using a marine gearbox, propulsion system and powertrain designers must take components for system designs that are produced in low volume, which makes unit costs relatively high. The HPTO (Hydraulic Power Take Off) that is part of The Timken Company seeks to change this paradigm in a way that will impact the entire industry.
Newly becoming a market leader in the commercial workboat segment is no small endeavor but Timken is looking to do so from a position of strength and experience by bringing their market-leading technology to the marine sector. Designed to improve uptime and maximize efficiency, the HPTO is part high-performance products by Timken that have improved performance, reliability and efficiency for engineers and users in other industries and can now do so across the maritime sector.
Bringing the Timken brand to the commercial workboat market has meant that the company has effectively "marinized" products that have already made a huge difference in other industries, bringing major efficiencies that took years or even decades to develop in other sectors straight to the workboat segment. But what specific opportunities have been opened as a result of this marinization process? And how is Timken planning to support this market in both the short and long term?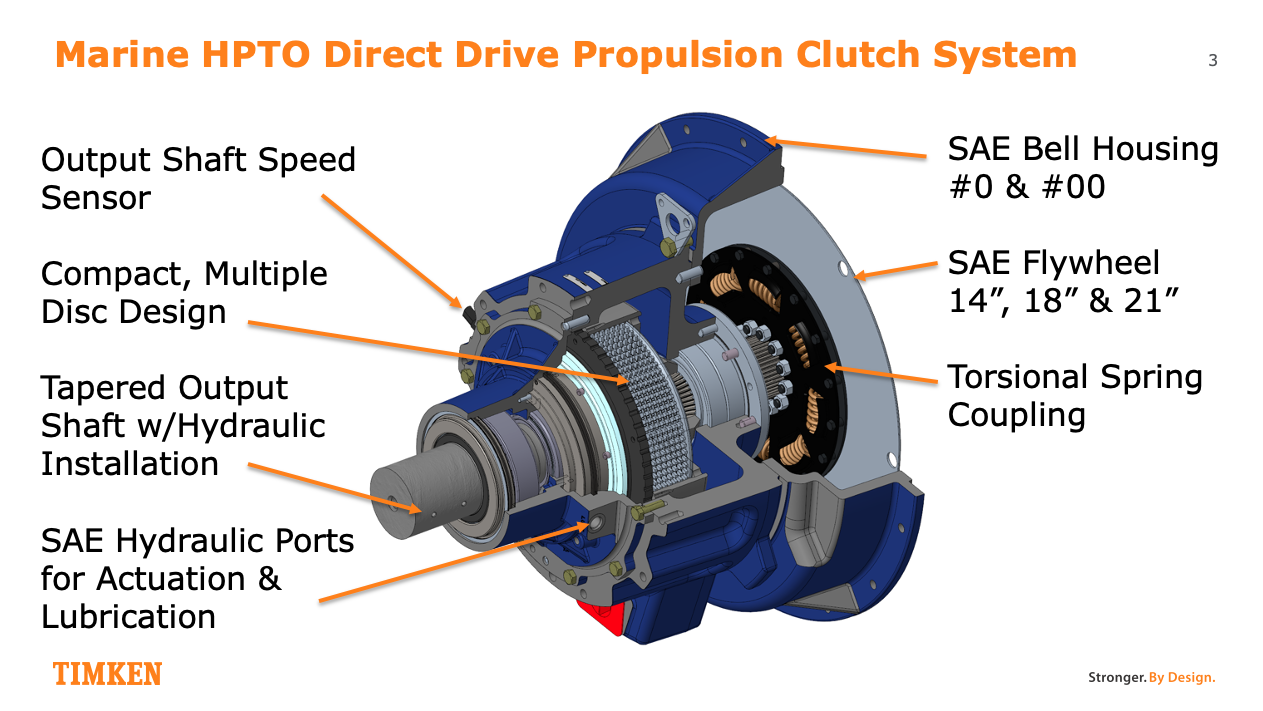 The "marinization" of an essential solution
The Timken Company and its subsidiaries have a long history of designing power transmission products that goes all the way back to the late 19th century. One of the oldest power transmission packagers and system designers in the United States, the company's 2017 acquisition of PT Tech, Inc. allowed Timken to expand on multiple levels. It also enabled the PT Tech engineering group to adapt some of their most powerful existing products to new markets.
In the early 2000s, PT Tech developed the HPTO, which includes the innovative electronic controller. With over 10,000 HPTO's and controls delivered to date, PT Tech is the market leader in the OEM rock crusher, waste, and reclamation machine clutch business. As the specs show, the product was designed for high inertia, high energy start-ups. The innovative control protects the clutch and helps with clutch conditioning monitoring and predictive failure to keep unplanned breakdowns to a minimum.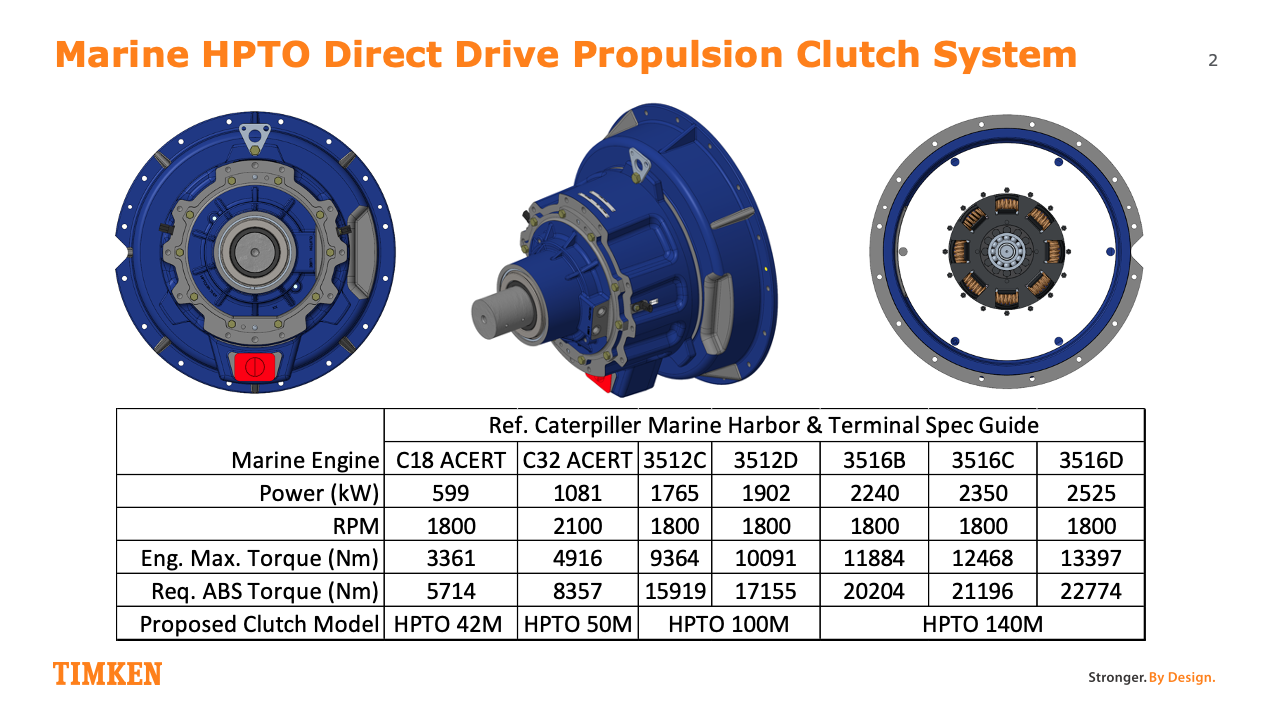 Since many marine propulsion systems and pumping startups are also high inertia start-ups, the existing HPTO was a perfect candidate for a "marinization" process to make a similar impact in a whole new market. While there are many definitions around what it means to truly "marinize" a product, for some companies it's as simple as putting on stainless fasteners or adding special corrosions coating to an existing product. Timken's marinization process is much more robust and specific.
"In our opinion, marinization is to modify your design to conform to the agency rules for that type of product," said Mike Vining, Director of Timken Engineered Marine Solutions. "When we marinize a product, we have a plan to deliver our product with any marine agency approval required by our customers and designers globally. What that meant for the HPTO was that it had to be re-rated according to Propulsion Rule Guidelines. We also had to add additional features to meet requirements. A good example of one of those is the 'take me home' feature that can be engaged in case of a complete failure of the clutch to engage the propulsion system."
This marinization process isn't just about capability though. It's also about the future of the sector, with new hybrid-electric solutions providing a bridge to zero emissions that many need to cross. With no defined standard industry clutch system, HPTO has the capability and capacity to be that standard since every hybrid propulsion system needs an extra clutch to disconnect the diesel engine when the propulsion driveline is running electrically.
Even with new builds, repair and replacement will always be a fact of life. At the time of needed repair, spare parts are more readily available and in more locations for faster and lower cost, meaning less downtime for the owner-operator. So what does it mean to utilize products that can define a standard rather than one that always needs to be customized?
"By offering a standard solution instead of a 'bespoke solution' we can produce the required components in higher volume and have a lower per unit cost," Vining told Workboat. "It also allows us to design and use standard quality system and process' instead of a one-off every time to ensure high quality and unit consistency."
Finding components with designs that have class and design approvals ensures that marinization has been done right, which it critical. That can be a costly process, which is why the commitment Timken has made to the sector when it comes to developing systems that incorporate approved components is so important. This effort is set to make a big impact on vessel operators and stakeholders in the present and future.
How useful will your vessel be?
Across the world, the average workboat vessel age is significant. Well over half of all U.S. flag self-propelled vessels are older than 25 years. Many vessels that are two or even three decades old which are still in service were built with systems that have components that are no longer made or from companies that are out of business, making availability due to obsolesce an issue. The proven Timken philosophy of common components and platforms ensure parts designed and sold today will be available for the long run, which means something from an organization that has been around for over a hundred years.
This long-term view isn't just about product availability though. It's also about the evolution of regulations, needs, and requirements across the sector that require stakeholders to consider their decisions in a whole new way.
"The days of every vessel propulsion system design as just a diesel engine, to a shaft and a propulsor are nearly done," Vining continued. "Some systems will still be that layout because it's the best approach for the application/operation profile. But hybrid with diesel and electric motor or battery-operated diesel-less or alternative fuel systems might also be the solution. Local regulations already exist in large ports across the globe where the local authority will only allow zero-emission vessels to enter and operate in their port at some point in the 2030's. And it's coming to a port near you. That means the vessel you build today will be operating then. How useful will it be?"
Providing answers to those questions is something that Timken will be doing across the workboat sector, but those efforts aren't just about new product development. The company also has a robust service engineering group with locations across the world, which is something that Vining referred to as Timken's secret weapon. These engineers are available to any customer or user for new installations, training, failure analysis, and new design consultation. An added value for established users, this entire department is solely focused on addressing challenges of any kind for all Timken products.
That support is connected to the larger commitment that Timken has made to provide a complete portfolio for workboats. While the HPTO is a key part of this portfolio, it's just a single piece of the company's endeavor to help owner-operators avoid what would otherwise be costly downtime for broken-down vessels, costing them tens of thousands of dollars per day.
"Timken is in business for the long run, with a very long view," Vining said. "The marinized HPTO product is just the beginning. We didn't pick the workboat segment to focus on without a lot of thought and careful calculation. With people that stay in the industry for their entire careers, you have to treat everyone right. Remaining a preferred vendor in such a small, specialized group, means that has to happen every time. We know that and we're here to make that effort for the long haul."