February 23, 2022
A strong safety culture will prevent most vessel accidents
Most workboat accidents are preventable. Not willing to replace old equipment, an unwillingness to acknowledge that, yes, boats deteriorate and its crew might not always be paying attention to what's happening around them or know what to do when an incident takes place, all contribute to accidents that should not have happened. These needless accidents can be financially costly and result in injuries or death.
A wise option for operators is to invest time and money on safety measures that should be built into a boat before it leaves the dock and crew training that promotes a strong safety culture.
A good source for what can happen when the safety angle plays a secondary role is the National Transportation Safety Board's Safer Seas Digest that examines significant marine accidents and then makes safety recommendations in the hopes of reducing future accidents.
Take the case of the Andrew Cargill MacMillan that was featured in the Safer Seas Digest 2019. The 176'×54' towing vessel was pushing a tow of 42 loaded barges southbound on the Lower Mississippi River on Oct. 23, 2018. The pilot relied solely on visual references while traveling at about 9.5 mph near mile 445, then lost sight of a buoy, oversteered and quickly lost control of the tow, causing the lead barges to contact the Farmers Grain Terminal conveyor.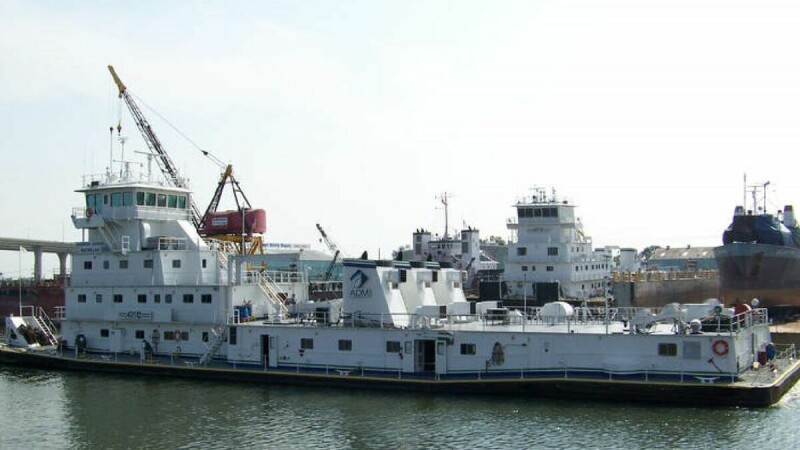 The probable cause of the tow collision with the conveyor and breasting dolphins was the pilot's overreliance on looking for floating aids to navigation, even though equipment was available that would have aided in cross-checking the tow's position. Damages were an estimated $8 million to the conveyor and dolphins and $74,000 to the barge.
Improving a pilot's understanding of how oncoming challenges — be it other vessels, course changes, or a bend in the river — will affect his vessel is something that the Maritime Institute of Technology & Graduate Studies (MITAGS), a maritime safety training company with locations in Seattle and Linthicum Heights, Md., is focusing on. "We are developing a lot of programs for navigational assessment," said Capt. Jon Kjaerulff, director of business development at MITAGS.
Navigation Skills Assessment Program (NSAP) page https://www.mitags.org/nsap/
One training program simulates a wheelhouse environment that puts a person in challenging situations to "see how the boat and people perform." The whole idea of the simulation is to make "them feel like it's real and to understand what it takes to make a good decision and experience the stress," said Kjaerulff.
The individual at the wheel might have a tug or two tugs assisting him, but suddenly a tug could lose power or the current becomes stronger than anticipated or visibility decreases — "then here's how you respond," said Kjaerulff, and there's no real consequences if it doesn't turn out well. "Anytime you can create a dangerous situation with a simulator it's a lot better than having to do it in the real world."
FIRE-RELATED ACCIDENTS
Something that Kjaerulff said is "always high on anybody's worry list is a fire." The Safer Seas Digest 2019 focused on five fire-related accidents: two towing vessels, one ATB, an offshore supply vessel, and a towboat and cutter suction dredge. The 2020 Safer Seas Digest examined three fire-related incidents — two barges and the dive boat Conception.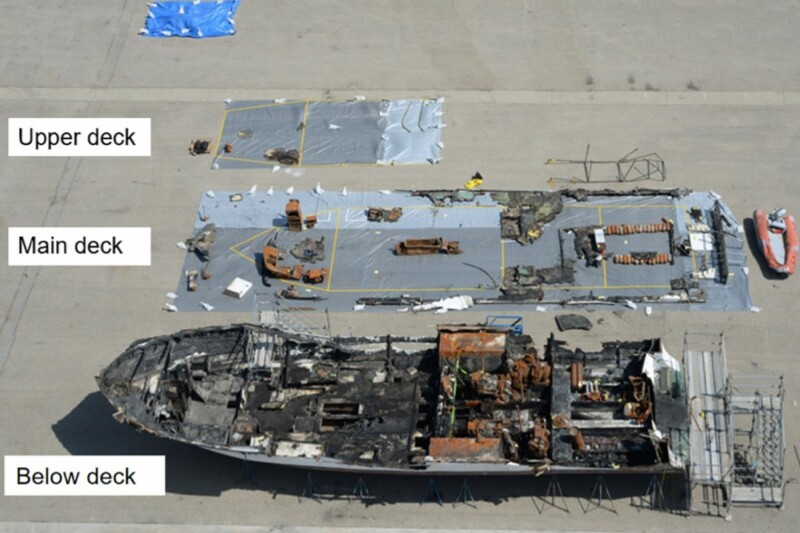 The Conception dive boat accident in 2019 was a particularly horrific incident. Thirty-four people burned to death mostly because the boat's owner, Truth Aquatics Inc., failed "to provide effective oversight of its vessel and crewmember operations, including requirements to ensure that a roving patrol was maintained," according to the Safer Seas Digest 2020. Not doing so allowed a fire to grow undetected.
Constant monitoring is critical for preventing and detecting fires, said Kjaerulff. MITAGS basic and advanced firefighting courses combine classroom instruction and field training. "The main thing we say is you don't want it to get started. Teach your crew where fire hazards are, what to look for and what they should report."
MITAGS safety training courses stress that when a fire does break out, a crewman's initial reaction should be to keep it from getting worse, "as well as notifying everybody. The last thing you want to do is be the guy that discovers a fire, tries to put it out, and nobody knows about it."
Kjaerulff allows that some mariners in the firefighting class have said, "We are not going to fight a fire on this boat. We are going to abandon ship." The instructor's reaction is generally "let's show you what abandoning ship looks like."
That means putting mariners that advocate the abandon ship position in a survival suit and then in a life raft to show them that "this is what happens if you can't put the fire out, and it's not a given that getting off the boat will get you home safe. Just because you can see land that's no guarantee you are going to survive."
Kjaerulff said that is the real value of hands-on training. "It's getting people to recognize that this really can happen to you."
After going through a safety training course, the next step that is critically important for mariners — maybe they work on a harbor tug, ocean tug or ferry — "is to take the knowledge we've given you and say, 'how do we apply that to our onboard drills?' What we are doing is really just to help you run better drills on your boat. Take it personally and make it fit your operation."
Developing a safety program matched up with a particular boat's layout is a lot easier when a MITAGS safety instructor is on board. "Some companies have us come out to their crew," said Kjaerulff, "and imagine scenarios where if there was a fire how would you deal with it." What equipment does that boat have and what's the best way to use it?
That could also be a good time to discuss what to do in a flooding or abandon ship situation. He adds that a lot of companies don't have the time and don't want to spend the money if it's not required by the Coast Guard or other outside entity.
At the same time, Kjaerulff said that one of the biggest changes is a growing recognition by many companies of the value of safety training. "It's not just about checking a box. They are seeing the value in putting people in a situation where they get a chance to refresh their skills."