March 1963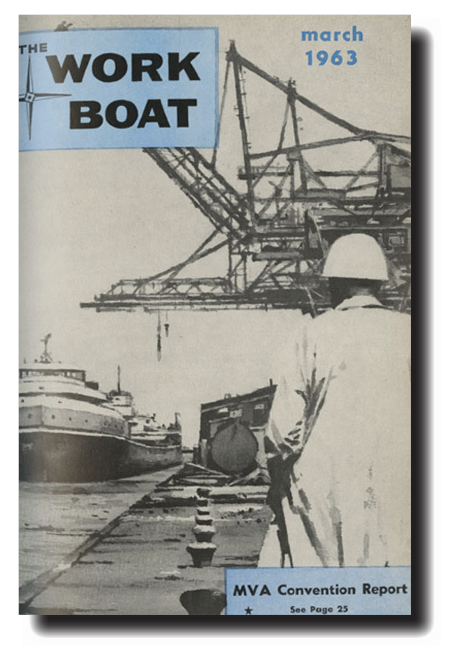 • A 50'×18'×7' twin-screw towboat built at Serodino Inc., Hales Bar, Tenn., is scheduled to be delivered early this month to L.E.C. Investment Corp., New Orleans. The 800-hp towboat is powered by two pilothouse-controlled Caterpillar D343-TA diesels. It has an all-electric galley, and parallel living accommodations for a crew of four.
• The Glen Dora, a 245-hp towboat, was placed in service on the Kanawha River recently by Materials Handling Co. Built at Yates Marine Construction Co., South Charleston, W.Va., the boat is powered by a GM 6-110 diesel which drives a 42"×36" Michigan propeller.
• Five new 128'×33'10" welded steel deck barges were added recently to the fleet of aggregate and ready-mixed concrete producers Southern Materials Co. Inc., in Virginia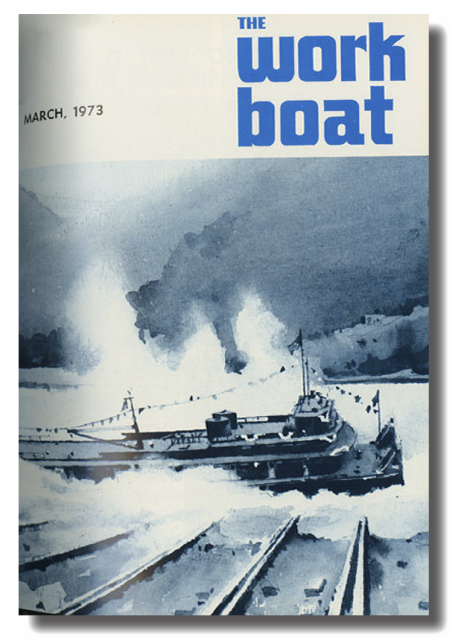 March 1973
• Robert J. Hughes, president, James Hughes Inc., New York, was elected chairman of the board of the American Waterways Operators at its annual meeting in Washington, D.C., Feb. 27.
• More than 16,000 engineers, scientists and oceanographers are expected to gather April 30-May 2 in Houston to discuss offshore resource development at the Fifth Annual Offshore Technology Conference. The conference, which is sponsored by 11 international engineering and scientific societies, will be held at Houston's Astrohall in the Astrodome complex.
• Puget Sound Tug & Barge Co. and PAC, two major Seattle-based tug and barge companies have joined forces under the name Arctic Marine Freighters to transport oil field supplies and material from Seattle, Houston, and other U.S. ports to Alaska's Arctic Coast, including Prudhoe Bay.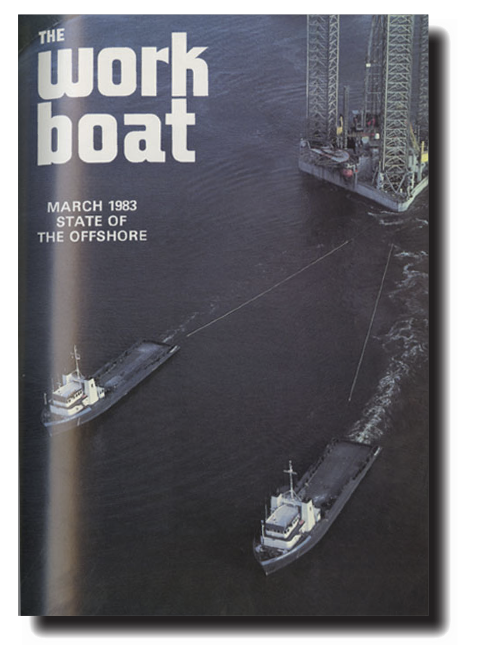 March 1983
• One of the oldest working tugs on the Great Lakes was recently outfitted with one of the most modern systems currently available for breaking ice. The John M. Selvick, operated by Selvick Marine Towing, Sturgeon Bay, Wis., now boasts a self-contained air bubbler system for icebreaking purposes. The bubbler greatly agitates the water alongside the tug's hull, preventing it from being pinched by ice.
• The NTSB has ruled that inadequate employee training, equipment failure, lack of thermal protection gear, and inadequate rescue/safety equipment all contributed to last year's Ocean Ranger disaster off the coast of Newfoundland. Eighty-four workers died when the rig capsized in heavy seas. The NTSB report said the probable cause of the sinking was flooding of the anchor chain lockers forward.