WorkBoat began covering the burgeoning offshore wind sector almost a decade ago. In December 2016, the industry took a big step when the Block Island Wind Farm, a five-turbine 30-MW offshore wind project developed by Deepwater Wind, became the first fully operational wind farm in the U.S.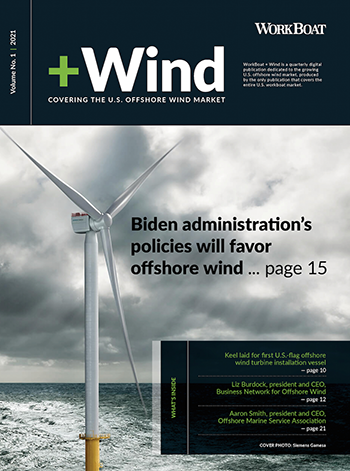 That same month, WorkBoat Magazine named the Atlantic Pioneer, the first U.S.-flag wind farm vessel built by Blount Boats for Atlantic Wind Transfers to service Block Island, R.I., its Boat of the Year. After receiving the award, Marcia Blount, president of Blount Boats, said, "It's a fascinating industry that American shipyards can be a part of. We're just the crew vessels, we're just the first. There's going to be a mix of these vessels going out to these wind farms."

Since then the sector has had numerous starts and stops, but now the offshore wind industry appears poised at the brink of the optimism it first saw a decade ago, when Obama administration officials talked of wind power one day assuming coal's then-dominant role in the nation's electric grid. With the Biden administration looking more toward renewable energy, offshore wind's time could be here again. Thus, we feel the time is right to launch the new WorkBoat + Wind quarterly digital publication.