As Vineyard Wind installed the first of its planned 62 monopiles for wind turbines off Martha's Vineyard, Mass., offshore wind advocates hailed "steel in the water" for the first utility-scale, 800-megawatt project in U.S. waters.
But other offshore wind developers are signaling that escalating costs are pressuring their bottom lines – and questioning power agreements already signed with East Coast states and energy companies.
Warning signs surfaced at wind developer Ørsted's June 8 investor's conference in London, when Ørsted CEO Mads Nipper opened the possibility of cancelling large offshore wind projects if the numbers don't work.
"Ultimately, Ørsted may reconfigure or exit awarded projects where Ørsted has not yet taken FID (final investment decision), as of this date, if it finds the value creation in the projects to be insufficient," according to a company statement.
SouthCoast Wind, which plans 1,200 MW of offshore wind power, told Rhode Island utility regulators it wants to re-negotiate agreements with utility companies.
The SouthCoast joint venture of Shell and Ocean Winds says its two phases of 800 MW and 400 MW "are no longer financially viable at the previously negotiated prices." The partners say their projected operational costs have escalated by 20 percent since 2019.
"While SouthCoast has pursued, and is open to other solutions, and even after factoring in potential tax incentives; termination, and payment of a financial penalty for termination, has become the prudent commercial course to realize the Project due to material and unforeseen supply chain and financing cost increases affecting the whole offshore wind industry," SouthCoast Wind CEO Francis Slingsby said in a statement.
Wind developers face escalating raw material, capital expenditure and finance costs. SouthCoast's neighboring project Commonwealth Wind in December asked for a new deal on its 1,200 MW project, deployed after concluding that its own 1,200 megawatt installation "cannot be financed and built" under existing contract terms.
Off New Jersey, Ørsted's Ocean Wind 1 project is a centerpiece of Gov. Phil Murphy's ambitions to build the state's renewable energy sources. But as in Rhode Island and Massachusetts, even Murphy's Democratic allies in the state Legislature are warning wind developers against coming back to get better financial deals.
"I am going to have a very difficult time supporting any future subsidy for these developers,'' said state Sen. Paul Sarlo, the Democratic chairman of the state Senate Budget Committee at a May 24 hearing.
The president of the New Jersey Board of Public Utilities, Joseph Fiordaliso, expressed frustration in early June that Ørsted's 1,100 MW project is not progressing faster.
On June 10 offshore wind power advocates – a coalition of New Jersey environmental and labor groups and Democratic elected officials – held a rally in Long Branch, N.J., calling for the Ocean Wind and Atlantic Shores projects to move ahead.
The pro-wind groups have tried to counter critics who tied whale strandings on New Jersey beaches to sonar and survey work on offshore wind sites. Days of intense smoke and poor air quality, blown down from wildfires in Canada, gave wind power advocates a new talking point.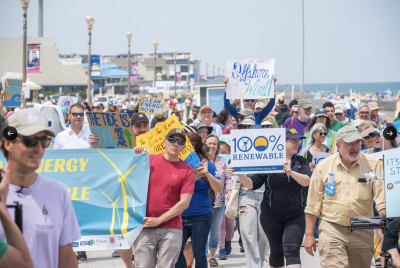 "The haze from the wildfires we've experienced this week is our new reality if we don't address climate change today," said Ed Potosnak, the executive director of the New Jersey League of Conservation Voters. "It's long past time to stop our reliance on dirty fossil fuels and move toward an equitable clean energy future - including responsibly developed offshore wind - to stop the most disastrous effects of climate change."
The Long Branch rally drew a rejoinder from Clean Ocean Action, a New Jersey environmental group that has long been skeptical of offshore wind plans, starting with the Empire Wind array to built between ship traffic separation lanes off New York Harbor.
"The location of Empire Wind's projects is not only risky for marine resources, but it is also risky for navigation, national security, and public safety," the group says. "These threats need to be examined thoroughly and transparently by independent researchers, which is why Clean Ocean Action continues to demand a pilot project that can evaluate honest costs and benefits."