A new committee associated with the National Academies of Sciences, Engineering, and Medicine is taking on a study of how planned wind turbines off the U.S. East Coast may affect vessel radars.
Knowing how mariners will see turbine towers on radar – and see each other's vessels moving past them – will help the federal Bureau of Ocean Energy Management in planning for those projects.
With BOEM aiming to have environmental reviews for 16 of those projects by 2025, the agency is looking to expand understanding of how marine radars can be affected, said Arianna Baker, a BOEM program analyst, during an introductory online meeting June 29 with committee members. The National Academies committee mission is "to assess impacts of offshore wind turbine generators on marine vessel radar and identify techniques that can be used to mitigate those impacts," according to an announcement of the meeting.
Previous studies the agency is looking at include one by the British Wind Energy Association that examined the Kentish Flats project near approaches to the Port of London during 2006, a time of smaller, less powerful turbines and earlier generations of marine radar. A 2007 report from that study described radar reflections, mirror images and other phenomena seen by operators.
Now BOEM is reviewing plans by developers to erect 12- to 14-megawatt turbines, and how that could affect the radar images mariners use in navigation.
"It is an arms race at this point among turbine manufacturers," said Baker.
Generator power is not the only consideration, but also height above sea level where winds are more consistent, she said. The industry trend is to increase power capacity by a "couple of megawatts every couple of years," she said.
A graphic illustration by BOEM shows that progression since the 3.6 MW Siemens turbines of 2007, at 487 feet tall, to the 12 MW GE at 853 feet. Theoretical work by the federal Advanced Research Projects Agency for the Department of Energy suggests 50 MW turbines standing 1,470 tall could be feasible.
Both BOEM and the Coast Guard say they have no authority to control vessel movements within wind turbine arrays on federal leases, other than temporary Coast Guard restrictions during construction. The American Waterways Operators and other maritime organizations have advised BOEM that commercial shipping "will very much avoid the area" off southern New England where developers of the 804 MW Vineyard Wind project will build the first truly commercial-scale offshore turbine array, said Baker.
BOEM is working with the Department of Defense, National Weather Service and other federal agencies to resolve potential issues with their radars, and commercial marine and fishing will be addressed in the new radar study.
Off southern New England, Vineyard Wind and developers holding adjacent leases agreed to a uniform grid layout for their projects, spacing turbine towers 1 nautical mile apart. Commercial fishing advocates had suggested transit lanes 4 nautical miles wide. But Coast Guard advisors and BOEM concluded that 1-nm spacing would be sufficient to allow safe passage through the turbine fields.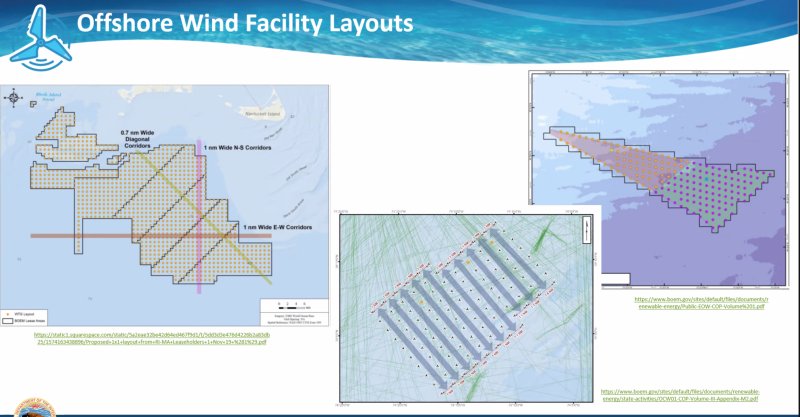 One question is how fishing vessels emerging from those arrays will appear on the radars of other vessels. One project, Equinor's Empire Wind, is planned on a lease between the approaches to New York Harbor, tucked between two traffic separation lanes for large vessels.
As one starting point, the National Academies committee and BOEM are looking at the Kentish Flats study, conducted for the British Wind Energy Association by Marine and Risk Consultants Limited of Southampton in the United Kingdom during 2006.
The resulting 2007 report described how the researchers collected radar recordings taken from a wide range of vessels, including fishing and recreational vessels, held discussions with pilots, masters, and navigation officers onboard those vessels, and collected data from the London port's vessel traffic services.
Among their findings the researchers reported:
• "Mariners passing the Kentish Flats through a pilotage area were aware of the types of effect that was evident but stated that, in the circumstances of these trials; they were of little direct concern to them."
• "The phenomena detected on marine radar displays in the vicinity of a wind farm can be produced by other strong echoes close to the observing ship, although not necessarily to the same extent. Trained mariners will recognize and understand the causes of these effects."
• "Reflections and distortions by ship structures and fittings created many of the effects observed leading us to conclude that the strong returns from the wind farm was highlighting some vulnerabilities in ships' radar scanner installations."
• "The effects observed were transitory in relation to the speed of the vessels passing the wind farm site."
• "Echoes of small craft within the wind farm can merge with strong echoes generated by the turbines when the craft pass close to the towers making them invisible to radar observers or automatic plotting facilities. While navigating, this effect will only be temporary until the craft moves away from the turbine."
• "Small craft operating within the wind farm array were less detectable by type approved, or non-approved, radars on other vessels when the latter were operating within the array. This appeared to be due to enhanced effects from the close approach to the turbine towers and the reflective effects caused by them. Careful adjustment of gain could improve detection but skill was required on the part of the operator."