October 15, 2021
Offshore wind: Investing in vessels and jobs for the U.S. maritime industry
By the American Clean Power Association (ACP)
Meeting President Joe Biden's goal of deploying 30,000 megawatts (MW) of offshore wind by 2030 will employ hundreds of vessels and help bring back U.S. mariners into the workforce in a new, renewable energy industry. We are already starting to see new investments being made in vessels and workforce training programs, but many more will need to be made to go from the 42 megawatts (MW) (seven turbines) of offshore wind we currently have to 30,000 MW (approx. 2,000 turbines) within nine years.
Many other countries also have ambitious offshore wind goals to reach along similar timelines as the U.S., all needing vessels at the same time. The United Kingdom plans to increase its capacity of offshore wind to 40,000 MW by 2030, while the European Union plans to reach 60,000 MW by 2030. South Korea's deployment goal is 12,000 MW by 2030, and Japan seeks to have 9,000 MW by 2030. Some of the vessels needed to achieve these ambitions are in high demand with short supply, giving the U.S. the tremendous opportunity to invest in new vessels in U.S. shipyards to fulfill demand.
Several of U.S.-flagged vessel investments are already being made. Dominion Energy is leading a consortium to invest $500 million in the first U.S.-flagged offshore wind heavy installation vessel being built in Brownsville, Texas, that will be operational by late 2023. Orsted and Eversource have contracted with Edison Chouest in Louisiana to build the first U.S.-flagged service operations vessel. Great Lakes Dredge & Dock is developing the first U.S.-flagged offshore wind fall pipe vessel for subsea rock installation that will be operational at the earliest in the first quarter of 2024. These three vessels are an important start, but each offshore wind project will use at least 27 vessels across all project stages, including seafloor survey work, component transfer, cable burial, crew transfer, and turbine installation. There are currently 15 active lease areas (with usually one project per lease) and more soon to come in the New York Bight, California, North Carolina, and other regions. More vessel investments are needed to be made to be able to construct offshore wind projects simultaneously in the U.S. and around the world.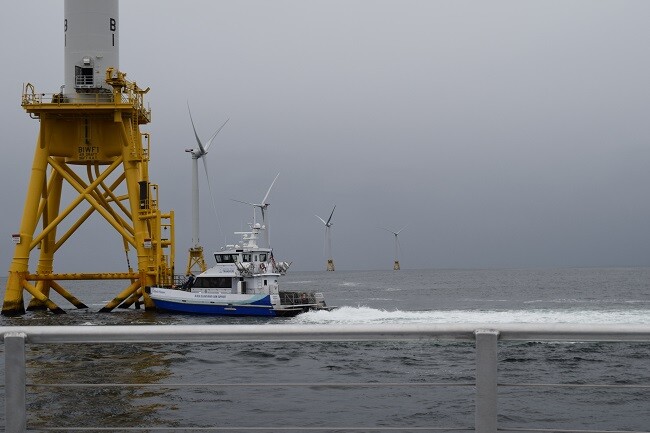 In addition to vessels, the U.S. needs a trained workforce and more U.S. mariners to build offshore wind turbines. The U.S. Congress and the Maritime Administration are concerned about the declining number of mariners, as the number of qualified mariners have hit historic lows. The offshore wind industry can help rebuild those numbers for mariners but will need specialized offshore training to ensure safe and timely construction. Europe and the UK's 20 years of experience in building over 24,000 MW of offshore wind can help that transition along with new training programs that are being established by offshore wind developers, community colleges and other academic institutions, labor unions, and maritime companies.
In February, Atlantic Shores signed a job training agreement with six New Jersey labor unions to begin training union members to be ready for construction that will hopefully begin in 2024. The Massachusetts Maritime Academy and Crowley Maritime announced a new workforce development program to train New England's offshore wind industry in August 2021. However, to meet the president's goal of deploying 30,000 MW by 2030, more workforce training is needed. The American Clean Power Association (ACP) supports "The Offshore Wind Jobs and Opportunity Act" introduced by U.S. Representative Bill Keating (D-MA-9), which would help support more offshore wind workforce training by creating a grant program to spur investment in offshore wind workforce training programs.
Offshore wind is already spurring investments in US-flagged vessels and workforce training programs, but to meet the president's goal of 30,000 MW of offshore wind deployment by 2030, more investment is needed. The offshore wind industry looks forward to continuing to work with US maritime and the government to help build new vessels and employ American mariners to build a renewable energy economy.
For more information, please visit cleanpower.org.