Despite their enthusiasm to host offshore wind power, Northeast states have nonetheless tried to drive some stiff deals with developers: Guarantees they will buy from local businesses, build new facilities in state, and hire local labor — usually union allies of political leaders.
"We really want it all," admitted Doreen Harris, president and CEO of the New York State Energy Research and Development Authority, whose state has been foremost in cutting deals with companies like Ørsted and Equinor.
But as the industry strives to scale up in the U.S., the focus is rapidly shifting to building a national supply chain — and more players are eager to pitch their services, often far from the Northeast with its high cost of doing business.
Some Gulf of Mexico offshore operators, fabricators and shipbuilders are already well into making the pivot to offshore wind. At the Business Network for Offshore Wind's (BNOW) International Partnering Forum (IPF) in August, about 20 people from the network's U.S. Gulf working group discussed how to recruit more of their peers to wind.
"I think we're suffering a little bit from the stigma of East Coast wind development" resulting from delays in permitting, said Doug Campbell of DRC Inc./Oil States, Houston. But Campbell and others said this could be the time to spread the word in the Gulf industry, with the Biden administration's moves to speed review and approval of wind projects.
The Gulf region's deep resources of offshore experience and human capital offer an advantage. Another is lower business and labor costs, which could even make Gulf states attractive onshore sites for offshore wind equipment manufacturers, group members said.
East Coast states, with their power purchase agreements with wind developers, "are trying to get as much of the business in their states" as they can, said Jamie Lescinski of Boskalis Offshore Energy Inc., Houston.
"It's going to be a U.S. supply chain, not a state supply chain," said Liz Burdock, BNOW's president and CEO. "I think there's realization of that, but it's going to take time."
Burdock said it is imperative to develop that national supply chain for there to be any chance of fulfilling the Biden administration's goal of building U.S. offshore wind from today's 42 megawatts — two pilot projects off Rhode Island and Virginia — to 30 gigawatts in 2030. Right now, she said, "we don't have the businesses."
One of the first big pieces to be built in the U.S. will be an offshore substation for channeling electrical energy from the 132-MW South Fork Wind project east of Montauk, N.Y., by Ørsted and Eversource.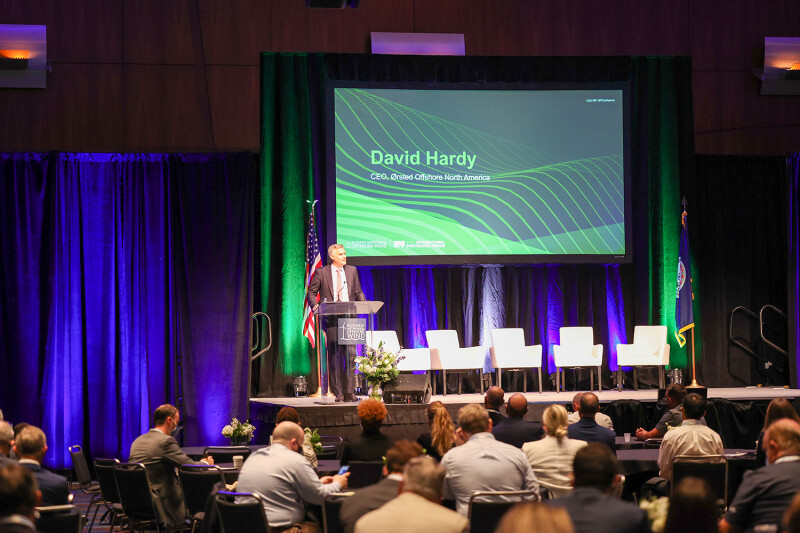 During an address at IPF, Ørsted North America president and CEO David Hardy announced that U.S. fabricator Kiewit Offshore Services Ltd. will design and build the substation for South Fork. The 1,500-ton, 60-foot-tall substation will be built at Kiewit's facility in Ingleside, Texas.
Kiewit says 350 workers across three states will support building the structure, with additional teams in Houston and Kansas. Union workers in the Northeast will work on the installation.
Kiewit plans construction to start in November and be complete by spring 2023. The substation will transit across the Gulf of Mexico and up the East Coast for installation in summer 2023.
"The best proof point is we're creating jobs today," and not just on the coast, said Hardy.
Speaking to the conference via remote video, U.S. Wind CEO Jeff Grybowski talked about his company's Sparrow's Point manufacturing facility near Baltimore, once the site of Bethlehem Steel's biggest plant.
The company will fabricate turbine tower components for use by any U.S. wind developer, he said.
"There's no faster way to speed deployment [of offshore wind] than creating jobs now," said Grybowski, who pioneered the Block Island Wind Farm pilot project off Rhode Island, now owned by Ørsted. "There are a dozen proposals to build manufacturing projects up and down the East Coast.
"The direction of political winds is quite clear," and the U.S. wind industry's equipment must be built here, Grybowski stressed.