Farewell Fairweather. Or should we say adios, as the fast vehicle ferry is leaving Alaska and heading to a Spanish island in the western Mediterranean Sea. I'm sure the boat, and its sister, the Chenega, will be happy in their new harbor on an island known for good times.
The Spaniards got a steal of a deal: They paid about $5 million for two Alaska Marine Highway System ferries (and two extra, brand-new engines) that originally cost about $68 million. That's in 2004 dollars, which would be about $96 million today. The state had the boats listed at $10 million, but Trasmapi from Ibiza, one of the Balearic islands, was the only bidder in an auction earlier this year.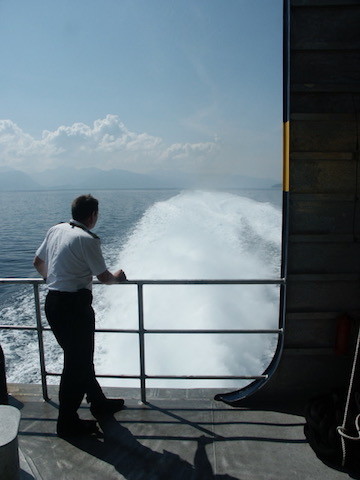 The Chenega has been laid up since 2015, and the Fairweather since 2019. Chenega had been originally assigned to a triangular route between the three main towns of Prince William Sound — Valdez, Cordova and Whittier. The Fairweather's first routes were between Sitka and Juneau, and up Lynn Canal from there to Skagway.
I got a chance to ride the Fairweather from Sitka to Juneau in July 2004, not long after its delivery. It was a great ride gliding through narrow channels between islands in Southeast Alaska. Designed by Nigel Gee & Associates in Great Britain and built by Derecktor Shipyards in Connecticut, the 235'x60' aluminum catamarans carried up to 250 passengers and about 270,000 lbs.-worth of cars, RVs and semis.
Moving that much weight at a cruising-speed of 32 knots (top speed: 43 knots) takes a lot of power, which takes a lot of fuel. It also took a larger crew to satisfy the regulatory demands of being a high-speed craft. And in addition to being expensive to operate, the boats reportedly struggled in heavy weather. Not a good thing in Alaska. So a cash-hungry state ferry service pulled the boats. There would be no more quick day trips between distant towns in Southeast Alaska and Prince William Sound, with or without vehicles.
As a class, fast vehicle ferries have had a hard time finding a firm foothold. The combination of high initial investment and huge operations costs just don't pencil out as the need for speed is analyzed. Consider also the Hawaii Superferry, which my rental car and I rode during its brief deployment in the 49th state. And let's not forget Canada's fast vehicle ferries, the PacifiCats, which ran between Vancouver and Vancouver Island. In addition to the problems mentioned above, those three boats also had wake-issue problems. They are long gone, too. Sold for less than scrap value in 2003. (Yes, I rode on them too. Maybe this is all my fault.)
So now Alaska has a few bucks in its vessel construction fund. What mistakes can they make with that?