The 72' aluminum catamaran Sea Change is the first commercial hydrogen-powered fuel cell vessel to be delivered in the U.S. (Delivery was scheduled for October.)
The ferry was developed and built to demonstrate a pathway to commercialization for zero-emission hydrogen fuel cell technologies.
The path that this boat has been on since 2018 is the epitome of the saying that "you can't tell the players without a program."
In this month's cover story (see page 32), correspondent Bruce Buls takes us through the tangle of companies involved from the beginning of this vessel project. Over the past three years, companies have been a part of the project, then dropped out, while another, inexplicably, changed its name. And the new owner changed shipyards.
Bruce does a great job of guiding us through this labyrinth of commercial and government entities trying to push this new technology across the finish line.
Everyone involved seems to have the greening of the U.S. maritime industry as its goal — a goal unheard of less than two decades ago.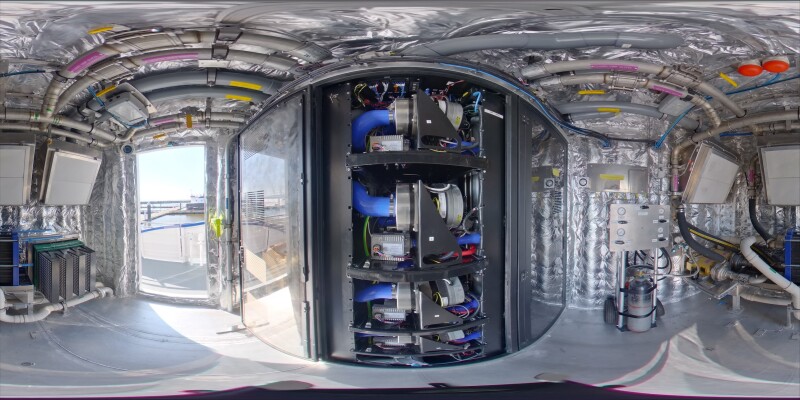 It all started with a new company, Zero Emission Industries ( ex. Golden Gate Zero Emissions Marine), founded by Dr. Joe Pratt, who had been working as a research engineer at the U.S. Department of Energy-funded Sandia National Laboratories near San Francisco.
While it seemed that everyone else was looking to go green with electric hybrid systems of one kind or another, Pratt and his colleague, Dr. Lennie Klebanoff, began studying the uses of hydrogen fuel cells to attain zero-emission producing boats.
Pratt said it was an outlandish idea because no one had seriously looked into the possibility of running a boat that big using only hydrogen. The technology was around but it had been tested only on cars and forklifts.
Attempting to do it on something as big as a 78-passenger, 72' aluminum ferry was unheard of until Pratt and Klebanoff "ran the numbers and sketched it out" and became convinced that it could work.
That's when everyone else started getting involved and the story took off like a hydrogen fueled ferry.