October 19, 2023
Uncompromised protection that exceeds the toughest performance standards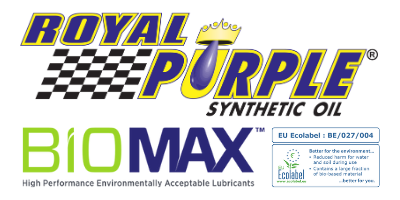 The Synthetic Expert
Founded in 1986, Royal Purple is recognized as a leading manufacturer of synthetic lubricants, oils, and greases for consumer and industrial based applications. Royal Purple's development of a unique proprietary additive technology, called Synerlec® , fortifies lubricants with unusually high film strength capable of better protecting bearings, gears and other lubricated components under extreme loads. This specialized technology also provides exceptional oxidation stability for long oil life while providing rust and corrosion protection in both wet and high temperature applications.
Tough Jobs Require Tough Solutions
Royal Purple understands the challenges faced by marine vessel operators to meet environmental regulations without sacrificing vessel performance. That's why Royal Purple's in house expert R&D team developed Royal Purple® BIOMAX™ Environmentally Acceptable Lubricants (EALs) to provide uncompromised environmental protection while exceeding the toughest performance standards.
The Royal Purple® BIOMAX™ (EALs) include:
· BioMax™ Hydraulic EAL, Environmentally Acceptable Hydraulic Lubricant
Hydraulic and circulating oils are subject to ever increasing severity as operating loads and duty cycles continue to increase while equipment oil volume decreases. Increased equipment wear and thermal degradation of the oil are the result. Under these severe operation conditions, BioMax Hydraulic EAL provides enhanced lubrication and protection against wear and deposits, while helping improve system operational efficiency. The superior synthetic formulation and Royal Purple's proprietary Synerlec® additive technology are the key to outstanding lubrication.
· BioMax™ Gear EAL, Environmentally Acceptable Gear Lubricant
Gear systems often operate under severe conditions, subjecting the gears to high temperatures, heavy contact and sliding loads, and start-stop shock loading. BioMax Gear EAL provides unmatched protection in these conditions for all enclosed gear systems. The superior synthetic formulation and Royal Purple's proprietary Synerlec® additive technology are the key to outstanding protection from contact and sliding wear, and damaging shock loads.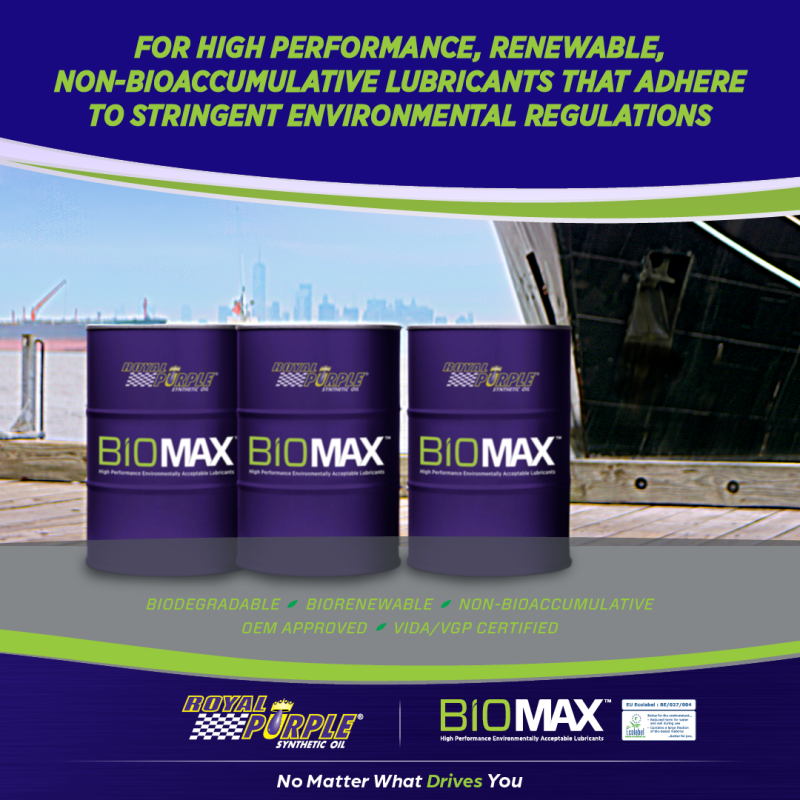 · BioMax™ Stern Tube EAL, Environmentally Acceptable Stern Tube Lubricant
The long life and noncorrosive BioMax Stern Tube Oil greatly increase reliability, efficiency as well as exceptional thermal and oxidative stability at high temperatures in highly corrosive environments. It gains its performance advantage over competing oils through its superior blend of renewable synthetic base oils plus Royal Purple's proprietary Synerlec® additive technology. This unique, synthetic additive technology is proven to prevent bearing failures, corrosion, rust, reduce equipment downtime, provides longevity and energy savings.
Designed for environmentally sensitive areas, BioMax™ lubricants are over 60% biodegradable and bio-renewable, European Ecolabel Certified, and meet U.S.EPA VIDA/VGP requirements.
Drive Your Business Responsibly
With Royal Purple® BIOMAX™, marine vessel owners and operators receive uncompromised performance that lowers total cost of ownership while also meeting local and international regulations and standards.