The Coast Guard awarded a $104 million contract to Inventech Marine Solutions (IMS) last year to build more than 200 fifth-generation over-the-horizon cutter boats (CB-OTH-Vs).
After the contract award, Bremerton, Wash.-based IMS built and delivered four 25'6"×8'6" production models to the Coast Guard, which will test them in the field for several months to provide technical feedback. These lead production boats will allow the Coast Guard to assess and request, if necessary, changes in ergonomics, equipment, and parts choices. All CB-OTH-Vs are the same even though they will be on different types of cutters and operate in widely different environments. These first boats have been sent to Hawaii, New Jersey, Virginia, and Florida so that they can be tested on multiple oceans and in a variety of conditions.
"Having recently taken delivery of the four new production boats from IMS, we are looking forward to operational testing where we can use the OTHs in real-world conditions," said Mark Porvaznik, boat acquisition program manager for the Coast Guard. "The safe controlled maneuverability we experienced in the preliminary testing will now be proven as we run the boats alongside our cutters at speed, load and unload them underway, and transfer personnel to conduct boarding operations."
Porvaznik said the award process was extremely competitive. "All four manufacturers produced viable products, but the IMS boat stood above the rest, particularly when running fast in a three-foot chop. The combination of ride, control, and comfort in rough conditions helped us decide that the IMS boat would best meet our mission parameters." (The other manufacturers were Blackfish Solutions LLC, Gravois Aluminum Boats LLC (Metal Shark Boats), and MetalCraft Marine US Inc.)
"As a U.S. taxpayer and part of the marine industry, I appreciate the diligent and thorough process the Coast Guard uses to award a contract of this magnitude," said Micah Bowers, Inventech Marine's CEO. "Cost is important but by using a down-select process [in which the number of potential contractors is progressively reduced] and allowing each company to provide a proof-of-concept platform, the Coast Guard ultimately gets the most effective product for the mission goals."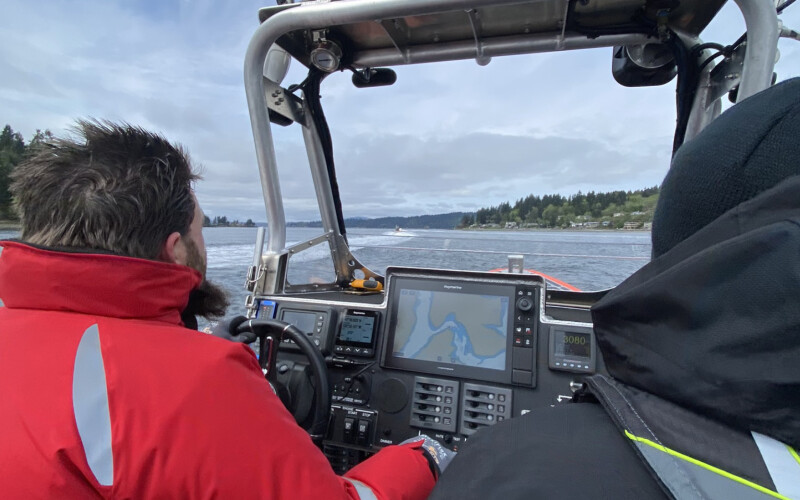 PERFORMANCE TESTING
Recently, before delivery, I was able to get on board one of these first four production models of the new cutter boat to take an exclusive look for WorkBoat. Factory performance analysis conducted while I was on board ensured that these lead production boats were performing up to specification before the Coast Guard received them for further evaluation.
On an overcast 50° day the IMS factory team launched two new CB-OTH-Vs from a ramp in Port Orchard, Wash., near where they were built. The 25'6" boats fit easily on a trailer. Trailerability adds versatility to the design by making it easier for the Coast Guard to move, store, and work on the boats when they are not mounted aboard their larger cutters. For added portability, the new CB-OTH-V meets C-130 loading criteria so the entire boat plus trailer can be transported by air.
These cutter boats are designed to be deployed from the decks of a variety of Coast Guard cutters including national security cutters, fast-response cutters, offshore patrol cutters, and medium-endurance cutters. The boats, which feature IMS Fast collars, are purpose built to execute over-the-horizon missions for the Coast Guard.
Our task for the day was to load the boats with a typical four-man crew and to test, evaluate, and record performance data ahead of delivery.
We moved out quickly from the dock and accelerated to speed as we passed the Bremerton Naval Shipyard and ran out into Puget Sound in the morning chill. I rode on one of five Shockwave suspension seats on board. They are all jockey-style seats designed for safety at speed. The two helm seats offer additional adjustments, the rear seats have folding hand grips, and the aft-most seat is retractable so that it can fold down for better walkaround access when a fifth crewmember is not aboard.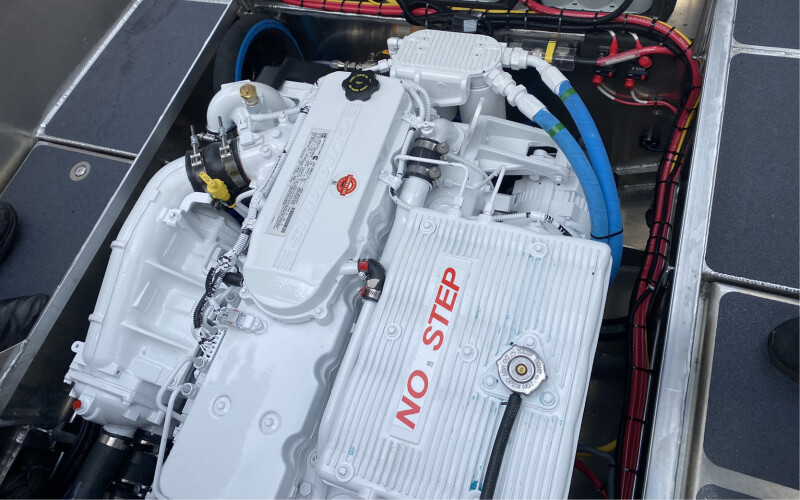 Onboard the OTH-V, with a sister vessel running alongside, we ran reciprocal one-mile legs at top speeds averaging 42.5 knots and with a top speed of 43.4 knots. The single Cummins QSB 6.7 480-hp diesel driving a HamiltonJet HJX29 waterjet has an average fuel consumption of 25.5 gph at 3,090 rpm. On these eye-watering, mile-long, high-speed runs we start with full tanks (90 gals.) and a crew of four, creating loaded conditions of about 10,260 lbs. Calculating range at 90% of fuel capacity delivers 135 miles at wide open throttle. After our WOT runs we slow to between 2,400 rpm and 2,500 rpm and average 28 knots for a one-hour duration test. At 28 knots, fuel consumption lowers dramatically to 11.15 gph, providing a cruise range of 203 nautical miles. This will allow the Coast Guard to deploy the boats up to 100 miles away from their cutters.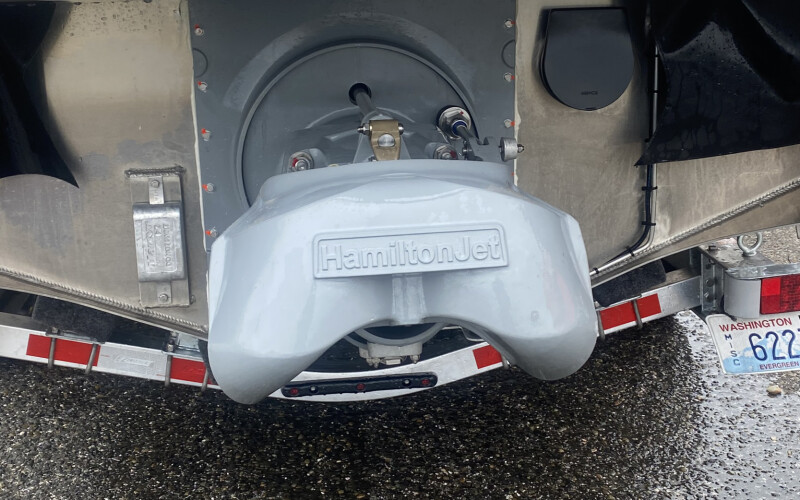 Once our endurance tests were complete, then came the fun part — high-speed sprints, maneuvering, and stopping. At the helm I found the controls extremely responsive. The steering was so tight I had to temper my movements to keep from zigzagging. I measured the time to plane as 7.09 seconds as the boat lifted effortlessly from a dead stop onto plane and reached maximum rpm in 10 seconds. More impressive is the stopping power of the HamiltonJet. From a 40 knots at 3,000 rpm running speed, reversing the throttle decelerated us to a dead stop in 6.2 seconds. Despite the obvious forces, the dead-stop maneuver is remarkably smooth and controlled.
The boat leaned gently and purposefully into tight, high-speed cruising turns, completing them in two- to three-boat-length doughnut-like circles with no apparent cavitation or side slip. When starting hard turns at 28 knots, speed drops five-10 knots in the turn, but once completed the boat pops back up to speed rapidly without adding throttle.
The CB-OTH-V likes to go fast, but once on plane, you can slowly back down to achieve speeds in the 10- to 15-knot range. Control at slower speeds is important to the Coast Guard for docking, maneuvering, and boarding, and the new cutter boat performs well at a wide range of speeds. The results from the in-water testing and performance evaluations of these fifth-generation CB-OTHs that I accompanied the factory crew on were impressive.
"During testing, I have driven the boats in big waters, and it reinforced my confidence that these CB-OTH-V boats will excel when performing their mission for the Coast Guard," said Jenson Charnell, president, IMS.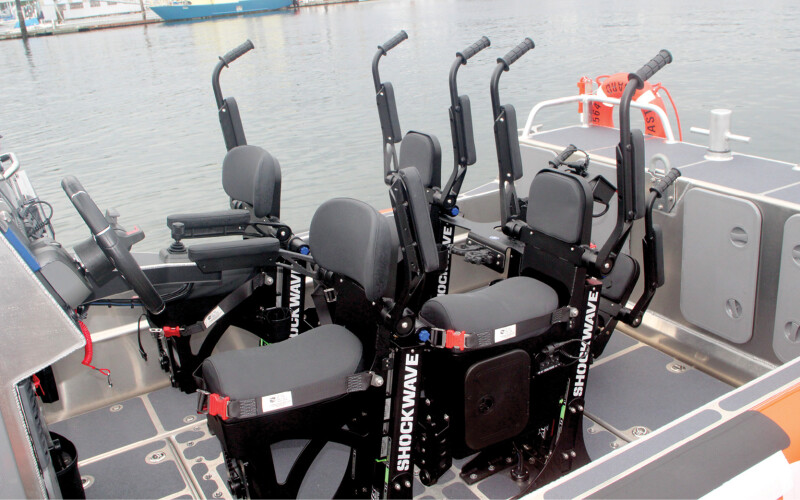 INNOVATION
AND TECHNOLOGY
While similar in size and speed to its most recent precursor, the fifth-generation CB-OTH boats built by IMS feature several design and equipment improvements. They are engineered to be launched and retrieved in a fully loaded condition with a 6X safety factor that includes the possibility of dynamic events like waves dropping out from under the boat or slamming up into the hull during hoisting operations at sea.
Sensors on the boat and on the Shockwave seats provide feedback to the operator through the VIMMS Shock Mitigation Monitoring System, which compares the impact load of hitting a wave to the load at the seat which has been mitigated by its suspension system. This allows the operator to adjust speed and course when necessary to reduce stress on the boat and crew. This is the first Coast Guard boat to include a shock-monitoring system that provides the crew with real-time information about wave impacts on the vessel.
The HamiltonJet waterjet provides improved efficiency and cavitation margin. The boat is also fitted with a HamiltonJet AVX Express electronic control system. IMS found the controls to be intuitive, simple, and very responsive during the set-up and testing last year, the company said.
HamiltonJet modified the controls to function more like an outboard, especially when reversing. This allows operators to transition more easily to operating waterjets when they are accustomed to outboard- and sterndrive-powered craft.
"For the CB-OTH-V, we made modifications to our AVX Express electronic control system that would enable the boat's single waterjet propulsion system to emulate the reversing patterns of an outboard configuration," said Tom Latham, general manager of HamiltonJet Americas Region. "This allows for improved crew familiarity and safety across Coast Guard platforms with varying propulsion types."
The control system also includes a joystick, which aids in slow-speed maneuvering. The joystick tends to be easier for new operators to master and provides precision control, both when transiting stern launch systems and during hull-side approaches.
IMS was impressed with the slow-speed maneuverability of the single jet utilizing the joystick. "While experienced operators may prefer the wheel and throttle, the joystick makes it easy to learn and adapt to the jet power, allowing all operators to come up to speed faster," said Charnell.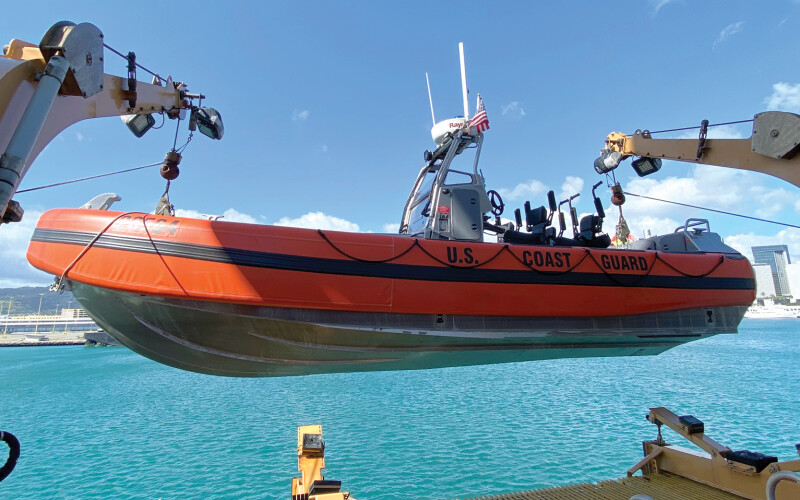 CONSTRUCTION
The hull, deck, and superstructure of the CB-OTH-V are built from precision-cut, finely welded high-grade 5086 aluminum. Decks are watertight and self-bailing. An integrated grid stringer system adds rigidity and strength.
Blocks of IMS' Fast closed-cell foam buoyancy stabilizers are secured with straps between the stringers for sound dampening, insulation, and added flotation. The vessel meets "level" flotation capabilities, meaning that it will float evenly with a percentage of the gunnel above the waterline when holed or inundated. Fast collars are composed of the same type of EPE (expanded polyethylene) closed-cell foam used in the hull, covered with heavy-duty polyester heat-welded fabric, coated with urethane, and specially shaped to improve performance.
Recent improvements to the Fast collar system maximize buoyancy, add stability when running, and dampen rolling, according to IMS. The unique shape of the collars works together with the rigid aluminum hull. The bottom of the foam collars includes a downward cast, and this shape improves cornering, reduces slamming, and increases lift when running. Water forced upward when the vessel impacts the sea is diverted into an anhedral tunnel area that creates lift and stabilizes the boat.
The collar design incorporates a unique dihedral-to-anhedral tunnel aft that creates additional lift while backing the vessel down without causing low pressure. This eliminates steering anomalies that can be caused by low pressure in the tunnel created by suction from the intake of the waterjet.
The overall effect of the unique hull and collar shape is that the boat backs smoothly in reverse. When running forward, water is efficiently shed aft, streaming along the junction of the collared hull sides and the angular aluminum hull section. The reinforced flat chine section aft also acts as a performance fin and combines with an interceptor forward for improved tracking in hard turns. The collars provide benefits like buoyancy, stability, and impact protection critical to meeting its Coast Guard mission.
Not only are the new CB-OTH-V boats built to be solid and give the operator and crew confidence when operating in adverse conditions, but they are also designed to be easily serviced. Most of the decks are detachable and there are ample hatches that provide access. All tanks, drive systems, the fire suppression system, and the main engine are easily accessible. The configuration allows access to major engine components like the starter, water pump, turbo, belts, and filters, which will permit most service to be completed without removing the engine. Engine mounts are robust and sensitive electronics like radios are housed in an enclosure for increased protection and durability.
"We are very proud to have won the contract off of the performance of the boat," said Charnell. "We focused on building the boat based on our experience with tried-and-true methods that give our boats the ride and control they are known for. That said, we always strive to improve the boats but were careful to ensure any new innovations were proven improvements that really work."