Signet Shipbuilding & Repair (SS&R), Pascagoula, Miss., provides construction, repair, and engineering services to the maritime industry. The shipyard is capable of accommodating nine vessels simultaneously.
In 2016, the shipyard spent $7.5 million in infrastructure enhancements that now permits total construction in a protected environment. Enhancements include the purchase of a 600-ton Marine Travelift boat hoist. The recent addition of the Signet 1650 floating drydock further enhanced the shipyard's capability. The Signet 1650 has a 1,650-ton lifting capacity and a 90' beam.
SS&R is owned by Houston-based Signet Maritime, which operates a fleet of tugs that provide ship assist, ship escort, towing, offshore support, subsea and rig moves.
The shipyard will deliver the first of two new 103'4"x45'6"x15'7" Robert Allan Ltd.-designed Rotortugs to Signet later this month. The purpose-built Signet Sirius will support the Port of Corpus Christi (Texas) channel improvement project. Its sistership, Signet Capella, is scheduled for delivery later this year.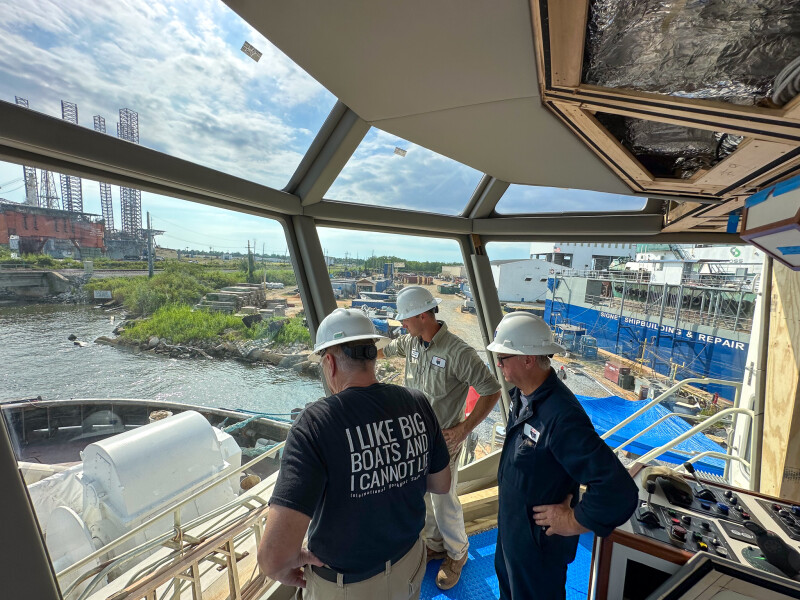 Gale C. Snyder, Signet's executive vice president, said she believes that the new tugs are the first towing vessels to receive an ABS ENVIRO notation, first in the U.S. to achieve an ABS LEV (low emissions vessel) notation, and first in the U.S. to receive an ABS Cybersecurity-1 (CS-1) notation.
"These tugs will be working for Enbridge Ingleside Energy Center moving VLCCs (very large crude carriers)," Snyder said. "Robert Allan specially designed these tugs to be able to make the tight turn needed in the Corpus Christi ship channel."
Enbridge Ingleside is the largest crude oil storage and export terminal by volume in the U.S.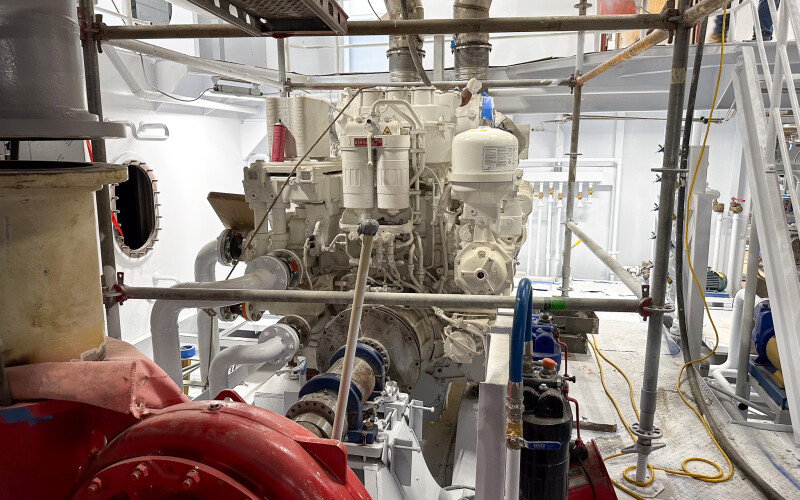 Main propulsion comes from three MTU 12V4000 M65L Tier 4 marine engines producing a total of 7,725 hp. The mains connect to Kongsberg US 205 controllable pitch Z-drives that contain 2,500mm dia., 4-bladed nibral propellers in nozzles.
Ship's service power comes from a pair of Tier 3 John Deere 6135 AFM85 gensets, sparking 300 kW of electrical power each.
The Signet Sirius has two Markey Marine winches on deck — a DESF-52 AGILE, 200-hp, electric winch on the bow; and a TESF-32 AGILE, 200-hp, electric winch on the stern. These were complete winch redesigns.
Also on deck, the tug is equipped with a Fire Fighting Systems AS (FFS) SFP 1,000-kW centrifugal fire pump, and two FFS 1200LB, remotely operated monitors with 10,600 gpm flow and a range of 400'.
Tankage includes 45,000 gals. of fuel oil; 3,500 gals. diesel exhaust fluid; 5,300 gals. potable water; 500 gals. lube oil; and 160 gals. hydraulic oil.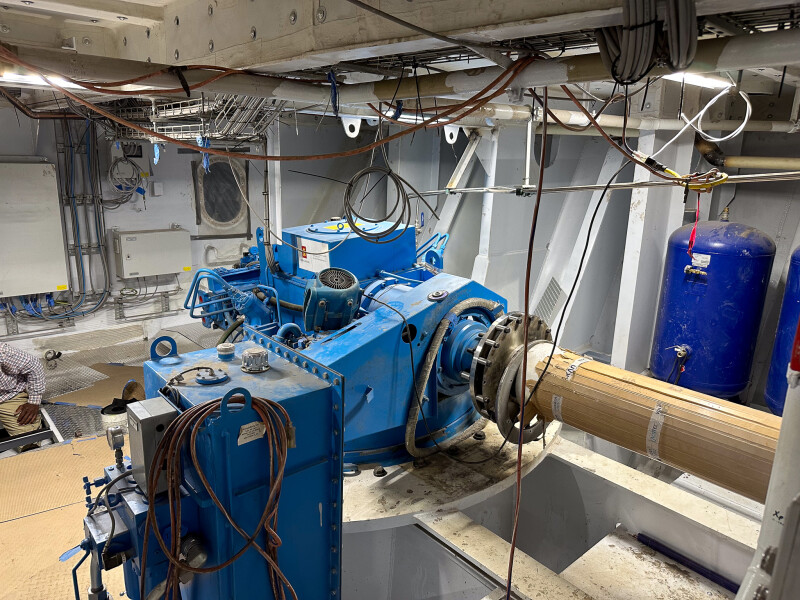 The Sirius and the Capella have a three-thruster design — two forward and one aft — making them able to steer and affect line tension in different directions. The new tugs' design was supported by computational fluid dynamics.
"This Rotortug design is the only available technology to assure the safe movement of future, deeper draft VLCCs through the currents in the jetties in Corpus Christi," said George Burkley, executive director, Maritime Pilots Institute, Corpus Christi.
Snyder said the new tugs' direction of travel and line tension vector do not need to be aligned. They are built for close-quarter operations in narrow marine terminal slips and can shoulder indirect and accelerate assist maneuver deep-draft VLCCs not otherwise possible.
Snyder said Signet Marine is determined to keep its 416 employees safe, whether they are operating a boat or a welding torch. The company carries almost $7 billion of liability insurance coverage. "The highest in the marine industry," she said.
Signet has had no marine accidents in the past 16 years, and its insurance premiums have been reduced in 15 of the last 16 years. "Employees shall use the tools and risk mitigation techniques to ensure that each evolution and task is performed with the risks as low as reasonably predictable," said Snyder. "These actions must be demonstrated daily by all employees."
Workforce personnel shortages are a problem in the marine industry as a whole, and Signet is not immune. But Snyder said the company's safety record is one factor in attracting and keeping employees. "If you have a safe working environment, it will lead to a more productive environment," said Snyder. "We have an incident rate of 0.48 as a four-year average. We're pretty proud of that."
Signet has plans for expansion, which means they must recruit more shipyard workers.
Signet also has a fire and emergency response training facility at its Pascagoula shipyard, which supports all stakeholders at the port of Pascagoula.