MetalCraft Marine has a long track record of building RIBs for the Navy. But its current order from the Navy for 67 RIBs represents a first — all of the RIBs will come with MetalCraft's push knees built into the bow.
The rubber push knees protect the collar, and when engaged with a seawall they stick to it. A RIB's stern might be moving up and down but the bow "is stuck to that wall and not moving," said Bob Clark, partner and contracts manager at Kingston, Ontario, and Watertown, N.Y.-based MetalCraft. "Everybody is blown away by how they work." He compares it to how a crew transfer vessel works when up against an offshore wind tower
A couple of special features built into a pair of MetalCraft Marine Interceptor RIBs — an eight-meter (26'6"×8'5") and 10-meter (34'×9'19") — for the Ohio Department of Natural Resources are a fold-down bow and a pair of Porta Products transom brackets with 425-hp Yamaha outboards.
The fold-down bow is incorporated into the deck, and when the bow is opened a ladder slides out, becoming in effect a bow ramp, allowing crewmembers to come and go during beach landings and facilitating diving. In 2022, Clark called that feature, "a revolutionary change for RIBs."
When the outboards are mounted on the Porta Products brackets and trimmed up, they are above the bottom of the boat. "You can drive in 10 inches of water and never damage the props," said Clark.
In addition, the brackets put the outboards 22" behind the transom "giving you more trimability." Clark said the Porta Products brackets are "truly unique and very robust." With the brackets, he said, the Yamahas "performed beautifully," hitting 50 knots.
Clark said a trend in RIB design is "mounting the collar higher and higher out of the water." When the collar is in the water, although it holds the boat up, it limits a RIBs ability to turn. Move the collar up, and the RIB makes much sharper turns. Currently, MetalCraft collars are 8" to 10" above the water, which Clark said, is "the highest collar on the bigger boats."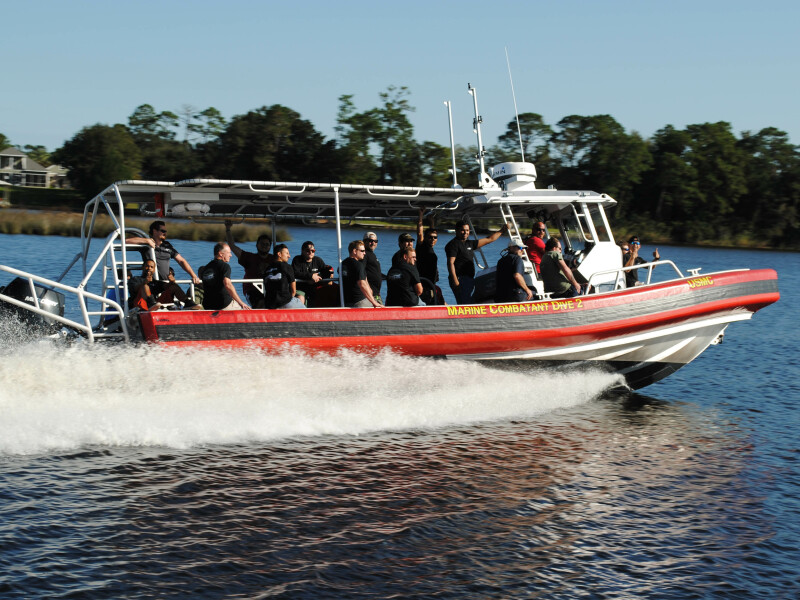 SILVER SHIPS
Silver Ships Inc., Theodore, Ala., builds many RIBs for the military. Several of them have been 20'×12' (6.7m×3.6m) and 20'×17' (6.7m×5.1m) Amber-series RIBs for the Navy's high-speed maneuverable surface target (HSMST) program. The HSMST RIBs are converted to remote control and employed as live-fire training targets for shipboard personnel.
The distance the RIBS operate from the Navy vessels "varies according to the mission and what they are utilizing to go after — small arms or other," said Silver Ships David Hunt.
Hunt said the most noteworthy work at Silver Ships "is the multiyear contracts we have going with the Navy."
There's a five-year contract for five different variants of eight- and 11-meter RIBS, which will consist of either cabin and center console RIBs or a combination. Included in the mix will be support boats for Navy SEAL training. Other RIBs will go to the Coast Guard to be used as special-purpose craft for law enforcement.
"Over the course of five years, there will be a couple of hundred," said Hunt.
Another order is for 11-meter (36'×10') RIBs for the Marine Corps to be used as safety boats supporting amphibious training, which are basically "carbon copies" of boats built for the Marines in 2018. It's a three-year package with ten boats for 2022, 10 to 15 boats in 2023, and the remaining boats in 2024.
Hunt said the Marines chose the RIBs "because they are geared to carrying significant numbers of passengers," as many as 25, making it challenging for boats to run in all conditions. They are built for carrying heavy loads because "they don't know when they might have to rescue personnel from the water."
Overall, Hunt doesn't expect any real design changes for Silver Ships RIBs. "The biggest changes we see as a company is trying to keep up with changes in technology."
An example is Silver Ships recent adaptation of Mercury Marine's V10 350-hp Verado outboard with increased power and torque.
"We have to make some adaptions so we can start to utilize that power," Hunt said.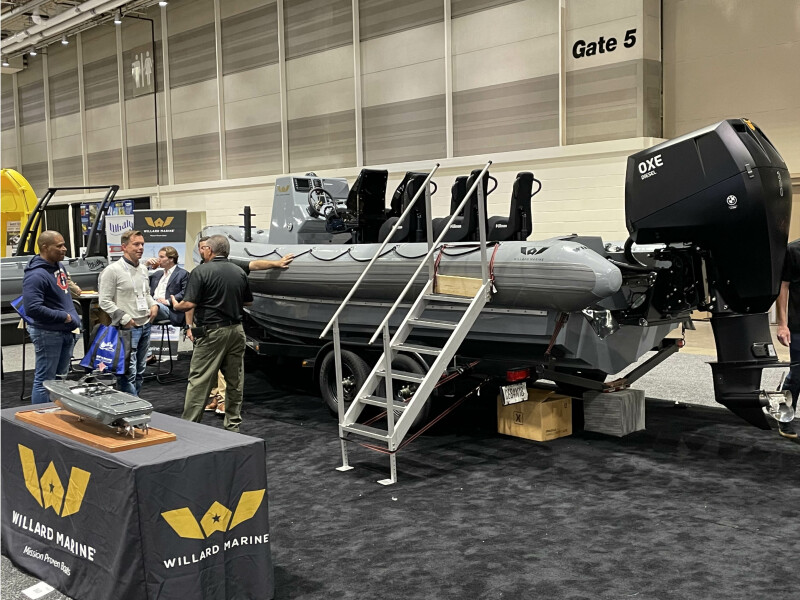 WILLARD MARINE
Willard Marine Inc., Oceanside, Calif., debuted an updated version of its seven-meter (23'9"×9') RIB, the SeaForce 777, at December's International WorkBoat Show in New Orleans.
Two things immediately noticeable on the SeaForce 777 are its new deck design and the 300-hp Oxe diesel-powered outboard. The deck is completely flush and set up for using rail-mounted modular seats instead of single-placement seats.
There will also be Humphree interceptor trim tabs "to bring it up on a plane faster than it had been in the past," said Willard Marine's Jordan Angle.
Willard Marine is working with two companies to improve the seven-meter RIB's hull efficiency.
The goal is not to maximize speed — currently, the seven-meter hull has a speed limit of about 38 knots — but to help the "hull ride softer for more operator safety and comfort," said Angle.
The focus is on hull efficiency, that will help cut fuel costs and improve operator comfort and safety. Willard Marine has learned, after providing boats to the military for the past 35 years, "that the vast majority of career boat operators end up going out on disability because of G-forces experienced on the boat," said Angle. Thus, the introduction of the shock-mitigating seats on the seven-meter RIB and a softer riding hull "so operators don't end up going out on disability."
Willard Marine has used shock-mitigating seats on its larger 11-meter boats and some seven-meter boats for the Army's Special Forces.
Now the company hopes to convince the Navy to outfit all of its seven-meter boats with shock-mitigating seats.
While the seats are expensive, "it's less expensive than having to pay for people being on disability for the rest of their lives," Angle said.
The seven-meter is outfitted with a 300-hp Oxe diesel. Since the motor weighs about 1,000 lbs., the seven-meter hull is limited to a single outboard.
However, on Willard Marine's 11-meter RIB (36'4"×11'9"), Angle hopes to mount two 300-hp Oxe diesel outboards.